Maybe you're unpacking your first Premium Starter Kit, or perhaps you were gifted a bunch of essential oils and are unsure on how to get started with them? If so, then this is the blog for you.
When it comes to using essential oils, we've all been beginners at one point or another, asking our friends for advice and scouring the internet for guides on the top uses for our favourite fragrances. However, here at Young Living, we're firm believers that everyone can become a pro with a little practice and the help of a simple guide. So here it is, Young Living's ultimate guide on how to use essential oils!
What Are Essential Oils?
Essential oils are aromatic, concentrated plant extracts that are carefully obtained through steam distillation, cold pressing, or resin tapping. At Young Living, we offer essential oils, blends, and oil-infused products with optimal levels of specific, naturally occurring essential oil constituents to maximise their potency.
The beauty of essential oils is that they are all different, but this can make it tricky when offering tips on how to use and dilute oils, in addition to advising about how long oils can be kept. Did you know, just one 5 ml bottle of a Young Living essential oils can have as many as 80 drops in it, making them as long-lasting as they are high-quality. Generally, we do advise replacing oils at least every 3 years, although checking individual labels is always recommended.
How to Use Essential Oils
When it comes to using essential oils, there are three main ways to enjoy their benefits: aromatically, topically, and internally.
Aromatically refers to smelling and inhaling the sweet, spicy, woody, or herbaceous oils we offer, while topical application could mean everything from diluting an essential oil with a carrier oil for a relaxing massage or combining it with your favourite lotion for an indulgent, skin-loving treat. Finally, internal use refers to our Plus oils range, all of which can be added to your favourite foods and drinks to provide a flavour sensation that tastes just as good as the fresh plant or fruit it was extracted from!
If you're wondering how often to use our essential oils, we believe that they can easily become a part of your daily routine. Start the day with a drop of Lemon+ in your morning water, apply a few drops of Ylang Ylang to your neckline for an exotic perfume, surround yourself with a fragrance that promotes focus and motivation at work with our Brain Power blend, and wind down in the evenings with the calming scent of our Tranquil Roll-On — the opportunities really are endless with Young Living.
How to Dilute Essential Oils
At Young Living, we pride ourselves on the purity of our essential oils. Their potency and high quality make for a fantastic product but can sometimes require dilution to minimise the risk of adverse reactions when applied directly to the skin. To help dilute essential oils for topical application, we always suggest using a carrier oil, which is a base oil that helps to 'carry' your chosen essential oil across the skin.
To help dilute essential oils for topical application, we always suggest using a carrier oil, which is a base oil that helps to 'carry' your chosen essential oil across the skin. When choosing a carrier oil, we recommend Young Living V-6® Enhanced Vegetable Oil Complex, although any vegetable oils such as coconut or avocado oil can also be used.
When learning how to safely dilute oils and deciding how much of a carrier oil to use, we suggest always reading the individual labels of your chosen essential oils. While some Young Living oils may be prediluted for topical application, such as our popular KidScents® range, which has been created with particularly delicate skin in mind, others may be stronger, leaving you wanting to dilute them heavily.
How to Mix Essential Oils
When learning about essential oils, one of your first questions may have been whether it was possible to mix them. At Young Living, we offer a variety of essential oil blends so you can enjoy fragrant combinations to suit every occasion, but mixing oils yourself to create unique, personalised scents is also entirely possible.
There are, however, a few important factors to consider when mixing oils at home. One is how potent the oils in your blend are and whether or not they may require dilution as explained above. The next is which carrier oil should be used if dilution is required, as when creating a blend, the carrier oil should make up the greater part with only a small percentage being essential oils. It's also critical to know that some oils, especially citrus oils, can cause temporary photosensitivity, so when using citrus oils in a blend, sunlight should be avoided for the next 12 hours just to be safe.
A patch test
If you're not sure how your skin will react to a blend, simply perform a patch test. A patch test involves applying a small amount of an essential oil or oil blend to the inside of your forearm. Then you wait an hour or two to see if your skin reacts to it. If there is no reaction, then you're free to move forward with applying that essential oil blend to your skin. And, if you're wondering where to start on finding oils that pair well together, why not browse our selection of readily available essential oil blends to learn more!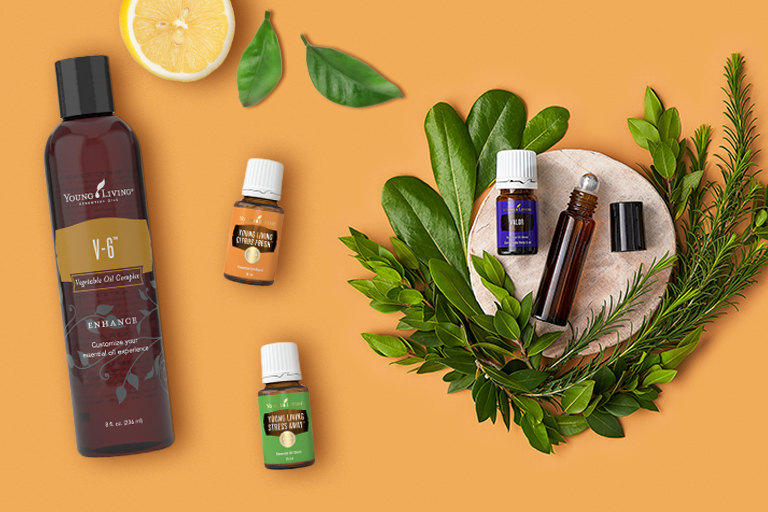 Using Essential Oils Topically
As previously, noted, one of the best ways to enjoy essential oils is through topical application. Oils absorb easily into the skin, so you can quickly and directly enjoy their beneficial properties.
When applied topically, essential oils can improve the appearance of healthy-looking skin. Mix them with your favorite cosmetics to include them in your skin care routine or add them to carrier oils to take a massage to the next level, making it that much more soothing or invigorating, depending on the oils you use. A few drops of essential oils even have the power to transform a warm bath or hot shower into a spa-like experience!
When applying essential oils, there are a few tips and tricks you may enjoy trying. These include applying the oils to your pulse points, otherwise known as the places on your body where your blood flows close to the skins surface, such as the wrists, neck, and feet, or by using a roll-on, as these allow you to do away with any mess and offer fuss-free application while on the go.
You may also want to experiment by trying to add oils to your own DIY recipes, such as in a homemade exfoliating soap.
Using Essential Oils on your Body
There are many beneficial areas of your body where you can apply essential oils. You can gently rub oil into places such as your neck, forehead, temples, wrists, chest, and stomach. This also includes extremities like your arms, legs, and the bottoms of your feet. In fact, the bottoms of your feet are one of the safest places to apply essential oils topically.
There are, however, a few areas where you shouldn't put essential oils on your body. You'll want to avoid your eyes, ears, nose, mucous membranes, and the skin around them, or places where the skin is sensitive. If you want to use essential oils on your face but you're nervous about possible irritation, why not try making a DIY facial steamer.
Using Essential Oils in the Bath
One brilliant and mess-free way to make the most of essential oils is by combining them with Epsom salts to transform your bath time and make it into a magical, spa-like experience. If that's not enough, you can also try adding a few drops of your chosen essential oil to your shampoo, conditioner, or body wash to ensure that you carry your favourite fragrances with you all day long and enjoy their nourishing benefits.
For recommendations on how many drops of your chosen oil should be added, we recommend checking individual product labels. Get creative with a DIY recipe and make your own shower steamers!
Using Essential Oils on your Hair
It's safe to say that having luscious locks is always a huge confidence booster. And with your favourite essential oils, you can ensure that your hair looks beautifully hydrated and smells incredible every day.
If you're on the hunt for a product that'll do the work for you, why not try one of our essential oil-infused products, such as our Lavender Mint Daily Shampoo and Conditioner? Alternatively, try DIY hair treatments such as hair spritzes or an apple cider vinegar rinse.
Making Perfume with Essential Oils
One of our favourite ways to use essential oils is, of course, in perfumes, where the stunning fragrances of the oils can be enjoyed fully. When creating an essential oil perfume, it's important to establish a base, middle and top note. Typically, you'll smell the quick-evaporating top notes first, followed a moment later by the middle notes—the heart of the perfume. Finally, you'll catch the base notes, which complement the top and middle notes.
Using Essential Oils for Massages
When thinking about essential oil usages, massages are normally at the top of everyone's lists. Whether it's for relaxation or for relieving everyday stresses, massages are always given a boost by the addition of fragrant essential oils. Find a carrier oil that works for you, always read the label recommendations for dilution, and get to work with a well-deserved, spa-like massage.
If you're unsure on where to start, check out this handy hack for making a massage bar!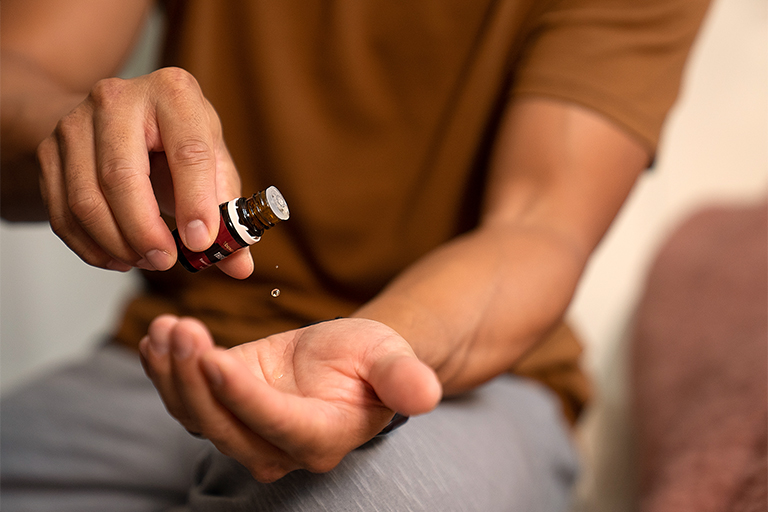 Using Essential Oils Internally
Ingesting essential oils can, understandably, cause concern for those first learning about it. If you're wondering whether ingesting essential oils is safe, the short answer is this. Yes, certain essential oils are safe to ingest – with caution. It's important to stick to essential oils that have been created with human consumption in mind, like Young Living's Plus Oils, and you should always follow the label instructions before starting out.
How Can Essential Oils be Used in Drinks and Cooking?
At Young Living, we offer a range of sweet and savoury flavoured Plus oils, all of which can be used to create delicious homemade dishes and tantalising drinks. If you're hoping to add a boost of flavour to your morning water or smoothie, opt for a citrus oil such as Orange+, which tastes just as fresh and zesty as the fruit itself. Alternatively, if your favourite dinner is missing the addition of fresh herbs, try adding a drop of Basil+ for a deep, herbaceous flavour that the whole family is sure to enjoy.
It's important to remember that Young Living's Plus Oils are very concentrated and should be used sparingly as to not spoil a dish. To make sure you use just the right amount, we suggest adopting the toothpick method as less is certainly more when it comes to these tasty oils!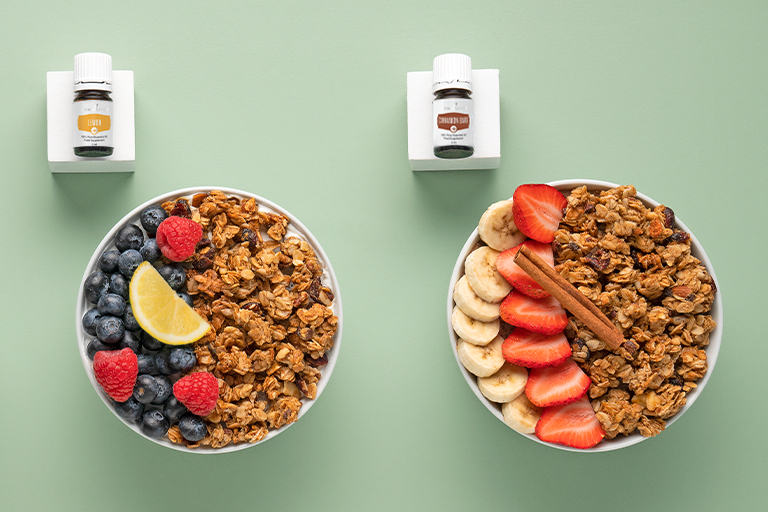 Which Essential Oils are the Best for Beginners?
When getting started with oils, it's good to have an idea of the most popular options. At Young Living, our recommendations for the top 10 oils for beginners are as follows:
How to Choose Essential Oils
Essential oils are potent gifts from nature that can often be more powerful than expected, which is why it's so important to buy oils from reputable companies and to always check how they have been sourced.
At Young Living, we're proud to offer an extensive line of pure and high-quality essential oils and essential oil-infused, plant-based products that represent the best of nature—through the standards of our Seed to Seal® program. Seed to Seal® results in pristine final products that have been created with our three pillars—Sourcing, Science, and Standards in mind, ensuring that with every pure essential oil and Young Living product your family uses, you're enjoying the benefits of our global resources and industry leadership.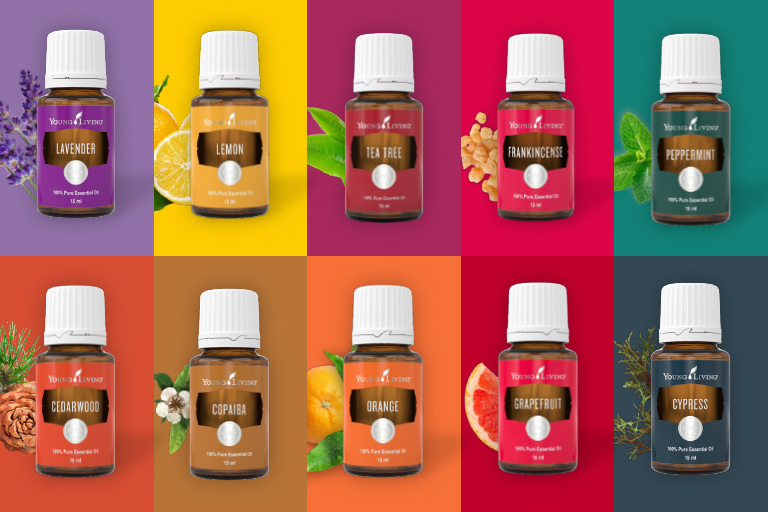 Using Essential Oils Safely
When learning how to use essential oils safely, remember that these oils are extremely potent and should always be handled carefully. With that in mind, here are a few basics on how to handle essential oils carefully.
Always check the label for warnings and directions
Remember that a little goes a long way and less is more when it comes to these concentrated oils.
Watch for a reaction. Everyone is different, so as you start out with small amounts of these oils, watch for any reactions to the essential oils you use. If your skin becomes irritated, apply a carrier oil to the affected area to dilute the essential oil.
Only use one new oil at a time to see how your body will react to it. After applying the new oil, wait at least 30 minutes before applying another new one.
Don't apply essential oils to your eyes, ears, nose, or other areas with sensitive skin.
If you are pregnant, nursing, taking medication, or have a medical condition, talk to a medical professional before trying any oils.
Be aware of oils that cause photosensitivity. Some oils, mostly those from the citrus family, can cause photosensitivity to direct sunlight for at least 12 hours after application. Make sure you stay out of direct sunlight after applying these undiluted essential oils to your skin.
Essential Oils Safety FAQs
Q: Can pregnant women use essential oils?
A: We suggest that all pregnant women consult a medical professional before using essential oils. With that said, there are many oils that can be used during pregnancy!
Q: Are essential oils safe for cats and dogs?
A: Young Living's essential oils are designed for topical use by humans and we do not recommend using them on animals of any kind. We do, however, offer a range of Animal Scents® products, all of which contain essential oils for pets that can be used safely on and around your favourite, furry friends.
Q: Can I use essential oils on and around my baby?
A: It's understandable that when you love essential oils, you want to share them with everyone, even the youngest members of your family. However, due to the sensitive systems of babies and children, we recommend sticking to our Seedlings® and KidScents® ranges when using essential oils for babies. We also suggest consulting a medical professional before introducing your little ones to any new products.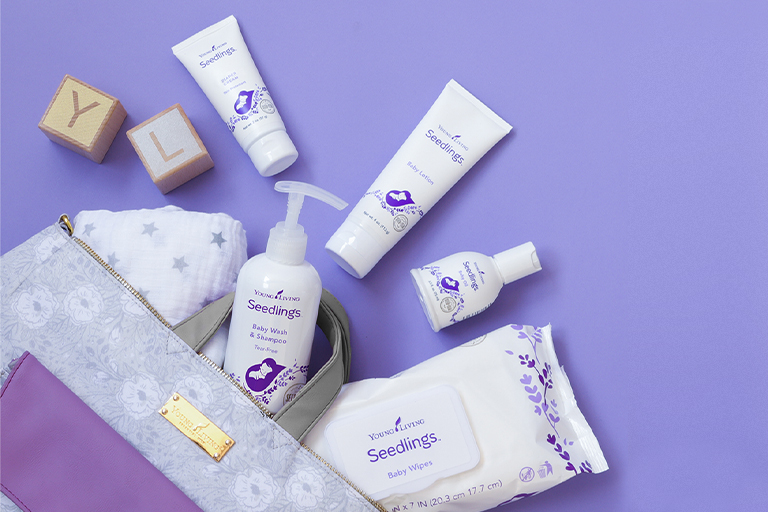 Did you enjoy reading this blog and learning all about how to use Young Living Essential Oils? Write your comments below or contact us at mseublog@youngliving.com