When you love essential oils like we do at Young Living, it's understandable that you'd want to share them with your whole family—including the newest members! Essential oils can be fantastic for young children and babies, but it's important to use the oils in a way that is safe for their sensitive systems. In this blog, we'll be answering some of your top questions on how to use essential oils in the nursery and around your babies, ensuring that everyone in your family can enjoy the benefits of essential oils, including your little ones!
Can I use essential oils on and around my baby?
As a parent, it's normal to want to give your baby the best start in life, which often includes using high-quality products on their skin and in their surroundings. Firstly, when it comes to using oils around babies, we advise consulting a health professional before use, particularly if your child is unwell. In addition, as Young Living essential oils are high-quality and highly concentrated, we recommend against ingestion of our Plus oil range for babies and young children.
However, when used cautiously and correctly, you can absolutely introduce your babies to essential oils. Whether you apply the oil to your own skin and allow your baby to gradually get used to the fragrance or apply it to their skin in a heavily diluted manner, using oils that are gentle and safe for your child's sensitive system can offer a wonderful experience.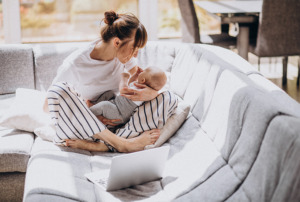 How do I dilute essential oils for safe topical application on my baby?
At Young Living, our oils are high-quality, which makes them highly concentrated and, in some cases, very powerful. When applying essential oils on your child's skin, it's important to put their sensitive systems first and heavy dilution alongside patch testing is vital.
There are no hard-and-fast rules for dilution, so we recommend starting your little ones off with a small amount on a single patch of skin, and again, we highly recommend checking with a health professional before you begin any oil introductions.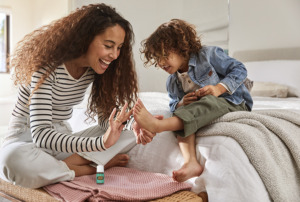 Can I use essential oils in my baby's bath?
For adults, using essential oils in a warming bath can provide a relaxing and spa-like experience. However, when it comes to babies, we recommend against adding any essential oils to their bath water. This is primarily because infants and young children tend to use bath time as an excuse to splash around and play, which could lead to your baby swallowing oils or finding that the oils come into contact with their eyes.
Which Young Living essential oils are best avoided for use on and around babies?
While many of our products at Young Living are suitable for use on and around babies, there are a few we advise against based on the challenges or adverse reactions they could present to your child's sensitive system. They include Sage, Clary Sage, and all varieties of Eucalyptus.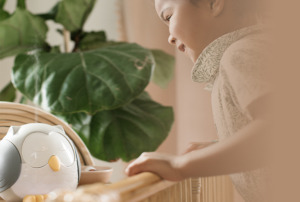 Which Young Living products are best for use on and around babies?
When it comes to suitable Young Living products for your little ones, it's not just oils that your babies may enjoy. Our Feather the Owl Diffuser is our cutest diffuser yet with the added benefit of being an aroma diffuser, night-light, and white-noise machine all in one. Your baby is sure to enjoy the addition of Feather in their nursery, but we recommend a gentle and gradual introduction into diffusion around children.
We also offer our Seedlings® range, which includes a Baby Lotion, Baby Oil, Baby Wash & Shampoo, Baby Wipes & a Diaper Cream, all with a mild and gentle formula that was specially developed for use on the skin of little ones. Finally, we have our Gentle Baby essential oil blend, which is perfect for use during your baby's nighttime routine. Infused with Lavender, Geranium, and Ylang Ylang essential oils, this skin-soothing treat can be applied before your children drift off to dreamland.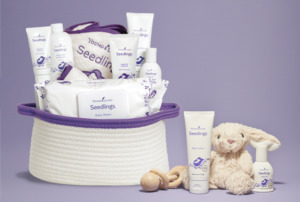 Want to learn more on how to support your family with essential oils and oil-infused products? Check out our blog on 9 essentials for Dr. Mum, your favourite mum must-haves and kid-safe essential oils to help care for kids from sun up to sun down—and even the time in between.
How do you enjoy using Young Living essential oils around your baby? Write your comments below or contact us at mseublog@youngliving.com