When it comes to essential oils, Young Living understands the importance of creating products that the whole family can enjoy. If you're a keen user of oils yourself, you may want to introduce Young Living's collection to your little ones, so in this blog, we'll be taking you through some of our favourites from Young Living's child friendly KidScents® range, while explaining the ways to safely use diluted essential oils for children.
1. Sweeten Their Bedtime Routine with the KidScents® DreamEase Roll-On
If you've been on the hunt for an essential oil blend that'll help provide a peaceful aroma during your child's bedtime, KidScents® DreamEase may be the roll-on for you. Formulated with oils such as Lavender and Roman Chamomile, this exclusive blend can easily be swiped across your child's feet or chest to provide a soothing and calming fragrance that'll perfectly accompany their evening wind-down time. With DreamEase, you can introduce a peaceful sleep routine for both you and your little one, safe in the knowledge that they'll be settling down with a smile.
2. Boost Homework Time with the KidScents® GeneYus Roll-On
When we think about the best essential oils for children, few come to mind quite as quickly as our KidScents® GeneYus Roll-On. If you're trying to take the fuss out of homework time, try applying this easily transportable and fuss-free oil blend to your child's wrists or shoulders. A grounding combination of more than 15 different essential oils, KidScents GeneYus is formulated to meet the needs of children, offering a bright aroma that helps to create a sharp, fresh environment that's perfect for recentering their minds as they focus on schoolwork.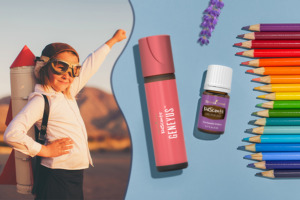 3. Reassure and Soothe with the KidScents® KidCare Roll-On
No matter how grown up your children may seem, it's always good to keep a comforting scent on hand, particularly if you're out and about enjoying outdoor activities. Made up of oils such as Tea Tree and Elemi, our KidScents® KidCare Roll-On provides a deeply reassuring and soothing fragrance and can be applied to the skin when needed. For best results, we suggest following up with a big hug!
4. Let Your Little One Unleash Their Inner Power with the KidScents® KidPower Roll-On
When it comes to topical application for children, we love the fragrance of our KidScents® KidPower Roll-On, as well as the feelings of courage, confidence and positivity it helps to create through its unique aroma. Formulated with oils including Orange and Geranium, our KidScents KidPower oil blend can be applied to your child's wrists, helping them to find the inner power within themselves when facing challenges at home, at school, or on the playground!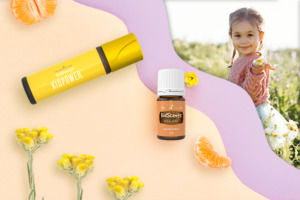 5. Ease Feelings of Discomfort with the KidScents® Refresh Roll-On
When life gets stuffy for your young children, reach for our KidScents® Refresh Roll-On and enjoy its relaxing aroma. This gentle blend of Eucalyptus, Palo Santo, and Young Living R.C.® can be applied directly to the chest or throat to let the bright, refreshing aroma helps ease feelings of discomfort while promoting the feeling of normal, clear breathing.
6. Create a Calming and Comforting Atmosphere with the KidScents® TummyGize Roll-On
If your little one has moments of discomfort, reach for our KidScents® TummyGize Roll-On. Formulated with a range of essential oils that help to promote a comfortable atmosphere through their calming aroma, TummyGize can be applied directly to the tummy. Including oils such as Peppermint, Tangerine, and Ginger, KidScents TummyGize ensures that when children are comforted, everyone experiences more peace.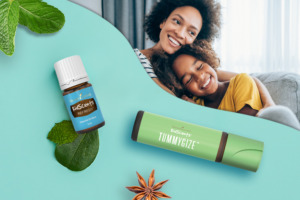 Finally, it's important to note that when introducing your children to essential oils, essential oil safety, proper dilution, and sun sensitivity must be considered. Please refer to individual labels for usage instructions before using new essential oils and consult a health professional before introducing your little ones to topical application.
Have you tried any of our new KidScents® Roll-Ons? Write your comments below or contact us at mseublog@youngliving.com