While pregnancy is often one of the most beautiful times in a woman's life, it can also be one of the most tiring. At Young Living, we value the importance of self-care, whether it's in the early stages of pregnancy, during the third trimester and labour, or in the tough first few postnatal weeks.
In this blog, we'll be taking you through some of our favourite ways to use essential oils during pregnancy, helping you to indulge in some pampering rituals and enjoy high-quality essential oils that are suitable for use during such a special time. We must also note before we begin that we recommend all women consult a health professional before using essential oils and read individual labels for full ingredients during their pregnancies.
How to Use Essential Oils During Pregnancy
Manage Your Way Through Morning Sickness
Though it's called 'morning sickness', we know that pregnancy nausea can often strike at all hours of the day, especially during the first few months. If you're on the hunt for some relaxing essential oils to use during your pregnancy that might offer a pleasant and distracting aroma during moments of sickness, we suggest using fresh scents such as Lavender, Peppermint, and Ginger essential oil and applying these to your wrists and neckline to surround your senses with soft, calming fragrances.
Ginger biscuits are also known to be particularly helpful at reducing pregnancy nausea and supporting digestion, so why not try adding a drop or two of Ginger+ essential oil to a homemade biscuit recipe, and keep them on hand for a simple snack whenever sickness strikes. Check out this delicious recipe for cookies with essential oils!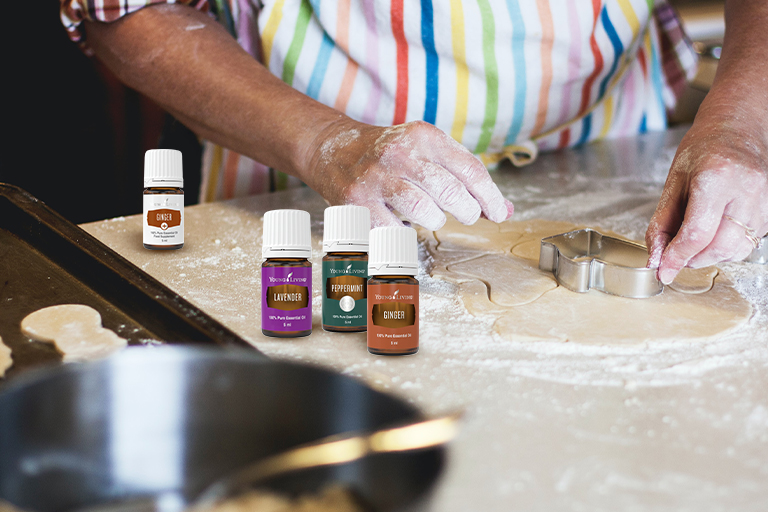 Treat Your Bump to a Brilliant Bath Soak
When it comes to your growing bump and changing body, keeping your skin soft, supple, and super moisturised is a great way to ensure you stay confident and feeling yourself throughout your pregnancy. At the end of a long day, treating yourself to a spa-like bath is the perfect combination of relaxation and indulgence, while adding skin-loving essential oils to the water can help nourish your bump and provide a blissful aroma to soak in.
Some of our favourite oils for bath times include Roman Chamomile, German Chamomile, luxurious Rose, and woody Frankincense, all of which create an extra boost when paired with Epsom salts. As an additional note, make sure to keep the water temperature comfortable and not too hot, as raising your temperature too high in the bath can be dangerous for your growing baby.
Uplift and Calm Your Spirit During Labour
Whatever your labour experience ends up looking like, it's a time of great contrasts between pain, nervousness, and pure joy. If you're a lover of essential oils, surrounding yourself with familiar and beloved scents may help keep you calm, grounded, and even uplifted during this intense event. For a burst of energy when you're feeling at your most exhausted, turn to citrus oils such as Orange and Tangerine, and to help refresh your mind, body and soul throughout, try applying a soothing scent such as Cedarwood to your pulse points.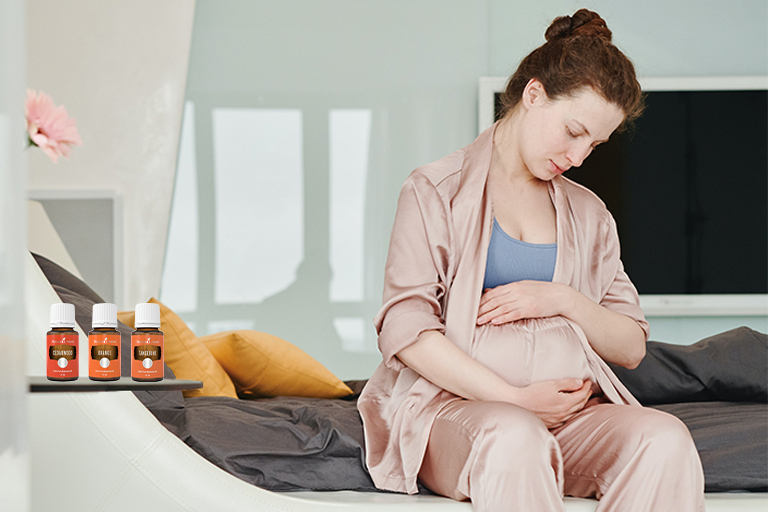 Spend a Little Time on Your Postpartum Self
The first few weeks, if not years, of being a parent are often taken up by looking after the little one, meaning that personal self-care rituals can become a thing of the past. Following pregnancy, it's important to try and rest when your baby does, and taking time out to enjoy your favourite essential oils, even if it's just for 10 minutes, can provide a welcome release.
If sleepless nights have you feeling weary, look to Lemon essential oil for a bright burst of citrus fragrance, and if you're feeling as though your skin has seen better days, try adding a sweet drop of Ylang Ylang to your favourite moisturiser or body butter for a floral flourish that'll keep you feeling soft and supple.
Essential Oil Safety During Pregnancy
As we've already noted, when it comes to using essential oils during pregnancy, it's important to consult a health professional first. However, we do have some guidelines on essential oils that can be used when you are pregnant, and our recommendations on oils to avoid.
Essential Oils to Try During Pregnancy
Lavender essential oil
Frankincense essential oil
Cedarwood essential oil
Lemon essential oil
Roman Chamomile essential oil
German Chamomile essential oil
Peppermint essential oil
Ginger essential oil
Essential Oils to Avoid During Pregnancy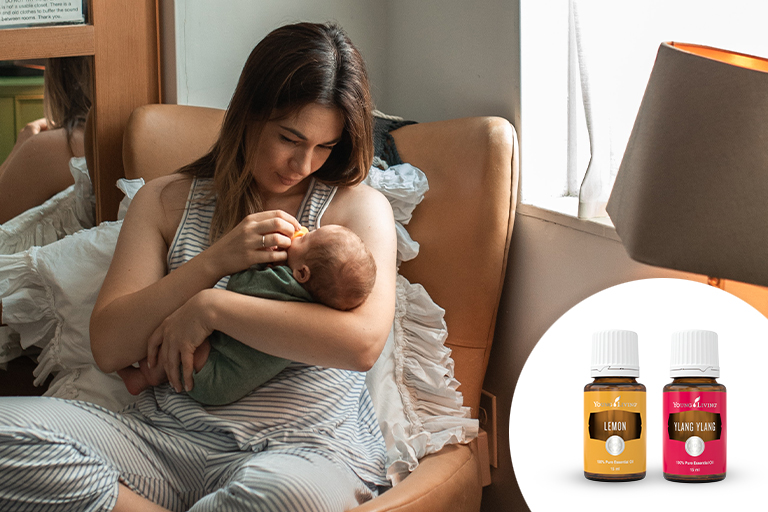 Which essential oils have you enjoyed using during your pregnancy? Write your comments below or contact us at mseublog@youngliving.com