Ready to feel fresh faced? Enhance your daily cleansing ritual with our three DIY exfoliating soap recipes. Containing cornmeal and poppy seeds that help remove dead skin for a radiant glow. Lather up with these creamy soaps, infused with notes of sweet rosemary, spicy cinnamon and soothing geranium. Subtly scented and perfectly pampered skin awaits!
Homemade exfoliating soap ingredients
Homemade exfoliating soap is easier to customise when you start with a pre-made base. We used the same base—organic glycerin soap plus coconut oil—for each bar but changed up the exfoliating ingredients and essential oils.
We recommend using silicone soap moulds with circles approximately 6 cm in diameter.
Makes 3 soaps
Base
170 ml suspended organic melt and pour glycerin soap
1 tablespoon coconut oil
Mix-ins
Exfoliating ingredient
Essential oils
How to make homemade exfoliating soap
Cut soap into 2.5 cm cubes.
2. Put soap and coconut oil in a large microwave-safe bowl.
3. Microwave for 30 seconds at a time until soap is completely melted, stirring in between to smooth clumps.
4. Add essential oils and mix well.
5. Add exfoliating ingredient slowly, stirring well to combine and remove all clumps. Work quickly before the soap gets too cool.
6. Pour into moulds. Let sit until solid, approximately 1-3 hours.
Rosemary-Lemon-Sage Soap with cornmeal
Cornmeal is a gentle exfoliator, which makes it safe for sensitive skin. We used about 1 tablespoon of cornmeal to get the right amount of texture without it feeling too gritty. Feel free to increase this amount for a more intense exfoliation. Combining cornmeal with herb and citrus essential oils like Lemon, Rosemary and Sage gives this soap a clean, earthy aroma.
Mix-ins
1 tablespoon cornmeal
10 drops Lemon essential oil
10 drops Rosemary essential oil
10 drops Sage essential oil
Cinnamon-Orange-Ginger Soap with coffee grounds
Enjoy the warming scents of Cinnamon Bark, Ginger and zesty fresh Orange in this gentle exfoliating scrub using organic coffee grounds. Keep in mind, coffee grounds provide more intense exfoliation than cornmeal; scrub with care if you have sensitive skin. A reminder too that coffee grounds tend to settle. If you're not a fan of how the soap looks, use fewer coffee grounds so they don't sink to the bottom of the bar.
Mix-ins
2 tablespoons organic coffee grounds
15 drops Cinnamon Bark essential oil
10 drops Ginger essential oil
10 drops Orange essential oil
Joy-Geranium-Patchouli Soap with poppy seeds and Himalayan pink salt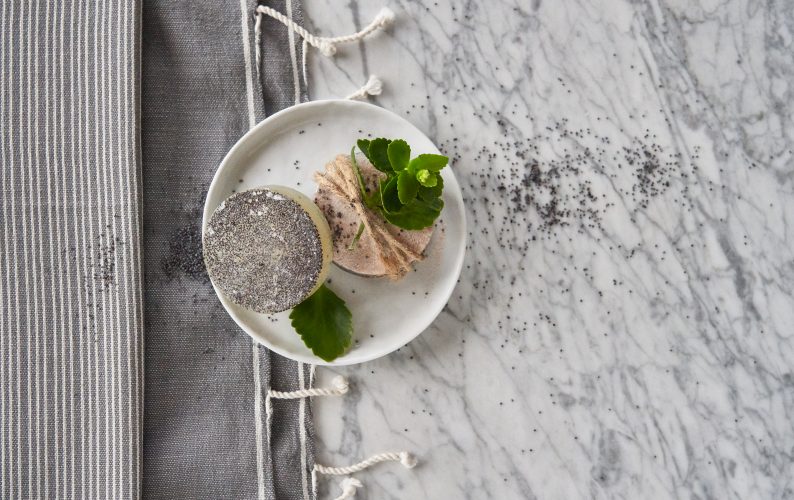 Parched winter skin? Give yourself some extra tender loving care with this nourishing and deliciously scented soap, enjoying notes of Patchouli, with poppy seeds and pink salt exfoliators. Add Joy and Geranium for a sweet touch, applying to rough elbows and heels for sumptuously smooth skin.
Mix-ins
1 teaspoon poppy seeds
1-2 tablespoons fine Himalayan pink salt
15 drops Joy essential oil blend
10 drops Patchouli essential oil
5 drops Geranium essential oil
Want an exfoliating soap you don't have to DIY?
If you're too busy to make a soap from scratch, opt for our Satin Facial Scrub Mint. Easily exfoliate, combining with warm water, allowing the jojoba wax beads to gently scrub away dirt, leaving skin feeling thoroughly cleansed and sensationally smooth with a subtle minty scent. Goodbye lacklustre skin!
---
Which exfoliating soap are you going to try?
Tell us in the comments!