When the weather heats up, there's no better time to explore Young Living's top tips on essential oils for the summer season. Whether you're simply on the hunt for summery scents, are looking for inspiration on inventive uses for your favourite oils or are hoping to find out more about how to use essential oils safely on sunny days, this is the blog post for you. So, let's get started!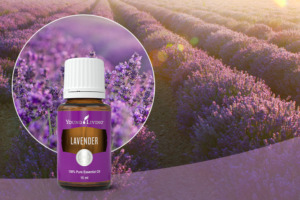 Which Young Living essential oils are best for summer?
One of the best things about Young Living essential oils are their versatility and ability to be combined in many different ways for unique uses. With this in mind, we still have our favourites when it comes to summer essential oils. Particularly popular oils for this season include romantic florals such as Lavender, Geranium, and Ylang Ylang, with their soft, sweet and gentle aromas and cooling essential oils such as Peppermint and Spearmint, which can provide welcome refreshment when applied topically during warm weather. Some of the most summery essential oils are our citrus oils, with their zesty, invigorating aromas that can cut through the heat of the scorching sun with ease. Oils including Lemon, Orange, Tangerine, and Young Living Citrus Fresh® can be used in everything from perfumes to evening skincare routines, however, due to their photosensitive nature, caution is recommended when applying these oils topically.
With photosensitive oils, the compounds—known as furanocoumarins—greatly increase UV sensitivity. For this reason, we advise that anyone applying citrus oils topically waits between 12-48 hours, as per label instructions, before exposing their skin to the sun. Read all about our top tips for citrus oil safety and learn more about avoiding essential oil photosensitivity before trying out your favourite citrus scents this summer.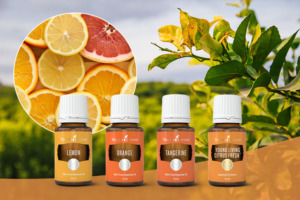 How do Young Living Brand Partners recommend using essential oils this summer?
Here at Young Living, we love to gain inspiration on how to use our essential oils from our very own Brand Partners. Here are a few ideas that we've recently received that we think you'll love to try out this summer!
Combine Cooling Essential Oils with a Summer Lotion
If you've been looking for a way to combine cooling essential oils for summer, why not try mixing a few drops of Lavender and Spearmint essential oils with your favourite body lotion? Apply generously before bed to enjoy super soft and refreshed skin in addition to the gentle and calming scent of Lavender essential oil.
Mix Up a Tasty Mocktail with Refreshing Plus Oils
At Young Living, we don't just offer essential oils for topical use. With our Plus oil range, you can enjoy the delicious flavour of your favourite fruits and herbs with just a tiny drop of oil! This summer, try combining your favourite juices with a hint of Lemon+, Tangerine+, or Orange+ and plenty of ice for a sensational citrus flavour that'll tantalise your tastebuds and leave you feeling as though you've been whisked away on holiday.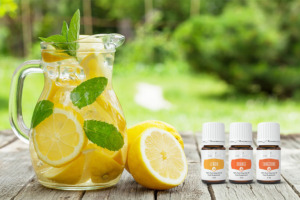 Enjoy a Refreshing Massage with Peppermint Essential Oil
If the heat of summer is leaving you feeling in need of some spa-like indulgence, why not treat yourself to a cooling and pampering massage using Peppermint essential oil? Simply dilute 15 drops of Peppermint with 10 ml of a carrier oil such as Young Living V-6® Enhanced Vegetable Oil Complex and massage into your back, shoulders, and feet for a cooling effect.
Create Deliciously Herby Dishes Using Plus Oils
If you've spent the year dreaming of summer BBQs and alfresco dining, then you're sure to love this tasty tip. Try combining herby oils such as Basil+, Oregano+, and Ginger+ with your favourite ingredients for delicious dinners that'll satisfy the whole family. Whether you're opting to make hearty pasta dishes, summer marinades or fresh salads, we've got oils to suit every occasion.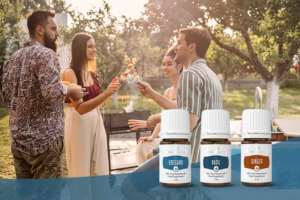 How are you hoping to use Young Living's essential oils this summer? Write your comments below or contact us at mseublog@youngliving.com