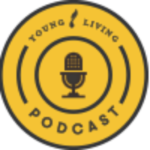 Have you ever wondered what makes Young Living feel so special? In this episode of Drop of Inspiration, Young Living's Chief Sales and Marketing officer Jared Turner joins us to have a personal conversation about the Young Living difference and the ways he has connected with it. Whether it's explaining the Seed to Seal process or reminiscing about his first Young Living farm visit, Jared's experiences illuminate just how personal Young Living can be.
We want to hear your experiences with Young Living!. Leave a comment below telling us what makes Young Living so special for you.
Related content:
Read the press release that announces Young Living exceeding $1 billion in annual sales for 2015.
Learn more about Young Living's Seed to Seal® process at SeedToSeal.com.
To find information about Young Living events, like Winter Harvest, visit the events page on YoungLiving.com
Discover Young Living's versatile, therapeutic-grade essential oils and oil-infused products at YoungLiving.com on the products page.

As of posting date, the popular seasonal blend Valor® mentioned in this episode is out of stock.

 We're hard at work to bring it back, but because this product is produced through a delicate partnership with the earth, the availability of many of our oils—like Valor—is based on occasionally unpredictable growing cycles. Thank you for your patience.