Following busy working weeks, long days of running errands, and exhausting evenings settling your little ones, it's incredibly important that everyone maximises their sleep routines to ensure they get the proper rest they need and deserve. If you feel like you've been missing out on sweet dreams lately, consider setting the stage for your evening slumber surrounded by the calming and relaxing aromas of your favourite essential oils.
In this blog, we've put together a list of some of the best essential oils for those in search of a DREAM-y evening routine, all of which are sure to help transform your surroundings into a tranquil haven as you drift off into the land of nod.
The Oil to Use in Your Evening Bath
If you have children, you know how important a clear evening routine can be in ensuring their journey to falling asleep is as smooth as possible. For adults, the results are no different. Performing the same rituals, such as taking a warm and calming bath can really help you settle down and realise that it's time for bed.
To ensure that your bathing experience is as relaxing and spa-like as possible, try adding 6-8 drops of Frankincense essential oil  alongside 1 cup of Epsom salts to your running bath and enjoy how its complex and woody scent soothes your senses while its skin-loving formula leaves you with a radiant and youthful-looking glow.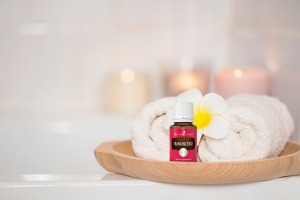 The Oil to Use in Your Evening Cup of Tea
In the hours before bedtime, few things are as comforting as a warming cup of caffeine-free tea. Whether you enjoy yours on the sofa alongside your favourite film or choose to keep your cup bedside as you delve into a good book, a calming cup of tea offers the ultimate send off to sweet dreams.
To truly maximise the relaxing wonders of this evening beverage, try adding a drop of two of our Lemon+ or Peppermint+ essential oils to your favourite tea, promising delicious flavours that you're sure to love.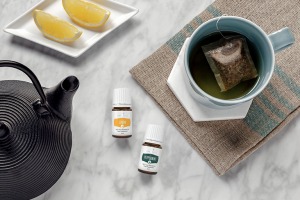 The Oil to Use in Your Evening Skincare Routine
In addition to a good night of rest, waking up to clear and beautifully cleansed skin can be a major factor in the recipe for a fantastic day. One way to best ensure that your skin is looked after is by introducing a nightly skincare routine, and at Young Living, we love using this as a way to combine our favourite beauty products with our favourite essential oils!
One particularly fabulous evening oil is Helichrysum, as it offers a warm, herbal, honey-like scent and promotes refreshed and rejuvenated skin. Simply add a drop or two of Helichrysum essential oil to your favourite night cream or moisturiser or opt to use our Helichrysum Floral Water as a soothing spritz before bed.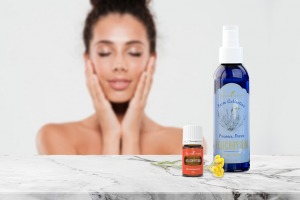 The Oil to Use in Your Evening Pillow Spray
One of the most famous essential oils when it comes to calming evening scents is, of course, Lavender essential oil. Thanks to it mild, herbaceous, and relaxing aroma it's a firm favourite amongst essential oil lovers, with good reason, as it acts as a fantastic ingredient within an evening pillow spray!
To create a blend that'll send you softly into the greatest of slumbers, try mixing 5 drops of Lavender essential oil with 4 drops of Cedarwood essential oil and 1 drop of Vetiver essential oil before mixing in a spray bottle with distilled water and spritzing across your fresh linen. This sweet and floral aroma will act as a great cue for your body and mind to settle down for sleep!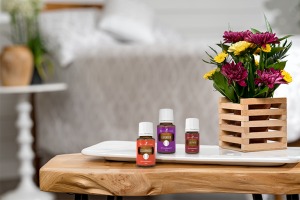 How do you use essential oils in order to enjoy your evening routine to the fullest? Write your comments below or contact us at mseublog@youngliving.com