During the warmest months of the year, it's more important than ever to protect your skin and give it a little extra TLC. Whether you're a sunworshipper or simply out and about running errands, daily SPF acts as a fantastic barrier for harmful UV rays while combatting signs of ageing and uneven complexions all at once! At Young Living, in addition to our beautifully lightweight SPF lotion, we offer a variety of delightful products that can help soothe, refresh, and relieve sun-exposed skin, so in this blog we'll be taking you through their many benefits before listing a variety of essential oils that are NOT compatible with the sun and should therefore be avoided during summer days!
What is SPF and why is it important?
SPF stands for Sun Protection Factor and is a number that indicates how well a sunscreen protects the skin from sun exposure and possible sunburn. The benefits of wearing sunscreen every day, particularly facially, are extensive, with higher SPFs helping to minimise the penetration of UV rays into the skin the best. In addition to aiding the skin in staying healthier, both in terms of appearance and function, daily sunscreen can help reduce the visible signs of premature ageing, minimising dark spots and the appearance of rough, uneven skin.
Why do we love our Mineral Sunscreen Lotion SPF 50?
If you are in search of a powerful, synthetic-free sunscreen that not only promises a matte, grease-free finish but is water and sweat resistant for up to 80 minutes, look no further than our Mineral Sunscreen Lotion. With its SPF 50 rating and essential oil-infused formula, this product has been recommended by the Skin Cancer Foundation for daily use and provides protection from UVA and UVB rays without leaving a white residue. With excellent absorbency and a lightweight feel, this fantastic, mineral-based sunscreen is sure to keep you and your loved ones protected both under the summer sunshine and across the entire year!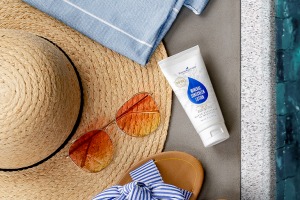 What after-sun products does Young Living offer?
As well as our Mineral Sunscreen Lotion, we offer a fantastic range of gentle, skin-soothing mists and sprays. One particularly popular spritz is our LavaDerm After-Sun Spray, a vegan-friendly, essential oil-infused product that promises immediate cooling following outdoor activity. Ideal for the whole family to use after a day out hiking or relaxing at the beach, our LavaDerm After-Sun Spray is full of moisturising ingredients including aloe and menthol from mint, which offers a cooling and calming sensation on the skin.
We also offer a LavaDerm Cooling Mist, which can be applied to bring relief and cool skin with a blend of gentle, soothing ingredients including Lavender essential oil. Simply spray directly onto the selected area and repeat every 10-15 minutes until the desired effect is achieved. Finally, for when your skin feels in need of a refresh, our ClaraDerm Spray includes coconut oil in addition to Lavender, Frankincense, Myrrh and Roman Chamomile essential oils, making it the perfect summer skincare product for those hoping to maintain a soft, radiant, and youthful-looking complexion.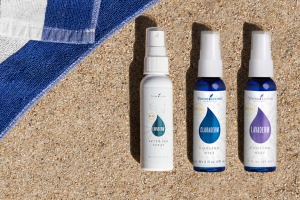 Which Young Living essential oils should NOT be used during the summer?
For those who love the sun almost as much as they love essential oils, the summer months can be tricky, as many essential oils are photosensitive and therefore are not suitable to be used under the sunshine. One example of this is citrus oils, as despite their bright, summery scents, they often contain compounds known as furanocoumarins, which greatly increase UV sensitivity. While most photosensitive oils are citrus, other oils can contain compounds or mixes of compounds that have the same effect as furanocoumarins, meaning they're not sun-safe either. Always check the label before application to determine the oil's photosensitivity. Young Living essential oils to avoid under the sunlight include:
How do I use photosensitive essential oils safely during summer?
Use photosensitive oils at nighttime – Using photosensitive oils at nighttime helps reduce the risks associated with these oils. Feel free to add these oils to your nightly skin care routine, evening body wash, bedtime bath, or relaxing before-bed foot, neck, or back massage.
Follow label instructions – The best way to avoid a negative reaction is to follow the label instructions. Most undiluted photosensitive oils require 12 hours before sun exposure, but some can take up to 48 hours. Be aware that the amount you use and whether you dilute both affect the concentration of photosensitive compounds—and always remember that sunscreen helps you stay safe in the sun, even after the recommended wait time.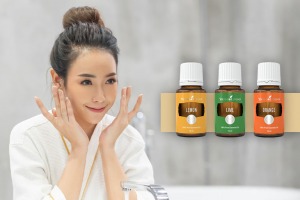 Are you looking forward to using our Mineral Sunscreen Lotion SPF 50 this summer? Write your comments below or contact us at mseublog@youngliving.com