For many of our Young Living members, their favourite essential oil or oil-infused products relate to their beauty routines, cleaning practices or the ways in which they choose to relax and unwind, whether that be with invigorating massage oils or by blending their favourite aromas to concoct their own signature scents.
For our youngest oilers, however, we know the importance of dilution to protect their delicate skin, of simple storage and practicability when it comes to easy access on the go for parents, and of the child-friendly ingredients necessary to ensure that everything from homework time to bedtime goes ahead without a hitch.
With this in mind, we created our exceptional KidScents® range and in this blog, we'll be taking you through our favourite essential oils for kids, while explaining how best to use the oils in our KidScents collection on your children's skin – so what are you waiting for?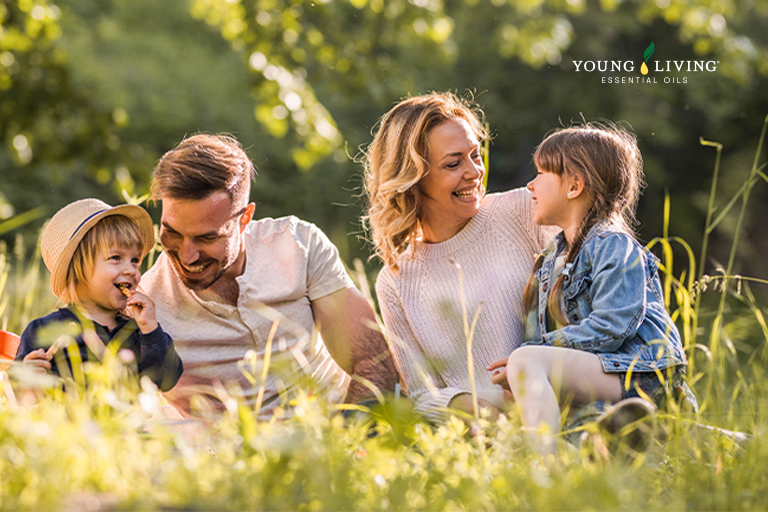 Can I use essential oils on my child?
When it comes to essential oils for kids, there are many that can be fantastic. However, it's always important to exercise caution with topical applications to ensure they are introduced safely given their sensitive systems. When it comes to essential oil safety, dilution ratios may vary, but using our specially designed KidScents® collection alongside a moisturising carrier oil such as our Young Living V-6® Enhanced Vegetable Oil Complex offers the best way to minimise the possibility of irritation or allergic reactions.
Additional carrier oils that you may already have within your home include Castor oil, Sunflower oil and Coconut oil, all of which are considered to be gentle enough for use on children's skin alongside Young Living's essential oils for kids.
How should I dilute KidScents® essential oils for children?
What's available in Young Living's KidScents® essential oil range?
KidScents® DreamEase Essential Oil – This is the ultimate oil to reach for if you're looking to help your child settle in with a relaxing nighttime routine. Try massaging this oil into their skin directly before a nap or bedtime and allow them to enjoy the peaceful aroma. Carefully blended with a variety of oils, DreamEase promotes an atmosphere that's conducive to a calm, restful sleep. When applied topically, DreamEase also offers an excellent way to help your child naturally unwind at the end of the day.
KidScents® Refresh Essential Oil – A gentle blend of Eucalyptus, Palo Santo, and Young Living R.C.®, KidScents Refresh supports the feeling of normal, clear breathing during times of discomfort. Formulated for children aged 2 years and up, KidScents Refresh can be applied directly to chests or throats. The aroma promotes feelings of health and wellness while also assisting in releasing feelings of discomfort. The natural, relaxing, and soothing vapours also help promote wellness when inhaled and inspire calm breathing.
KidScents® GeneYus Essential Oil – At Young Living, we understand that one of the hardest jobs as parents can be getting your little ones to settle down and focus on tasks such as homework. That's where our exceptional KidScents GeneYus blend comes in handy. When young minds need to focus, help keep the distractions at bay with this gorgeous oil. Infused with earthy Cedarwood, Palo Santo and Myrrh, this blend supports a sense of grounding, clarity, and comfort, making study time that much easier.
KidScents® KidCare Essential Oil – When rough housing goes wrong, ease your kids' spirits and their tears by applying our KidScents KidCare essential oil blend to their skin. This cooling and relaxing combination of Grand Fir, Tea Tree, and Elemi essential oils provides a calming aroma and supports the appearance of healthy skin. Just make sure to follow up with a big hug!
KidScents® KidPower Essential Oil – Let's face it, sometimes life can be big and scary for children, meaning they need a little help discovering the power inside themselves. KidPower is a unique, everyday blend formulated to help inspire feelings of confidence, courage, and positivity at home, at school, or on the playground. Apply KidPower on your children's wrists or back of the neck to inspire, motivate, and empower them for their best day every day. You can also apply it daily to promote feelings of courage and inspire positivity to help children find their power within!
KidScents® TummyGize Essential Oil -KidScents TummyGize promises a relaxing aroma that is great to use when your little one has feelings of disquiet and discomfort. This exclusive blend can be applied directly to the tummy for a fragrance that helps promote a comforting atmosphere. A carefully blended combination of Peppermint, Tangerine, and Ginger, TummyGize has a naturally comforting scent that may help with bringing a sense of peace to your little one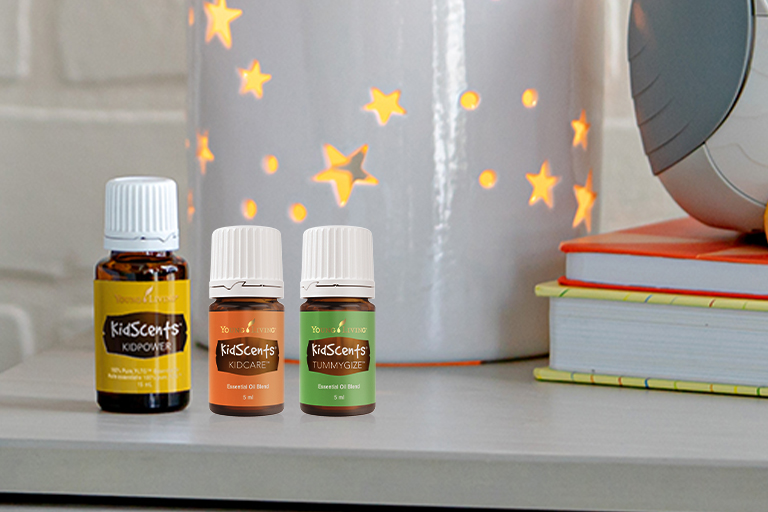 Which KidScents® oils are favourites within your family? Write your comments below or contact us at mseublog@youngliving.com