When it comes to being a new parent, it can be incredibly difficult to decide which products you want to use on and around your baby. Those first few months of feeds, nappy changes and sleepless nights are hard enough, without having to worry about the products you choose to use during your little one's bath time routine. That's why we've created our Seedlings® range, to take away the stress of reading ingredient labels and to ensure that you have time to focus on what's important — building a wonderful relationship with your baby, surrounded by gentle, naturally derived ingredients that are perfect for their delicate skin and sensitive system. In this blog, we'll be taking you through our top tips for bathing your baby, while introducing you to a few of our favourite baby bath products within the Seedlings range, helping you to get to grips with the products available that'll keep your baby's bath time running smoothly.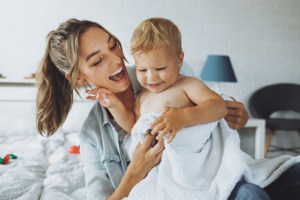 Setting Up Your Baby's Bath Time Routine
Although new parents can get bogged down with trying to 'get it right', there are no hard and fast rules when it comes to bathing your baby — just tips and tricks to ensure their bath time goes ahead safely. Firstly, it's important to make sure the room you bathe them in is warm, and that you have everything you may need within arm's reach, such as a baby bath filled with warm water, 2 towels, a clean nappy, clean clothes, and cotton wool. When getting your little one ready for their bath, you may want to have Young Living's Seedlings® Baby Wipes to hand, just in case they happen to have any accidents once you've removed their nappy.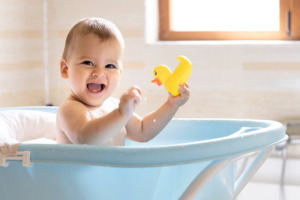 Top Tips for A Happy Bath Time
When running a bath for your baby, ensure that you use warm water, rather than hot. To test if the water is at an appropriate temperature, try checking it with your wrist or elbow and mix it thoroughly to avoid hot patches.
If your baby is very young and is still getting used to bath time, try resting them on your knee before cleaning their face and hair with plain water and cotton wool before you lower them into their bath. We recommend avoiding using any products near your baby's face or head until they are at least one month old.
Lower your baby into the bath using one hand to support their head and shoulders and the other to swish the water over your baby without any splashing. If you want to use a gentle baby wash, we love Young Living's Seedlings® Baby Wash & Shampoo, which is vegan-friendly and formulated with naturally derived ingredients, making it perfect for their delicate skin.
Remember to keep your baby's head clear out of the water and never leave your baby alone in the bath.
Once clean, lift your baby out of the bath and pat them dry. Remember to pay special attention to any creases or folds they may have in their skin.
We find that this is a great time to massage your baby and love using the Seedlings® Baby Oil. This calming blend features essential oils such as Lavender, Ylang Ylang, and Geranium, and is perfect for promoting a relaxing atmosphere during a bedtime routine. Again, we recommend avoiding the use of any baby bath oils or lotions until your baby is at least one month old.
Once dry, you can apply our Seedlings® Diaper Cream to your baby's bottom if needed, before putting on a clean nappy and fresh clothes.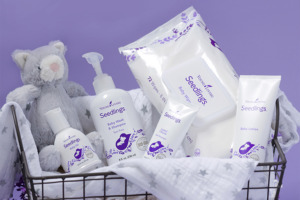 Please note that when choosing your baby's bath time essentials, we recommend consulting a health professional before starting anything new. Young Living's Seedlings® range is full of products that have been diluted to a strength that's suitable for use on your child's delicate skin, but patch testing and gentle introductions are still recommended when trying out new products.
Which products do your family enjoy from Young Living's Seedlings® range? Write your comments below or contact us at mseublog@youngliving.com