With Valentine's Day falling on a weekday this year, we get that some of you might not be able to make it to a fancy dinner reservation. Instead, why not use it as an opportunity to have a cosy night in curled up watching a movie. Whether you're celebrating romantic love with your valentine or platonic love with your best friend, let the following recipes inspire you to host the perfect Valentine's Day night in with the help of essential oils!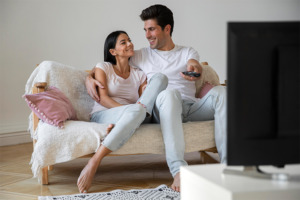 Let's raise a glass to love: How to make the perfect mocktail
This February 14th, greet your guest with a delicious, refreshing mocktail, clink your glasses together, and say cheers to love in all its beautiful forms!
Cranberry Spritzer
Ingredients:
Method:
Pour the NingXia Red®, cranberry juice, and Lemon+ essential oil into a large wine glass.
Add a splash of soda water or as much as you like.
Garnish with a lemon wedge and enjoy!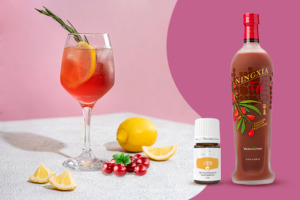 You make my heart POP: How to level up your popcorn
You can't curl up and watch a movie without a delicious bowl of popcorn. Take your popcorn to the next level by flavouring it with essential oils!
Garlic & Herb Popcorn
Ingredients:
Method:
To pop your popcorn, heat the butter in a saucepan on medium high heat. Infuse Rosemary+ and Thyme+ essential oils into the melted butter.
Add the kernels to your pan. Cover and wait until the popping starts. Gently shake the pan throughout to ensure all the kernels have popped.
Once the popping has slowed to several seconds between pops, remove the pan from heat and immediately transfer the popcorn to a large bowl.
Slowly add the garlic powder and salt while shaking the bowl to ensure an even distribution.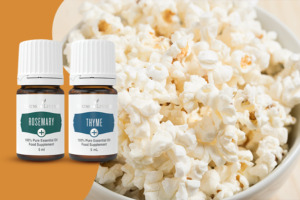 A sweet treat for your sweetheart: How to make heart-shaped cookies
Say "I love you" with a batch of fresh, homemade shortbread cookies. After all that popcorn, satisfy your sugar cravings with these adorable, heart-shaped bakes!
Sweetheart Shortbreads
Ingredients:
Method:
In a large bowl, whip the butter and icing sugar together until light and fluffy.
Once whipped, beat in the egg yolk and vanilla extract. Sift in the plain flour and fold into the mixture.
Roll the mixture into a ball, wrap in cling film, and chill in the fridge for up to an hour.
When your hour is almost up, preheat the oven to 180°C. Line your baking trays with greaseproof paper.
Roll out shortbread dough and use a heart shaped cookie cutter to cut out your biscuits. For every other heart shaped biscuit, cut out a mini heart in the centre.
Cook in oven for 8-10 minutes or until the cookies start to turn golden. Allow to cool on wire racks.
Whilst your shortbread cookies are cooling down, in a small bowl, infuse your raspberry jam with 2-3 drops of Cardamom+ essential oil.
Place a teaspoon of jam in the centre of each full heart cookie, placing one with the heart cut out on top (think Jammy Dodgers). Serve and enjoy!
If jam is not your jam, make your essential oil-infused cookies without the added sweetness – it still tastes just as yummy!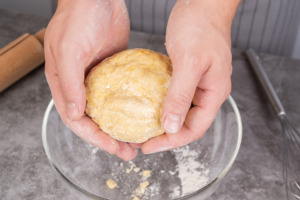 From me to you: How to make DIY bath salts
Of course, we can't forget about the gift! Give your valentine the gift of bath time bliss with this floral DIY recipe that combines the romantic aromas of Rose and Ylang Ylang, the perfect essential oils for love.
Homemade bath salts
Ingredients:
Method:
Add the rock salt and Epsom salt in a bowl and stir until combined.
Add Ylang Ylang and Rose essential oils, stir again until incorporated.
Pour mixture into a jar and secure the lid with a bow for decoration.
Storage: Keep in a cool, dark place. Use within 3 months.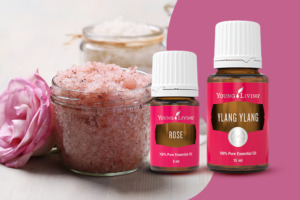 There are plenty of ways to spoil your special someone with essential oil-infused gifts and recipes. Like this blog and tell us how you are hoping to use romantic essential oils this Valentine's Day.