If you're like most of us at Young Living, Peppermint essential oil (Mentha piperita) is already one of your favourites. Whether you're looking for a burst of refreshment, an uplifting, minty fragrance, or a cooling addition to a foot rub at the end of a long day, a few drops of Peppermint always seem to do the trick! Just in case you need a few more reasons to love this minty marvel, here are 5 uses for Peppermint oil to try.
1.     Chill out after a long day
Typically, the words fresh, cool, and tingly come to mind when thinking of Peppermint essential oil, and there's a very good reason for that. Thanks to constituents such as menthol and menthyl acetate, applying peppermint creates a cooling sensation that works brilliantly as part of a relaxing massage.
Maybe you've been working out just a little harder to accommodate for all the Christmas treats you plan to eat, or perhaps last-minute Christmas shopping has kept you on your feet all day. Whatever the reason, Peppermint essential oil is a fantastic option when used in massages. Simply mix 15 drops with 10 ml of Young Living V-6® Enhanced Vegetable Oil Complex, or a carrier oil of your choice, and massage into skin as desired.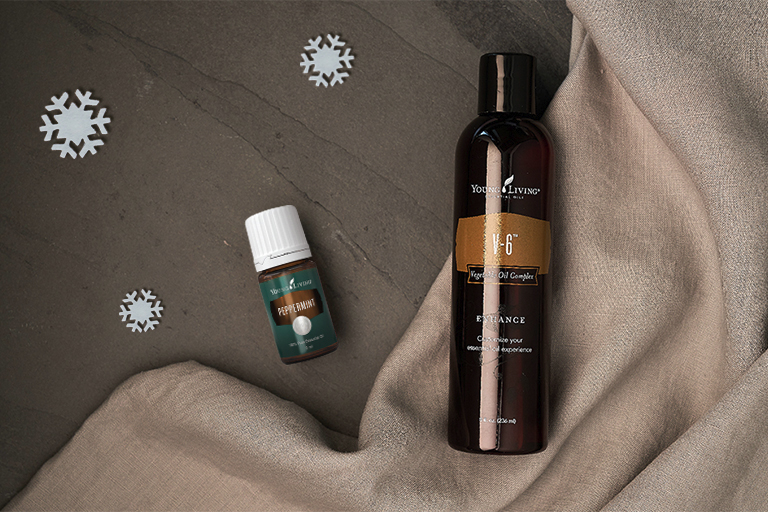 YL Tip: For some people, Peppermint's cooling sensation can be too intense. We recommend starting out using Peppermint diluted 1:4 with a carrier oil. If you want to use it undiluted, do a patch test of 1 drop to see how it feels on your skin. If you experience a reaction to the oil, dilute the oil with a 1:4 ratio of carrier oil and try another patch test.
2.     Shake up your morning shower
The hardest part of frosty mornings is often finding the energy to hop out of a warm bed and into the shower. For days when you're not feeling on top of your game, Young Living's Easy Breeze Awakening Shower Steamers offer an invigorating experience that'll lift your spirits for the busy day ahead.
Made using Eucalyptus and Peppermint essential oils in a vegan-friendly formula, with these shower steamers, you'll have the opportunity to enjoy a spa-like experience from your very own shower. Place one steamer on the floor of the shower, out of the main water stream but still in position where it can get splashed and enjoy the effervescent aroma as steam fills your bathroom.
If you're in a pinch, simply add a few drops of Peppermint essential oil to your shower gel for a bright and refreshing addition to your morning routine.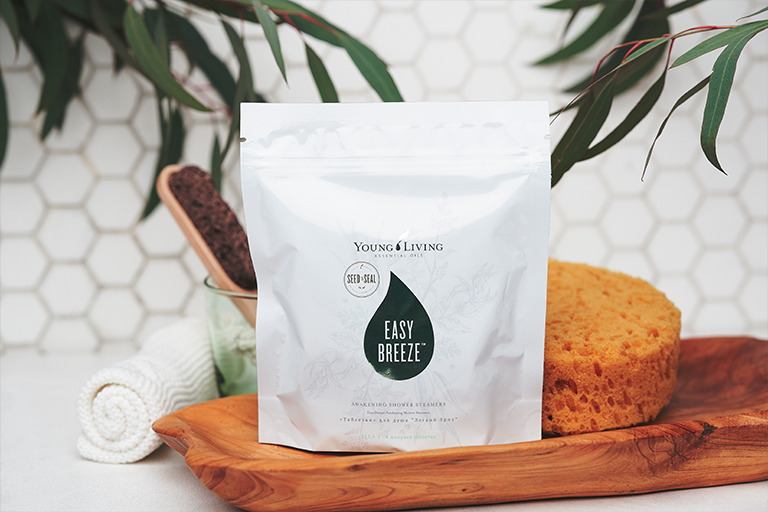 3.     Create uplifting fragrance blends
Peppermint oil, with its invigorating and uplifting notes, serves as a versatile canvas, making it a wonderful ingredient when crafting distinctive and personalised fragrance blends. Ignite your creativity by concocting unique scents that speak to your senses. Here's a few blends to get you inspired:
Mellow Morning
Crisp Leaves
Candy Cane Lane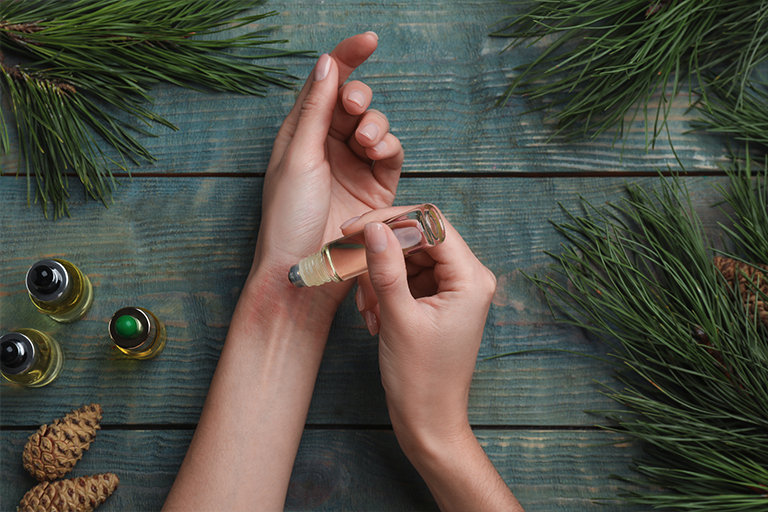 4.     Find your focus
We've all been there – those moments when motivation hits an all-time low. Enter Peppermint oil, your secret weapon when trying to find your focus. Apply a few drops to your hands, breathe in deeply, and enjoy a potent pick-me-up to help you feel ready to tackle the tasks at hand. Keep a bottle within arm's reach on your desk or study space, and let the crisp, invigorating scent of peppermint transform your environment to one of focus and motivation.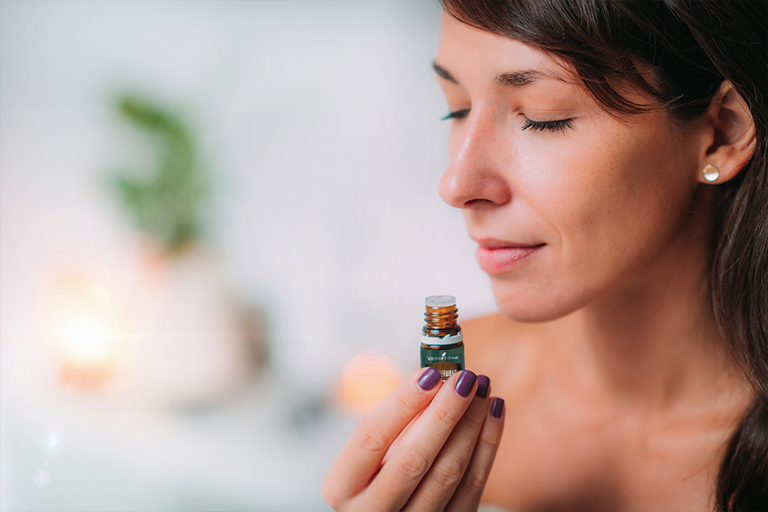 5.     Try your hand at some homemade tasty treats
At Young Living, not only do we promise our original Peppermint essential oil, but we offer a Peppermint+ essential oil food supplement which boasts a bright, cool, and festive flavour. Since the mid 1700s, peppermint has been used to add a refreshing sensation to sweets and treats around the world. As Christmas Day approaches, why not try out the following recipe and introduce Peppermint+ to your kitchen!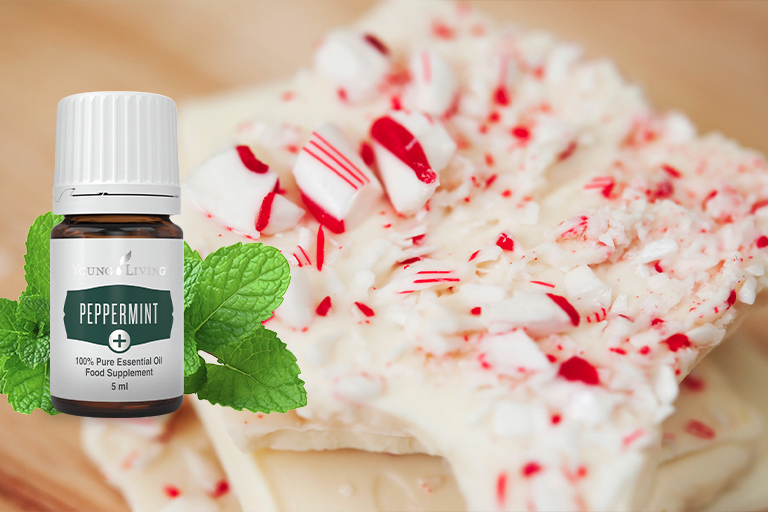 Festive Peppermint Bark
Ingredients:
350 g white chocolate (broken into small pieces)
170 g dark chocolate (broken into small pieces)
Vegetable or coconut oil
2 drops Peppermint+ essential oil
3 candy canes (crushed)
Method:
Line a square baking tin with parchment paper and set aside.
Melt ½ tsp of your oil with half of the white chocolate in a small heatproof bowl over a pan of hot water. Once melted, stir in 1 drop of Peppermint+ essential oil. Pour the melted white chocolate into the prepared baking tin and spread it in a thin, even layer. Place in the fridge for around 10-15 minutes until the white chocolate has almost set. Make sure not to wait until it has completely set, or the layers may not fuse together.
Repeat step 2 with the dark chocolate and add the layer of melted chocolate on top of the white chocolate that is already in the tin.
Finally, melt the remaining white chocolate with the final ½ tsp of oil and pour this over the layer of dark chocolate, creating a three-layer bark.
For the final layer, sprinkle your crushed candy canes over the melted chocolate and refrigerate until the mixture sets hard.
Once set, remove from the fridge, cut into slices as desired, and enjoy this festive treat.
Like this blog and let us know how you like to use this peppy powerhouse.