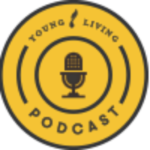 Can you believe it? This year we're celebrating the 25th anniversary of the creation of Thieves® by Young Living Founder and Chairman of the Board D. Gary Young! In this episode of Drop of Inspiration, we explore the history of the blend and give you a handful of DIYs that you'll be sure to love.
The uniqueness and versatility of our Thieves essential oil and oil-infused products are a testament to our passion for pure, effective essential oil solutions. For 25 years this remarkable, proprietary formula has been made possible by the exacting standards of our Seed to Seal® promise, and its place in essential oil history has been made possible by our members.
Thanks for loving Thieves as much as we do and check out our giveaway below!
Giveaway
We're giving away two baskets of our favorite Thieves products to randomly selected listeners for sharing their favorite Thieves product. Comment on this episode and share the episode link on your social media pages for an opportunity to win!
Giveaway rules:
To enter, simply comment on this post and share the link on your social media pages.
Contest ends at 11:59 p.m., MT, on Wednesday, November 23rd.
The lucky winners will be chosen randomly and announced on this post on Monday, November 28th.
Click here for official rules.