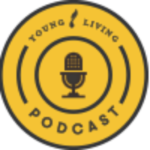 With Mother's Day around the corner, we decided to celebrate by bringing a very special guest onto Drop of Inspiration: Host Trent Morrison's mom, Debbi! Long before Trent started working for global headquarters, Debbi introduced their entire family to Young Living over 18 years ago.
In this episode you heard how Young Living means a lot of different things for one family—memories, funny stories, and great experiences. Regardless of how long you've been a part of the Young Living family, you get to create your own stories to share and cherish. Take a moment this year to sit down with a loved one, whether it's a mom, a sister, or a friend, and talk about your Young Living memories and stories. You might find yourself laughing, crying, or even celebrating.
We know you have amazing Young Living stories and memories and we want to hear them! Share your favorite one by posting a comment below. As an added bonus, we have a special giveaway!
Giveaway:
We want to hear one of your favorite Young Living memories with your mom, grandma, or loved one, so we're giving one randomly selected listener the ART® Skincare System just for sharing theirs! Comment on this episode and share the episode link on your social media pages for an opportunity to win!
Giveaway rules:
To enter, simply comment on this post and share on your social media pages.
Contest ends at 11:59 p.m., MT, on Monday, May 16.
The lucky winner will be chosen randomly and announced on this post on Wednesday, May 18th.
Click here for official rules.
***UPDATE***
Congratulations to our randomly selected giveaway winner, Maria Nardella.  Thanks to everyone for your participation and great comments!
For more information about distributor incomes, please visit: YoungLiving.com/ids