From September 29th – October 2nd, 2021, our annual Silver Retreat took place in Salt Lake City and at the Young Living Lavender Farm and Distillery in Mona, Utah, USA. Invitations to the retreat were for those who had qualified as a Silver for three consecutive months for the first time. As the 2020 retreat had to sadly be cancelled, this year's incredible recognition and training event invited Silver Brand Partners who had qualified across both 2020 and 2021, making it a particularly special occasion to renew, refresh and inspire our beloved Silvers, helping them progress on the path to achieving success and sharing Young Living products with the world.
One of the attendees of the Silver Retreat was Ines Situm from Croatia, who took time to write her account of this fantastic event.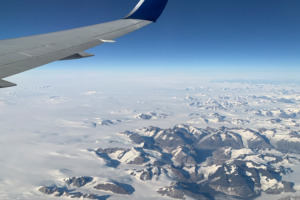 Words by Ines Situm
Great news everybody! Here in Croatia, we no longer require a visa to travel to the United States! That decision came into force a few days ago, but was quite late for our trip to the Silver Retreat in Salt Lake City, meaning the journey very much depended on us getting US visas in our passports.
We prepared for the visa interview as if we were going in to defend a PhD thesis. Literally. We had a strong vision and desire for this trip as we didn't want to miss this opportunity, despite the worldwide anti-pandemic measures, so we decided from the very start of our Silver Retreat planning that nothing could stand in our way.
Long story short, the visa was approved! So, let's go to Utah!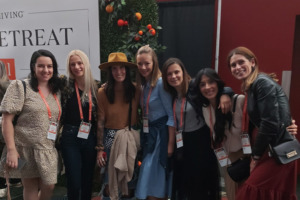 Three different flights and a total of about 16 hours of flying awaited us before embarking on this adventure. Getting a chance to attend something grand like this doesn't happen every day so I was thrilled to share all these experiences, emotions and excitements with Maja, Petra, Nina, Nancy and Ivona. Although we are all from different teams in this business, these girls are the best cross-line I could wish for. I consulted with my gynaecologist, but travelling at the end of my 4th month of pregnancy felt like a blessing for me. The nausea was over, I felt good, and my belly wasn't huge yet, so this trip came at the best possible time!
The flights to the US went a little slower than I expected, probably out of excitement because I couldn't sleep, especially when we were flying over Greenland – it really was a special moment when we saw that beautiful landscape from the air! At that moment, I wondered if I had ever seen anything as enchanting or inspiring. We hadn't even arrived at the Silver Retreat yet, and I already felt grateful to be a part of this trip and story.
Eventually we arrived in Salt Lake City and the Silver Retreat could begin! Wonderful gifts and a warm welcome were waiting for us, with an abundance of NingXia Red®. We also experienced incredible comments about our country and our language, something that happened often during our stay in the US. Everyone was interested in our language, asking us where we were from and wondering how our experience of travelling so far had been – our reply was to promptly invite them all to come to the Helichrysum Harvest at the Šibenik farm, which we hope will be held in our beautiful Croatia next year.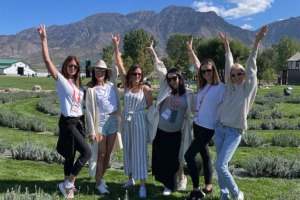 The next day, we were thrilled as a trip to the lavender farm in Mona awaited us. It was a wonderful day! From the sunshine to the farm full of people, it couldn't have been more interesting. However, for us, one of the most exciting parts was the tent hall, which was filled with discounted YL products, in addition to the tour of the essential oil distillery. Here, we could see for ourselves what we already knew when it came to Young Living's quality products. It all started right there, and we couldn't believe we got the opportunity to see it for ourselves. I cannot describe the feeling of pride we experienced, especially when we spotted the Croatian flag next to the essential oil distillery, where we had to stop and snap a few photos. After this, the lunch that was served on the farm was phenomenal, and it was here that we were first addressed by Mary Young, a woman who radiates inspiration!
The Saturday was specially reserved for leadership training and that day certainly offered more than we expected. I enjoyed every lecture; I cried, I laughed, I took notes, I studied, and I absorbed everything. After leadership training, we arranged coffee with our upline Emily. Everything seemed so unreal to me at times. I thought about my little girls who were on the other side of the world and about me, now in America, surrounded by people who have been so much of an inspiration to me. In the evening we had a party where we enjoyed streams of NingXia Red®, karaoke, dancing and laughing, all while snapping plenty of photos.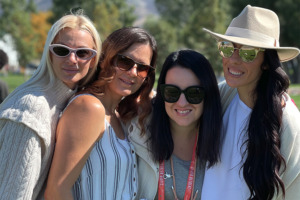 Although our departure was scheduled for the next morning, we made the decision to extend our little adventure for another two days. We rented a car and visited the beautiful Arches National Park and Park City where we enjoyed the autumn colours, nature, and food as we mulled over the thought that our very own Janica Kostelic won four medals in Utah at the Winter Olympics in 2002.
Thankfully, the return flight to Zagreb went quickly as we were tired, and we tried to spend most of the time sleeping. While the other girls fell asleep quite quickly, it was hard for me to relax as I reflected on the trip, so I was sure to use my Tranquil Roll-On. I applied it generously, and, as always, it was a life saver.
Once I was home, I thought about my time on the retreat and knew it was something that would mark the start of a further journey with Young Living. It was exactly what I needed to find a new dose of passion and motivation, and to help me convey to everyone that they too can experience this wonderful journey, by dreaming big dreams and changing lives for the better.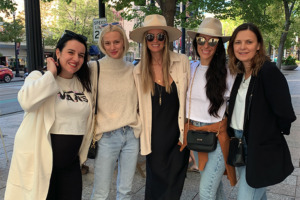 Have you ever attended one of our Silver Retreats? Write your comments below or contact us at mseublog@youngliving.com.