If you loved last month's blog about making eco-conscious choices at Christmas, then we hope this post will inspire you to continue making informed decisions beyond the festive period and into everyday life. Make 2023 the year you start making choices that lead you on the path to a more eco-conscious lifestyle. Unsure where to start? In this blog, we'll be giving you our best tips and tricks to help reduce plastic waste and be consciously kinder to the planet.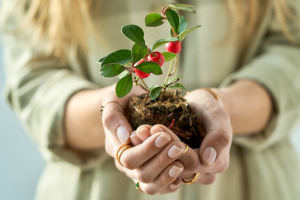 What is eco-conscious living?
Living an eco-conscious life is about becoming more aware of the impact our everyday decisions have on the world we inhabit. It's about collecting your thoughts, considering the consequences of your actions, and being intentional with the choices we make. But it's not something that can be achieved overnight, it's a gradual process of making one change at a time, no matter how big or small.
How can we live more eco-consciously?
Reduce single-use plastic waste
Did you know that more than eight million tonnes of plastic pollute our oceans each year? Not only that, but it is also harmful to animals and wildlife, as they can get injured tangled up in plastic objects or can even mistake them for food. Once consumed, the chemicals from plastic can pass through the food chain and contaminate the food we humans eat.
It's no denying that plastic pollution is a global problem, and single-use plastic is a key culprit. Also referred to as disposable plastic, single-use plastic cannot be recycled and instead takes hundreds of years to break down. Help tackle plastic pollution by avoiding single-use plastic and opting for reusable items like the ones highlighted below:
Wax wrap
Unlike their single-use counterpart cling film, which is difficult to recycle and usually ends up in landfill, wax wrap can be reused over and over again for up to a year. Made of cotton and coated with beeswax, wax wrap functions in the same way as cling film as it can mould around plates or bowls to seal your food and keep it fresh. In addition, it is completely biodegradable, meaning it can be composted after all the stickiness wears off.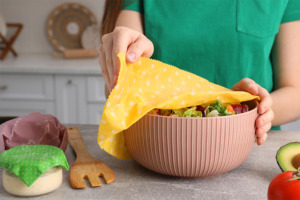 Reusable food storage bags
For those keen to avoid contributing to the plastic pollution crisis, say goodbye to conventional single-use plastic bags and make reusable food storage bags a permanent addition to your kitchen. These reusable bags are widely available, washable, and can be reused repeatedly in cupboards, fridges, and freezers. It's also important to note that they are more economical, helping to cut costs whilst also helping to reduce plastic waste.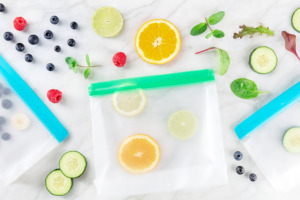 Brilliant bamboo
It's amazing how many bamboo alternatives are out there on the market today including cotton buds, toothbrushes, coffee cups, makeup remover pads…the list goes on! It's considered an eco-friendly resource thanks to its rapid growth rate and ability to regenerate after being harvested. What is more, it's 100% decomposable. Begin your move away from plastic-dependency today with brilliant bamboo!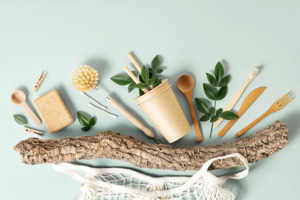 Choose eco-conscious brands
Another way to be kinder to the planet is by choosing to buy from reputable companies that prioritise caring for our shared world. Here at Young Living, we are proudly leading the way to ensure our standards go beyond the standard. Our Global Compliance Programme seeks to ensure that our products are contributing to the greater good of the planet, with examples including reforestation efforts and recycling programmes. Not only that, we offer a wide range of naturally-derived, vegan-friendly products, from essential oils and blends to a whole host of cleaning products, check out our range of naturally-derived products here.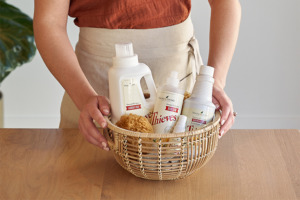 Embrace imperfection
Transitioning to a more eco-conscious lifestyle takes time and patience. Do not feel guilty if you can't lead a perfect lifestyle. We at Young Living embrace imperfection and welcome mistakes—that's called being human! What is most important is that you are striving to be better, moving in the right direction towards a more eco-conscious lifestyle, and hopefully inspiring others to join you along the way.
Like this blog and let us know any of your tips on how to live a more eco-conscious life!