For many, Christmas is a celebration of love. Whether you're gifting presents to family and friends or spending quality time together, Christmas is all about sharing the love. This season, why not extend the love to our wonderful planet by making eco-conscious choices about how you wrap presents and decorate your home. Rather than buying new, draw from what you already have at home or around you in nature with these festive DIY decoration ideas and environmentally friendly gift-wrapping tips. And remember, never underestimate the power your individual choices have when it comes to caring for our shared world!
Get creative with homemade decorations
Why not try something new this year and decorate your Christmas tree without wasting money or resources. Get your creative juices flowing and add natural beauty to your tree with these 3 dazzling decorative ideas.
Dried Orange Slices
Add a pop of colour and a burst of citrusy fragrance to your tree with some dried orange slice ornaments.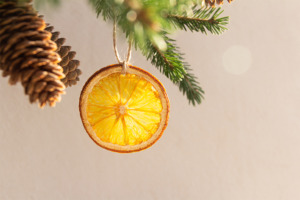 What you'll need:
2-3 oranges
Twine or string
Method:
Preheat oven to 140 °C/120 °C fan/gas 1.
Slice 2-3 oranges roughly ¼ inch thick.
Blot off any excess moisture with a paper towel.
Arrange orange slices out on a baking rack or tray.
Bake for 45 minutes to 1 hour until completely dried out, turning halfway.
Thread twine or string through the centre of the slices, tying a knot to secure.
Hang the ornaments on your tree, step back and admire your creation!
These festive slices can also be tied to presents or strung onto a homemade garland for added decoration.
Painted Pinecone Garland
Painting pinecones is the perfect family activity to save for a rainy day. Prep for the festive season with this Christmassy craft!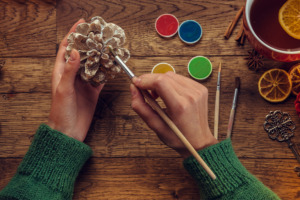 What you'll need:
Pinecones
Twine
Acrylic paint
Paint brush
Method:
Rinse any dirt from the pinecones and let them dry.
Paint the pinecones as you please! Dip the tips in white paint to mimic snow or use a brush to add colour to the scales.
Cut several small pieces of twine and one long piece for the garland, depending on the size of your tree.
Once the paint has dried, tie the smaller pieces of twine to each pinecone by wrapping it around the base.
Tie the other end to the long piece of twine and slide the pinecone down, making sure you leave enough room at the end for hanging later.
Keep adding pinecones until you have a full garland.
Tie loops on each end of the long piece of twine and hang your garland!
If your tree is already looking crowded, use your pinecone garland to decorate your mantel or staircase instead.
Salt Dough Ornaments
Add some homemade charm to your tree with this family-friendly DIY. These salt dough decorations are a safer alternative to glass baubles, so that you can be confident your kids and pets will be safe when playing near the tree.
What you'll need:
250g plain flour
125g salt
125ml water
Cookie cutters
Twine or string
Straw
Paint, optional
Method:
Preheat the oven to the lowest setting.
Mix the salt and flour together in a large bowl.
Gradually add the water until the mixture forms a ball of dough.
Roll out the dough to roughly 1cm thickness.
Use your cookie cutters to cut out your desired shapes.
Use the end of the straw to poke holes in the top of the shapes. This is where the twine will be threaded through!
Transfer your shapes to a baking tray and cook for 3 hours until solid. Leave to cool.
Decorate as you desire or leave plain.
Threat pieces of twine through the holes, tying the ends to finish.
Hang your salt dough ornaments proudly on your tree!
Gift wrap using newspaper
Now that your tree is looking spectacular, it's time to think about presents! A really easy way to reduce waste this Christmas is to reuse newspapers or parcel paper in place of glittery wrapping paper that often can't be recycled. You can even get your kids to decorate the paper by drawing pictures to make it more festive.
As tape cannot be recycled, opt for twine or ribbon instead. Not only will this give your gifts a traditional look, but it also means paper will less likely be torn so you can reuse again!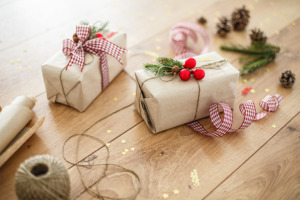 Which of these DIY ideas are you going to try this Christmas? Write your comments or contact us at mseublog@youngliving.com