Since the establishment of Young Living as a company in 1994, we've been creating the finest, high-quality essential oils and oil-infused products, making us world renowned as leaders in wellness solutions. However, as the company has grown, so has our range of products, an expansion which has resulted in the fantastic Einkorn offerings we have today. While Einkorn flour might not be as commonly found in your local supermarket as its almond or rye counterparts, historically, Einkorn is the oldest form of wheat, with its benefits having been noted across thousands of years! In this blog, we'll be answering some of your most-asked questions surrounding Einkorn while talking you through some of our favourite Einkorn products, allowing you to get better acquainted with this subtly sweet and deeply nutritious grain – so what are you waiting for?
What is Einkorn?
Einkorn is often referred to as the original "staff-of-life" grain and is known to be the oldest variety of wheat, dating back thousands of years. Today Young Living is helping to bring Einkorn back to its rightful prominence in the world thanks to our versatile Einkorn flour and delicious Einkorn product range. Highly nutritious and un-hybridised, Einkorn products are a tasty must-have for your kitchen.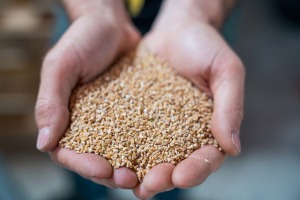 Why is Einkorn so good for you?
Einkorn's natural genetic code and low gluten levels make it an excellent choice when it comes to flour, due to its typical compatibility with the human body when compared to the modern hybrid wheat of today. Because it's the only form of wheat that's completely un-hybridised, a term that refers to the cross breeding of different varieties of wheat to increase yield and strength, Einkorn grain is the purest and most natural product you can buy, and is a particularly great alternative to modern wheat products.
Please note: We do not recommend the consumption of Einkorn for those with coeliac disease or gluten intolerances.
Where do we grow Einkorn at Young Living?
Lucky for us, Einkorn is a low maintenance crop that does not require any added fertiliser or irrigation – all it needs is sun, rain, and love! For many years, we've been growing Einkorn at our Simiane-la-Rotonde Lavender Farm and Distillery in Provence for one clear reason – it acts as a fantastic rotation crop with our fragrant lavender plants, meaning that after an area of our land grows lavender for 10 years, we take out the lavender and plant Einkorn in its place! Not only does it replenish the nutrients in the soil, but it ensures that cycles for bugs and potential disease do not begin.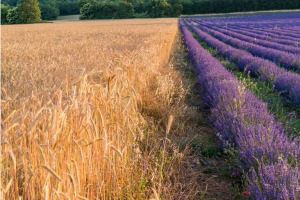 What Einkorn products do we offer?
In addition to producing our highly nutritious Einkorn flour, we offer a range of delicious Einkorn products that are ready to eat, packed with fibre and promise a fantastic alternative to hybridised, modern wheat. They include:
Gary's True Grit Einkorn Flakes Cereal – This nourishing cereal offers a morning meal that the whole family are sure to want to get up for. Made up of both ancient Einkorn and oat bran, this tasty cereal is crisp, even with the addition of milk, and is lightly sweetened with coconut sugar, making it the perfect morning fuel (or late-night snack) to keep you on track.
Gary's True Grit Einkorn Granola – Whether you choose to sample it hot or cold, Gary's True Grit Einkorn Granola offers a delicious blend of naturally sourced oats, whole grains, nuts, berries, and seeds. From its sweet cranberries and coconut sugar to its hearty sunflower seeds and almonds, these crunchy clusters are guaranteed to provide a perfect start to the day!
Chocolate Coated Wolfberry Crisp Bars – If you're in search of a tasty, nutritious snack to eat on the go, look no further than these delicious cereal bars. Packed with wholesome grains, fruits, and nuts, and drizzled in indulgent dark chocolate, these bars are a great treat for when you're looking to satisfying cravings while ensuring you stay energised and full.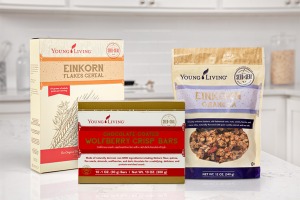 Which Einkorn product are you most excited to try? Write your comments below or contact us at mseublog@youngliving.com