Here at Young Living, we're big fans of the long, balmy evenings, sun-soaked beach days and back garden BBQs that summer brings. With the summer solstice now just around the corner, we are so excited to share some of our favourite rituals for using and enjoying essential oils alongside the sunshine — read on to find out more!
What is the Summer Solstice?
The summer solstice falls every year on or around June 21st in the Northern Hemisphere and on or around December 22nd in the Southern Hemisphere. The solstice marks the start of summer and is the longest day of the year in terms of sunlight, making it a perfect time to celebrate the months of sunshine that are to come with solstice rituals.
Our Favourite Summer Solstice Oils
When it comes to self-care, summer is a prime season to indulge in a little extra TLC. That's why we love using oils such as Orange, Geranium, Peppermint, and Cedarwood during the summer months. From super-moisturising, citrus-infused skincare routines, to refreshing, icy-cold roll-ons, these versatile oils can be used in a variety of ways to boost your solstice celebrations. During this time of spirituality and connection, looking after yourself, setting intentions, and taking time out to reflect is also important, so why not try oils such as Frankincense and German Chamomile to soothe your senses as you create a calming environment.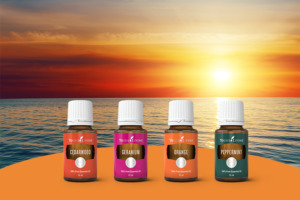 Top Tips for Summer Solstice Celebrations
When it comes to rituals to enjoy during the summer solstice, everyone has individual preferences on how to celebrate the vibrant energy associated with such a spiritual event. Whether it's through meditation, journalling, or simply doing something you love, Young Living's essential oils can accompany your summer solstice rituals and surround your senses with beautiful scents as you celebrate. We've listed just a few of our favourite rituals below:
Summer Solstice Bath Ritual
For a summer solstice bathing experience that'll leave you feeling perfectly pampered, why not try adding 6-8 drops of Palo Santo essential oil with Epsom salts to your evening bath? Palo Santo bark is traditionally burned in South America to help clear negative energies, and this lemony oil offers a restorative aroma when inhaled. To accompany your bath time and help create a magical mood, why not try adding a few candles to your bathroom or maximising your summer solstice bath ritual with some fragrant flower petals.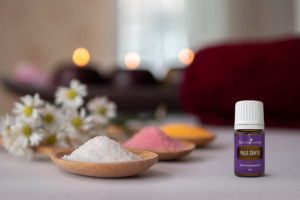 Self-Love Solstice Meditation
Taking time out to practice meditation — an ancient remedy that works wonders for modern stresses, while developing strength, clarity, and stability of mind — is a fantastic way to celebrate the summer solstice. If you've been looking to get into meditation, why not consider applying a relaxing scent to your pulse points such as Lavender or Neroli, and accompany the experience by holding your favourite crystals. Get settled in a quiet spot, wear comfortable clothes, and take time to repeat your self-love affirmations out loud.
Summer Solstice Journal Journey
When it comes to summer solstice ritual ideas, here at Young Living, we love journalling. On the day in which sunshine can be appreciated the most, why not head outside with refreshing oils such as Tea Tree, Patchouli, and Lemon, before taking time to consider how you feel as the summer cycle begins. You could write about the peaks of your year so far as the sun peaks in the sky or consider what you want to let go of as you embrace new beginnings.
How are you planning on using essential oils during your summer solstice rituals? Write your comments below or contact us at mseublog@youngliving.com