Our mind creates powerful connections between scent and our emotions, surroundings and memories. Diffusing essential oils is a simple but effective way to access those connections. It can also help build new and positive memories and experiences.
---
Direct Inhalation of Essential Oils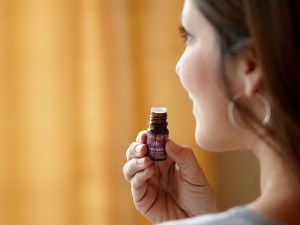 You may simply open a bottle of essential oil and inhale or put a few drops of oil on the palm of your hand, rub your hands together and then cup your hands over your nose and mouth and inhale. You can even add a few drops of oil to a bowl of hot (not boiling) water and inhale the vapour.
Diffusing Essential Oils
Because diffusion distributes essential oil molecules into the air so effectively, it is an excellent way to maximise the beneficial properties of essential oils. There are lots of different ways to diffuse, so let's talk about the most effective methods. It's important to note that overheating essential oils using aroma lamps or candles can render the oils less beneficial, so we'll focus on different cold-air diffusion methods.
---
Ultrasonic Diffusers
Ultrasonic diffusion combines the advantages of a humidifier, air purifier, atomiser and aroma diffuser into one by breaking a mixture of essential oils and water into millions of microparticles and dispersing them into the air. Young Living has several ultrasonic diffusers with features our members love, such as:
Young Living's Desert Mist Diffuser is a brand-new, custom-designed diffuser made to look like a beautiful and elegant vase. The design features a romantic Moroccan trellis pattern, which brings a sense of the exotic into your home or office. It functions as a humidifier, atomiser and aroma diffuser in one simple-to-use product. The Desert Mist also offers multiple settings—High, Low and Intermittent mode— to permeate your home or office for up to 10 hours of blissful aroma. The Desert Mist is designed to run longer and offer more features, so you can customise your aroma experience to any mood. It offers 10 LED coloured light options, including an alluring candle-like flicker mode. With its beautiful design, this elegant diffuser will fit right in with any home or office décor.
With its elegant and décor-friendly design, the Aria Diffuser is perfect for spa or yoga lovers and combines the latest in diffuser technology with a variety of useful features. The included remote lets you choose from a selection of soothing, built-in sounds or enjoy the multicoloured LED lights. With the built-in speakers, you can plug in your own personal music device and enjoy the music of your choice.
The Lantern Diffuser made with exquisite metal and glass details also functions as a humidifier and atomiser and is one of the most versatile diffusers Young Living offers. With longer run times (up to 10 hours) and 11 light features, including an alluring candle-flicker mode, the Lantern Diffuser is the perfect complement to any setting or gathering.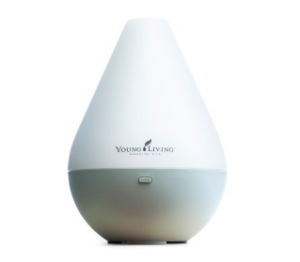 The Dewdrop Diffuser is an aroma diffuser, humidifier and atomiser in one simple-to-use product. With two buttons to separately control the power and light settings, 11 LED coloured light options, including a candle-like flicker mode and 5- and 8-hour diffusion timers plus a 10-hour timer with an intermittent mode. The Dewdrop Diffuser adds a touch of elegance to your home, office or exhibition space while filling the air with the alluring scent of essential oils.
Say hello to our cutest essential oil diffuser yet: Feather the Owl. This exclusive, custom-designed ultrasonic diffuser functions as a humidifier, aroma diffuser, night-light and white-noise machine—all in one! Child friendly and simple to use, Feather the Owl features multiple diffusion from low to high, 10 different LED light options and 5 white-noise sound options.
---
On-the-Go Diffusers
Spread the scent of your favourite oils anywhere with Young Living's USB Diffuser. You can use it with your computer or in your car, and take it with you on the go—the compact and quiet USB diffuser is easy to take along! You can set the diffusion interval to be 10, 30 or 60 seconds.
Our simple yet stylish Car Vent Diffuser is available in rose gold or grey and uses oil absorbing cotton pads and the air conditioning or heat from your air vents to fill your car with the aromatic benefits of essential oils. Perfect to transform your journey into an experience you will never forget!
---
What's your favourite Young Living diffuser? Share how you diffuse your favourite blends in the comments!