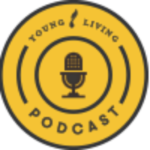 Get to know our brand ambassador Bryan Clay. He's a decorated champion with multiple gold-medals, including the Decathlon—winners of which are often called the World's Greatest Athlete. Since YL is the world leader in essential oils, we're thrilled to have him on our team as one of our brand ambassadors.
Related Content:
Udated Giveaway
We're giving four Active & Fit Kits to four randomly selected listeners for sharing their favorite ways to stay active and fit. Comment on this episode and share the episode link on your social media pages for an opportunity to win!
Giveaway rules:
To enter, simply comment on this post and share the link on your social media pages.
Contest ends at 11:59 p.m., MT, on Monday, August 22.
The lucky winner will be chosen randomly and announced on this post on Wednesday, August 24th.
Click here for official rules.
***UPDATE***
Congratulations to our randomly selected giveaway winners, Barbara Peter, Jacqueline McLaughlin, Michael Currey, and Donna Scott.  Thanks to everyone for your participation and great comments!