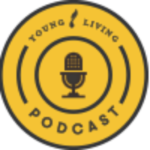 It's not just you—everybody's been curious about what it takes to get your YL package. In this episode of Drop of Inspiration, we explore the extensive and detailed journey each of our essential oils goes through. Tune in to listen to our tour with Jonah Detro, senior director of fulfillment and global distribution.
Love this episode? Post link on your social media page to share the YL love. Now that you know more about the warehouse, leave a comment telling us what's in your next Essential Reward box. Who knows, maybe we saw it when we recorded!
Related Content:
Check out these behind the scene photos below. They highlight our tour with Jonah Detro.
Save and share the image below on your social media pages to share the YL love.