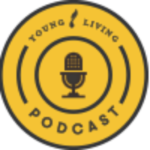 We hope you're feeling extra passionate after the Live Your Passion rallies. These events have been creating some serious energy for the Young Living family. So what does Live Your Passion mean? It means embracing what we love in unique and personal ways.
When it comes to Young Living, you can connect your personal passions to help bring essential oils into every home. In this encore episode, we invited Samantha Wright and Tracy Griffiths to talk about their passions and the ways they've connected them to Young Living.
Samantha is a kindred spirit in the podcast world where she and her guests cover health and wellness topics. Tracy has created a one-of-kind yoga experience that infuses essential oils into the practice of her yogis.