Well known by lovers of Young Living as the key ingredient behind our delicious NingXia Red® beverage, wolfberries are bright red berries that originate from Asia. More commonly referred to as goji berries, these tiny fruits are not only one of nature's most nutritious fruits, but they taste incredible too, whether enjoyed alone or mixed within smoothies and fruit-packed treats. In this blog, we'll be answering some of your top questions about wolfberries, so you can learn more about the benefits behind this flavoursome fruit and enjoy top tips on how to introduce it to your daily diet!
What are Wolfberries?
Having been used as both a food and medicine across China for thousands of years, wolfberries, or goji berries, are a prominent fruit that grow on fruiting berry bushes related to the nightshade family. Eating goji berries helps bring a fibre-rich fruit into your diet, whether you choose to use them within baked goods, eat a handful of dried goji berries in a homemade trail mix or opt to drink goji berry juice in a morning smoothie.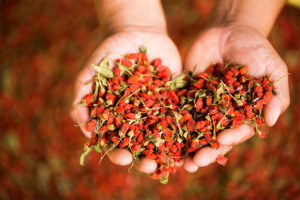 What are the benefits of eating Wolfberries?
Young Living's Wolfberries are a sweet, organic snack that's easy to fit into your daily diet. Both fat free and low in salt, goji berries are packed with nutrients and are incredibly versatile, meaning they can be easily incorporated in a lot of different recipes. A huge benefit of Wolfberries is also that they are just as fibre-rich and good for you when dried as they are fresh, meaning Young Living's whole dried Wolfberries are packed with goodness and can be stored for longer in your home!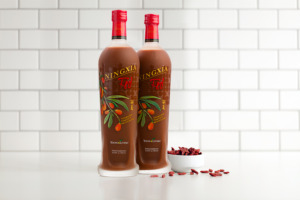 Which Young Living products contain Wolfberries?
In addition to our high-quality essential oils, Young Living stocks a variety of products that contain wolfberries. One of our favourites is our Chocolate-Coated Wolfberry Crisp Bars, which combine wholesome grains, fruits, nuts, and whey into a convenient, snack-sized bar that is perfect to take on the go. Drizzled in rich dark chocolate for a decadent treat and packed with dried wolfberries, these bars are both delicious and nutritious. We also offer our tart and fruity NingXia Red® beverage, which includes not only wolfberries but plum, aronia, cherry, blueberry, and pomegranate juices and extracts. Not only can NingXia Red® be blended into morning smoothie bowls or taken as a daily shot, it acts as a great alternative for sparkling drinks at gatherings, whether for adults or children. Finally, we have our Ningxia Dried Wolfberries themselves, which can easily be combined with cereals, your favourite cakes and cookies or even salads for a fruity twist.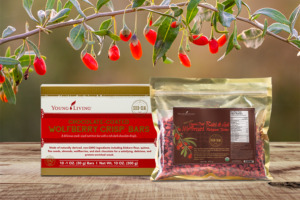 Wolfberry Rocky Road Recipe
If you've been looking for ways to eat goji berries on a more regular basis, the following recipe could become a new firm favourite for your family.
Ingredients
100 g raw cacao powder
200 g raw pitted dates
80 g dark chocolate chips
80 g mini marshmallows
150 g nuts of your choosing (walnuts, pecans, macadamia nuts etc.)
1 pinch sea salt
180 g coconut oil
2 drops Tangerine+ essential oil
70 g Young Living Dried Wolfberries
Method
Place the dates in a medium glass or stainless-steel bowl and pour boiling water over them before letting them sit for approximately 5 minutes until they're softened. Once softened, drain them, and place them into a food processor with the melted coconut oil, cacao powder, sea salt and Tangerine+ essential oil.
Blend on high until the mixture is well combined and smooth before tasting and adding a little more Tangerine+ essential oil if needed.
Transfer the mixture to a large bowl and add the wolfberries, chopped nuts, marshmallows, and chocolate chips, and mix well by hand. Then spread the mixture out into a medium baking tray or glass container lined with baking paper (lining with baking paper makes removing the cut pieces easier and ensures an easy clean up).
Place the tray in the fridge to cool and set. When the Rocky Road has set, gently cut it into pieces (any size you desire) and serve immediately or store covered for up to a week in the fridge. You can also wrap and freeze some of the pieces if you like to have tasty sweet treats on hand.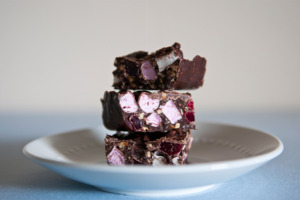 How are you planning on using Young Living's Wolfberries in your day-to-day meals? Write your comments below or contact us at mseublog@youngliving.com