Celebrating Easter means something different to everyone, but if there's one thing that's universally enjoyed when it comes to this annual holiday, it's delicious food. As the seasonal spring flowers bloom, new life surrounds us and we spend time with our family and friends, there's no better time than now to create light, tasty and creative bakes to share during the Easter festivities. In this blog, we'll be taking you through some of our favourite traditional Easter baking recipes, all of which include our fantastic Plus oils to guarantee maximum flavour and the wonderful benefits of Young Living Essential Oils.
Firstly, our top tip when it comes to baking cakes and sweet treats using Plus essential oils is that less is more. Young Living's Plus essential oils are highly concentrated, meaning that the smallest amounts are generally sufficient for providing great flavour. We recommend using a toothpick to add your chosen Plus oils to your recipes, ensuring that you don't over flavour and spoil your tasty Easter cakes.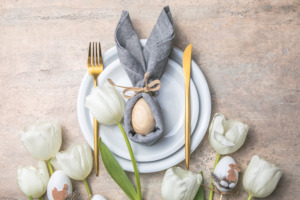 Classic Easter Simnel Cake
This traditional recipe is sure to look beautiful on display in your home this Easter. Top with marzipan balls or opt to decorate with edible spring flowers for a modern twist on this classic recipe.
Ingredients
250g mixed dried fruit (sultanas, currants, raisins and candied mixed peel)
3 drops Orange+ essential oil
500g marzipan
250g softened butter
200g light brown sugar
4 eggs, plus 1 beaten for glazing
175g plain flour
100g ground almonds
1 tsp baking powder
1 zested lemon
1 zested orange
2 tsp mixed spice
1 tsp vanilla extract
100g halved glacé cherries
3 tbsp apricot jam
Method
Put the mixed dried fruit in a bowl with the Orange+ essential oil, orange zest and 5 tbsp water. Cover and microwave for 2 mins, then leave to cool completely. Alternatively, heat gently in a pan, stirring now and then until the liquid has been absorbed and leave to cool.
Heat the oven to 150°C. Roll out 1/3 of the marzipan and use the base of a deep 20 cm cake tin as a template to cut out a circle. Set the remaining marzipan aside for later. Butter and line the cake tin before beating the butter and sugar together until creamy. Add the eggs, flour, almonds, baking powder, lemon zest, mixed spice, and vanilla extract and mix until well combined. Add in the cooled soaked dried fruit and fold in the cherries.
Scrape half of the cake mixture into the tin. Top with the disc of marzipan and then add the rest of the mixture to the tin. Bake for 2 hours. Check it's cooked by inserting a skewer to the centre of the cake and remove the cake from the oven once the skewer comes out clean. Cool in the tin for 15 mins, then turn out onto a wire rack and leave to cool completely.
Brush the top of the cake with apricot jam. Roll out half of the remaining marzipan and use the base of the cake as a template to cut out another disc. Place it on top of the cake and crimp the edges if you like. Roll the remaining marzipan into 11 equal-sized balls for decoration. Brush the marzipan with beaten egg and arrange the marzipan balls in a circle on the cake before brushing them with a little egg too. Put under a hot grill for a minute or two until it starts to caramelise – be very careful as the marzipan will burn easily. Leave to cool and serve!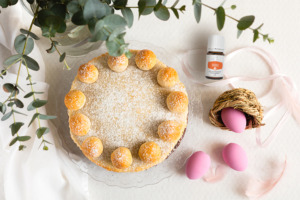 Lovely Lemon Hot Cross Buns
Perfect when served warm for breakfast on Easter Sunday, these sweet and fruity hot cross buns are sure to be enjoyed by all your loved ones.
Ingredients
500g strong white bread flour, plus extra for dusting
7g sachet fast-action dried yeast
50g golden caster sugar
1 ½ tsp cinnamon
3 tbsp olive oil
2 tsp sea salt
1 lemon, zested
100g frozen blueberries
2 drops Lemon+ essential oil
Milk, for brushing
50g plain flour
1 tbsp maple syrup
Method
Mix the bread flour, yeast, sugar, cinnamon, oil, sea salt and 350ml warm water in a bowl with a spoon first, and then with your hands. Add the zest and Lemon+ essential oil and continue to knead for around 10 mins until it feels less sticky. Shape into a ball, return to the bowl and cover. Leave to rise for about 1 hour or until doubled in size.
Knock the air out of the dough and gently knead in the frozen blueberries. On a floured surface, shape into eight buns. Put the buns on a baking tray lined with baking parchment and prove somewhere warm for 1 hour or until well risen.
Heat oven to 220°C and brush the buns with milk. Mix the plain flour with water to make a paste, transfer to a piping bag and pipe crosses on top. Bake for 25-30 mins or until golden and risen. Brush with the maple syrup while still warm and enjoy.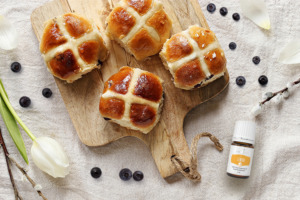 EveryBUNNY's Favourite Carrot Cake
Searching for the perfect mid-morning treat to serve after hunting for Easter eggs? Look no further than this warm, spicy, and perfectly delicious carrot cake!
Ingredients
175ml vegetable oil
75g natural yogurt
3 large eggs
1 tsp vanilla extract
200g self-raising flour
250g light muscovado sugar
3 drops Cinnamon Bark+ essential oil
¼ tsp fresh nutmeg, finely grated
200g carrots (about three), grated
100g sultanas or raisins
100g pistachios, finely chopped
For the icing
100g slightly salted softened butter
200g icing sugar
100g full-fat cream cheese
100g fondant icing or marzipan
Orange food colouring
Method
Heat oven to 180°C before oiling and lining a 900g loaf tin with baking parchment. Whisk the oil, yogurt, eggs, and vanilla in a jug. Mix the flour, sugar, Cinnamon Bark+ essential oil and nutmeg with a good pinch of salt in a bowl.
Add the wet ingredients to the dry, along with the carrots, raisins and half the pistachios. Mix well to combine, then scrape into the tin. Bake for 1 hour 10 mins or until a skewer inserted into the centre of the cake comes out clean. Once cooked, leave to cool in the tin.
To make the icing, beat the butter and sugar together until smooth. Add the cream cheese gradually and continue to beat. Remove the cake from the tin, spread the icing thickly on top and scatter with some of the remaining pistachios. Dye the fondant or marzipan orange by kneading in a drop of food colouring. Roll into little carrot shapes, then use a skewer to make indentations and poke a few pistachios in to look like fronds. Top the cake with the carrots, then serve.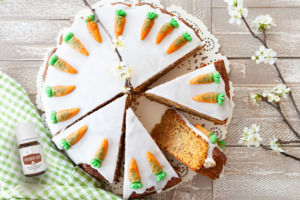 How are you hoping to use Young Living's Plus oils this Easter? Write your comments below or contact us at mseublog@youngliving.com