Around the world, the use of essential oils in day-to-day life is becoming increasingly popular, but with hundreds of oils to choose from, finding your favourite can sometimes feel overwhelming. With Young Living's Roman and German Chamomile oils, you'll be able to cast your worries aside and stay feeling relaxed, as when it comes to Chamomile, a serene state of calm is always on the horizon. In this blog, we've answered a few important questions about this soothing product, in addition to naming some of our favourite uses for Chamomile.
What is Chamomile?
First of all, what exactly is Chamomile and where does it come from? This precious white and yellow wildflower blooms in pastures, along roadsides, and in other sunny areas, and has been widely used throughout history in chamomile-based products such as tea, thanks to its many benefits.
What are the differences between Roman and German Chamomile?
Our Roman Chamomile essential oil boasts an apple-like scent, and is perfect for bringing about a calming atmosphere, creating a soothing feeling. German Chamomile is less well known than its Roman counterpart but is in the same family as sunflowers and daisies, blooming each year between spring and autumn. German Chamomile features a unique, blue hue and packs a punch with its fruity aroma, which distinguishes it from most other oils.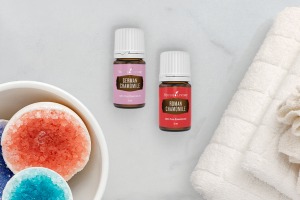 Which Chamomile oil is best for me?
If you're looking to soothe your senses or refresh your skin, leaving you with a silky soft finish, then look no further than our versatile Roman Chamomile essential oil. It blends beautifully with other oils such as Grapefruit, Bergamot and Lemon, and can be used in a variety of creams, soaps, and body washes to add a fruity scent and cleansing properties to your beauty routine.
However, if you love Lavender essential oil but you're looking for a new alternative or something to add to your floral blends, German Chamomile might be the one for you. As it's ideal for use on sensitive skin, apply it to your neckline to bring about feelings of peace and calm, or use it alongside a cleanser to melt away your make-up and remove impurities – you'll have baby soft, sweet-smelling skin in no time!
How can I use Roman Chamomile in my day-to-day life?
At Young Living, we believe that oils hold a vital place in our daily lives. These mini bottles of goodness are conveniently sized to aid in simple storage and easy transportation, and are exceptionally versatile, allowing for maximum satisfaction.
Ways to introduce Roman Chamomile into your routine include simply keeping a bottle on hand in order to breathe in its soft scent, adding 6-8 drops to half a cup of Epsom salts before adding to a bath for a spa-like experience, and combining a few drops with 10 ml of Young Living V-6® Enhanced Vegetable Oil Complex for an exceptional massage oil.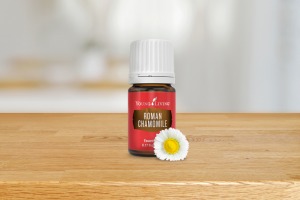 How can I use German Chamomile in my day-to-day life?
Although Roman Chamomile is generally better known, German Chamomile offers endless benefits that are not to be ignored. Equally versatile when directly compared against Roman Chamomile, this oil is perfect when used within a skincare routine.
With its sweet, romantic, and calming scent, it's stunning on its own or when used alongside other oils in a blend as a perfume, and can also act as a welcome addition to moisturisers, lotions and creams, helping to keep your skin supple, soft, and looking rejuvenated.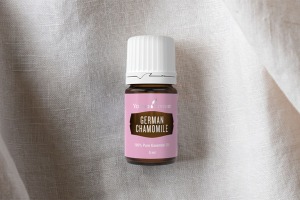 What other Young Living products contain Chamomile?
In addition to producing Roman and German Chamomile separately, we also offer several products that contain these beautiful essential oils. One of our favourites is our fantastic Tranquil Roll-On, an incredibly convenient product that blends Lavender, Cedarwood and Roman Chamomile essential oils and can be applied directly to the skin using a handy roll-on.
Warm, woody, and floral in its aroma, it's deeply relaxing and great for use at bedtime or during busy workdays. Our heavenly Motivation essential oil blend also includes Roman Chamomile, in addition to Black Spruce and Ylang Ylang, making it a perfect, powerful oil to add to your collection for days when you're needing to jumpstart your confidence and courage to get up and go!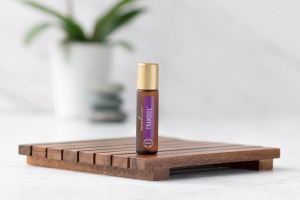 Are you excited to add Roman and German Chamomile to your collection? Write your comments below or contact us at mseublog@youngliving.com
This post is also available in: German Czech Dutch Finnish Swedish Lithuanian Romanian Russian Spanish French Italian Polish Portuguese (Portugal) Croatian