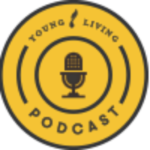 Diamond leader Lee Yen Anderson is a gentle powerhouse when it comes to health, wellness, and helping others. A strong background & passion for education led Lee Yen to where she is today: a Nutritional Consultant, Yoga teacher, and Essential oils educator. As a member of the Scentsible Tribe & a wife and mother, she is a fierce advocate for making health a priority.
Lee Yen was kind enough to invite us into her beautiful Hawaiian home, the day after returning from an international tour celebrating her 5th year with Young Living! When asked if she needed any time to reset from jet lag, Lee Yen laughed and said, "I actually don't get jet lag anymore! I have my oils!"
Press play to learn about about Lee Yen Anderson and her dynamic career history, the importance of paying attention to your body's signals, and the way she has integrated Young Living products & values in her life. She has a wonderfully warm presence, and is incredibly passionate about what she does. We hope you enjoy this episode as much as we enjoyed making it.