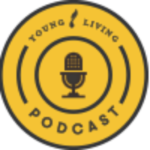 Tired of feeling like you can't trust the makeup you apply to your skin every morning? Melissa Poepping certainly felt that way. On this episode of Drop of Inspiration, we're speaking with Melissa, who started her own mineral makeup line and then sold the idea to Young Living to bring to life your new favorite mineral-based makeup: Savvy Minerals by Young Living ™. She discusses the frustration she used to have with other makeup products and how that inspired her to create Savvy Minerals.
Melissa also shares some fun ideas and inspiration for parents and daughters who are just starting out on the makeup journey. Savvy Minerals makeup is not tested on animals, and many products in the minerals makeup line are cruelty free and vegan friendly, so you can feel confident that you'll get the highest quality created with standards you can trust.
Plus, Micaela Congino, Young Living product marketing manager over Savvy Minerals, is joining us to answer some of your most frequently asked questions about the new Savvy Minerals line.
Related content