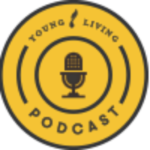 Special guest host and Chief Sales Officer Ben Riley sits down with Royal Crown Diamond Casey Wiegand to talk about sharing your story, family life, business practices, and the Young Living community. Casey Wiegand values the community of fun, like-minded people she meets working for Young Living, as well as the opportunity to promote natural products. Known as someone who is kind, loving, and warm hearted, she supports others by offering help and opportunity while building a strong community.
Casey's family has been her biggest influence and greatest support; her husband, Chris, is her partner & teammate in everything they do. Ever the artist, Casey began sharing her experiences on a blog shortly after the birth of her first child—since then, her stories have been shared all across the country and globe. As a leader in the Young Living community, Casey emphasizes the importance of living intentionally and cultivating real relationships in all aspects of private and public life.
To learn more about Casey & Chris and their family's journey, visit www.thewiegands.com.