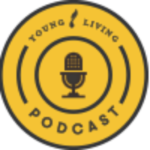 In this episode of Drop of Inspiration, guest host and US General Manager Jeff Pearson sits down with Royal Crown Diamonds Courtney and John Critz to discuss wellness as a priority in all aspects of life and how to build a community through sharing one's talents and resources.
At a young age, Courtney Critz learned from her mother that individual health and the health of her family were her responsibility. When Courtney first experienced Young Living essential oils, she initially loved the convenience and simplicity of the oils in helping her with that responsibility.
As a loyal leader, Courtney spends her time focused on people. She measures her success not by how much she does, but by the love she shows to God, family, friends, and strangers. "People matter more to me," she says, "than what I'm trying to get done." Her husband, John, uses his skills in technology to work with Courtney as they teach their teams. She is passionate about freedom—financial freedom, time freedom, and emotional freedom. At home, Courtney is a stay-at-home mom who loves teaching her and John's seven children.