Bringing the exotic, floral scent of far-flung lands to your doorstep, Young Living's Ylang Ylang oil is a firm favourite with essential oil lovers all over the world.
Steam-distilled from the yellow flowers of the Cananga tree – a tropical plant that's native to Indonesia – Ylang Ylang is an incredibly versatile oil that promises a bright and uplifting aroma. With this blog, we'll be taking you through some of our favourite ways to use it so you can incorporate this romantic oil into your day with ease.
Create a Signature Scent with Ylang Ylang essential oil
One of the main ways in which Ylang Ylang essential oil is popularly used is within enticing perfumes. Since many commercial fragrances have undisclosed chemicals in them, creating your own scent using pure Ylang Ylang essential oil is a perfect way to smell amazing, safely.
The scent of Ylang Ylang is classed as a 'heart' or 'middle note' in perfume as it emerges just as the 'top note' begins to dissipate. When combined with other floral oils including Lavender and Jasmine, it creates a stunning aroma that'll have you dreaming of blossoming spring gardens. Try the following method and create a stunning DIY perfume so you can carry the aroma of your favourite essential oils with you wherever you go.
Supplies
Method
Combine 10-15 drops of each of your selected essential oils in the empty 5 ml bottle until your aroma is balanced and to your liking.
Once you're happy with the blend, fill the rest of the bottle with Young Living V-6® Vegetable Oil Complex.
Put on the roller fitment and cap.
Print/design your chosen label.
Wrap the label around the bottle and fix in place with the transparent tape.
Roll on to your wrists, neck, or anywhere you'd like to put your new, custom-made perfume!
Enjoy a Romantic Bedtime Linen Spray with Ylang Ylang essential oil
Sometimes, the ultimate accompaniment to a relaxed bedtime routine comes in the form of essential oils. One of our favourite ways to enjoy the scent of Ylang Ylang is to incorporate it into a fragrant linen spray, a simple option for those who want to fill their bedroom with a soft, soothing aroma as they wind down with a cup of tea, read their favourite book and drift off to enjoy sweet dreams. Try the following method and transform your evening routine before you escape to dreamland.
Supplies
Method
Put your witch hazel in a spray bottle and add your chosen essential oils. Because oil and water don't mix, the witch hazel acts as an emulsifier to help the ingredients combine.
Add water and shake well to maximise the scent.
Lightly mist your linens and enjoy the fragrance of your favourite essential oils.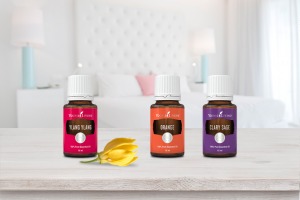 Use Ylang Ylang essential oil to Transform Your Beauty Routine
In addition to its rich, romantic scent, Ylang Ylang is loved for its nourishing properties, and is often included in high-end hair and skincare products. To transform your everyday bathing or skincare routine into a spa-like experience, why not try adding a few drops of Ylang Ylang to your favourite body wash or lotion, so you can enjoy the benefits and blissful scent around the clock. We also recommend adding 6-8 drops to a warm evening bath to provide ultimate rest and relaxation!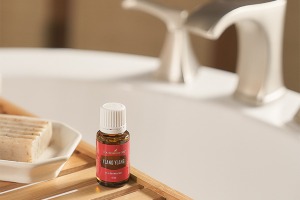 How are you hoping to introduce Ylang Ylang essential oil to your daily routine? Write your comments below or contact us at mseublog@youngliving.com