The time has finally come to wave goodbye to winter and welcome the warmth of springtime. This season resonates with so many thanks to its promise of sunny skies, blossoming flowers and new life. It's also well known as a time of year where the spark of renewal hangs in the air, leaving people with a determination and motivation to get down to 'spring cleaning'.
Whether you're planning on spending this time decluttering your home to make room for your favourite oils or are simply looking to leave your surroundings feeling fresher, purer and revitalised in time for summer, the following list should provide you with some handy tips and tricks to spring clean your home with the assistance of the naturally derived and toxin-free products we hold dear at Young Living.
Make Your Own DIY Solution with Thieves® Household Cleaner
One of the major benefits of many products at Young Living is their versatility and adaptability. Our Thieves® Household Cleaner is a strong, ultra-concentrated, all-purpose cleaning solution that can work on all manner of surfaces, including wood, granite, glass, and various fabrics. Formulated without the harmful toxins that often appear in conventional cleaners, this solution is safe to use around your whole family and can be diluted or added to with ease, allowing you to make your own customised cleaning products.
To tackle stubborn grease stains around the kitchen, try mixing one capful of Thieves® Household Cleaner with 1 drop of Pine essential oil and 1 cup of water. Alternatively, if the build-up of grime within your dishwasher is your main priority, add ½ capful of Thieves® Household Cleaner to 3 drops of Jade Lemon essential oil and 1 cup of white vinegar, before running your dishwasher on an empty cycle to leave it totally sparkling.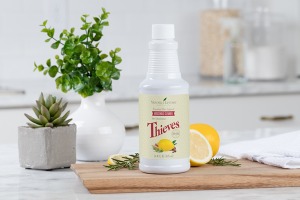 Refresh Your Sheets and Refresh Your Home
For many, the bedroom acts as a sort of sanctuary, a place where they can escape from the hustle and bustle of daily life and unwind. At Young Living, we're firm believers that our surroundings directly affect our productivity and mindset, and so spring cleaning and keeping our bedrooms refreshed, welcoming, and rejuvenated is of high importance.
One fantastic way to bring a sense of invigoration to your bedroom is by introducing an uplifting linen spray. Simply throw open the windows, let the sunshine pour in and spritz your clean sheets with this beautiful blend using a glass spray bottle to invite positivity and cheeriness into your spring days.
DIY Linen Spray with Essential Oils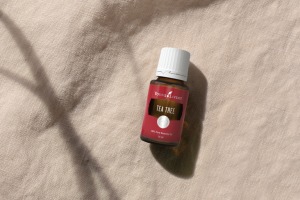 Wow Your Spring Wardrobe with Floral Fragrances
As the weather improves, the coming weeks offer the prime opportunity to pack away heavy winter coats and put together a refreshed spring wardrobe. If you're dusting off dresses from last year and wanting to give them a beautiful, boosted scent that your typical laundry soap can't quite reach, try adding these floral sachets to your wardrobe and drawers.
Simply add a drop or two of your favourite essential oils to a stack of cotton pads, pack inside a small organza bag and enjoy the wafting aroma of gorgeous oils as you pick your outfit each morning. Easy to change out and refresh, non-messy and non-fuss, this is a fantastic spring cleaning hack that'll make all the difference to your clothes, leaving you surrounded by your favourite aromas all day every day!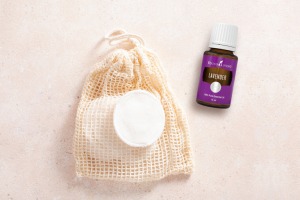 Spring Clean Your Mind
Spring is a season of rebirth, and an ideal time to change your perspective, energy, and plan of action for success and motivation in the coming months. If you're in search of a personal blend that'll ensure you can keep your mind as decluttered as your beautifully spring-cleaned home, then why not try out this stunning combination?
Mix 2 drops of Roman Chamomile with 2 drops of Bergamot and 2 drops of Clary Sage essential oil and enjoy a sense of clarity, focus and determination as you move forward with achieving your goals this springtime.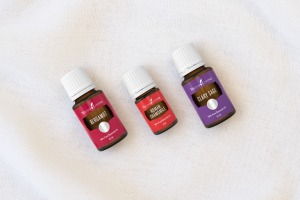 Are you looking forward to spring cleaning and starting afresh this season? Write your comments below or contact us at mseublog@youngliving.com