Dipping your toes into a warm bath can melt away the mundane, and by swirling in a few drops of Young Living essential oils, you can transform this already indulgent experience into a truly luxurious spa-like treat for your body and mind. Use these essential oil tips and tricks to enhance your bath time ritual and create a personalised experience that will leave you feeling relaxed and rejuvenated. Discover the natural power of essential oils and elevate your "me" time to a whole new level.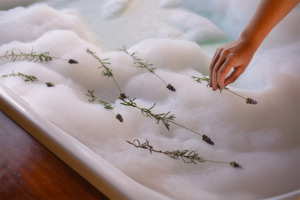 Which essential oils are best for bath time?
When it comes to choosing the perfect essential oil for your bath, it's important to consider both the scent and the benefits. Some essential oils are great for relaxation, while others can invigorate and uplift your mood. Additionally, some oils are known for their skin-loving properties, making them perfect for incorporating into your bath time routine. Here are some of the best essential oils to add to your bath for a truly indulgent experience.
YL tip: Start with fewer drops and add more as desired. You can always add a little more, but you can't take any out of the bath.
Essential oils not to use in the bath
Before you begin using essential oils in your bath, it's important to note that not all essential oils are safe to use in the bath. Some oils can cause skin irritation, especially "hot" oils such as Cinnamon Bark, Clove, Oregano, and Thyme. To ensure safety, follow label instructions and perform a patch test by applying 1-2 drops of the oil to your forearm and waiting 1-2 hours for any reaction. If you experience a hot or burning sensation or develop a rash, add a carrier oil like Young Living V-6® Vegetable Oil Complex to the affected area and avoid using the oil topically.
How to use essential oils in the bath
It is equally important to never add essential oils directly to your bath water. As you likely know, oils and water do not mix. If you place drops into your bath water without first diluting, the concentrated oil will sit on the water's surface and will stick to your skin and other tender areas. This can cause irritation or burns. But don't sweat it; we're here to show you the various ways to dip into the bath safely using some of your favourite essential oils!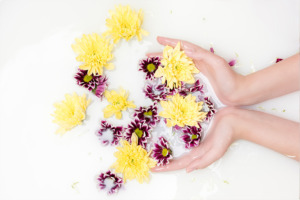 Combine essential oils with a carrier oil
Choose which essential oils you would like to use to create your custom bath time blend or use a Young Living blend like Joy or One Heart.
Combine your chosen essential oils with a carrier oil like fractionated coconut oil, jojoba oil, or V-6® Vegetable Oil Complex.
Add 5–6 drops of essential oil to 1 tablespoon of carrier oil depending on your skin sensitivity and desired scent strength. Mix to incorporate.
Fill the tub and turn off the water before adding the oil blend to achieve the full aromatic effect.
Stir the oils around in the water before climbing in to help circulate the mixture.
Enjoy your luxurious and personalised bath time experience!
Bubble bath
Nothing beats the memories of a childhood bubble bath. Re-create your old favourite pastime using essential oils blended into our Bath & Shower Gel Base. Simply add 5–15 drops of your favourite essential oils to the bottle and shake to mix for a personalised aromatic and skin-loving experience. Try out some of these blends the next time you draw a bath.
Indulgent
Indulge in some soothing quiet time as you soak in the soothing, tranquil, and grounding aromas of Lavender, Roman Chamomile, and Cedarwood.
5 drops Lavender
5 drops Roman Chamomile
5 drops Cedarwood
Paradise
Enter paradise with the romantic and calm aroma of Ylang Ylang, sweet and uplifting Bergamot, and fresh, zesty Grapefruit.
Floral Luxe
Treat yourself to a luxurious floral bath with alluring and romantic aromas of Rose, Geranium, and Jasmine.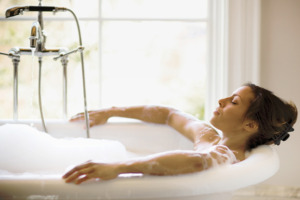 YL tip: Want the same spa experience without the soak? Add these same blends to our gel base for a luxurious shower experience, too!
How to clean up after an oil-infused bath
Adding oils to your bath moisturises your skin but can also make your tub slippery. Make sure to clean out the oils to prevent any accident or injury caused by slipping. After draining the water, use a cleaner like baking soda, soap, or Thieves® Kitchen & Bath Scrub to get rid of any oil residue, leaving your bath ready for your next soak.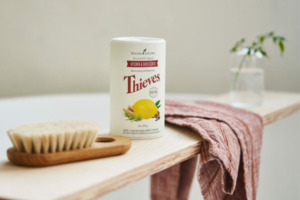 Like this blog and let us know how you plan to use essential oils to elevate your bath time routine!