Whether you choose routine based Ashtanga or flowing Vinyasa, slow-paced Yin or precise Iyengar, one of the aims of yoga is to help you empty your mind and be present in the moment. Whether it's shopping lists or what's happening at work, practicing yoga allows you to clear your thoughts and simply stay focused on your poses.
If you've been searching for a way to distract yourself from those everyday worries, yoga might be the discipline for you. After all, helping practitioners silence their whirring minds and experience perfect calm and presence is all part of the yogic plan.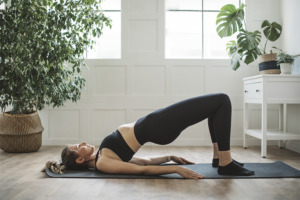 Can essential oils be used to enhance yoga practices?
Enhancing yoga with essential oils means they can play their part too, says Ed Dailey, Young Living's long-time yoga practitioner and oils educator. "Yoga is a beautiful thing, using essential oils for their scent is a beautiful thing, but when you bring the two together, the combination of the aroma and the postures integrates body and mind, bringing a much more powerful experience."
Which essential oils work well when used during yoga?
At the beginning of each yoga session, teachers often suggest a few minutes of stillness, as they ask those in the class to become aware of each part of their body and the rhythm of their breath, helping to clear their heads. Certain scents can help too, says Dailey. "The aroma of Young Living's Grounding blend, with White Fir, Juniper and Ylang Ylang, relaxes and awakens the senses when you've been rushing around. Or, the single scent Eucalyptus Globulus helps clear the mind and support your breathing. It encourages a feeling of calm but is refreshing too."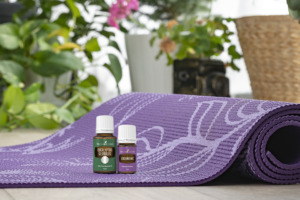 How do you use essential oils during yoga practices?
Dailey recommends placing a drop or two of your chosen essential oil on the left hand, then making a 'scent tent' with the hands over the nose and mouth. "The scent percolates into the limbic system, the part of the brain involved in our behavioural and emotional responses, augmenting each sequence," he says. "Moving through yoga poses or rubbing the hands together releases the scent again."
How can a combination of yoga and essential oils assist you during a session?
As a class becomes more energetic, or you start holding poses for longer, teachers might suggest inhaling or exhaling at certain times to help with the flow or directing breath into an area that needs release.
Again, says Dailey, there are scents to assist. Dailey recommends the Release blend, with Rose and citrus. "Moving into twists may help with relieving tension, for example, and you can even rub Release on the liver area to augment the practice," he says. Don't feel bad if your mind does wander (it's almost inevitable for most of us), just notice the thoughts, then bring focus back to your breathing and the poses.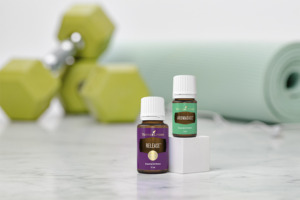 What are the benefits of essential oils at the end of a yoga session?
Yoga sessions always end with relaxation, before you get ready to return to your day. As you lie in the relaxation pose – also called corpse pose, or savasana – teachers might suggest using a bolster under the knees, a blanket, or an eye pillow, allowing you to release parts of your body on your mat one by one. Dailey suggests using Young Living's AromaEase at this point: "I love using oils at the end of a session to create a sense of alertness once the body's been relaxed. AromaEase is a stimulating blend of Peppermint and Spearmint with Ginger and Cardamom. I also use Orange; the citrus oils have an uplifting aroma."
Are you looking forward to using essential oils next time you practice yoga? Write your comments below or contact us at mseublog@youngliving.com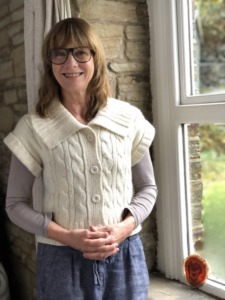 A writer and editor with long experience writing about ski travel, food, and health, including as deputy head of ski content at the Telegraph, Cat Weakley is also a keen cyclist and skier with a 20-year commitment to yoga. "I first tried yoga to stretch muscles tightened by years of cycling and then became addicted to the way it combines mental wellbeing with physical challenges".