Christmas has arrived, and here at Young Living, we're feeling more merry than ever. One of the ways in which we like to celebrate this time of year is by using essential oils to surround our senses with the scents of the season. From luxurious Frankincense to powerful Cinnamon Bark and our utterly magical Christmas Spirit blend, at Young Living, we've got fabulously festive oils to suit every Christmas occasion. Whether you're looking for the perfect oil to use while decorating the house, whipping up a delicious feast, or simply for the big day itself, this blog is full of top tips on how to transform your home into a winter wonderland, so what are you waiting for?
We Wish You a Merry Christmas (Spirit)
Nothing is quite as on theme as our Christmas Spirit essential oil at this time of year. Offering an inviting aroma thanks to its blend of Orange, Cinnamon Bark and Northern Lights Black Spruce essential oils, Christmas Spirit embodies the essence of Christmastime and promises revitalising and rebalancing notes. Whether you apply it to your neckline for a warm and spicy fragrance, add a few drops to your favourite body butter to enjoy decadently scented and super soft skin, or combine 3 drops of this seasonal oil with 15 ml of Young Living's V-6® Enhanced Vegetable Oil Complex for a relieving massage, Christmas Spirit is sure to bring you joy all the way through to the new year!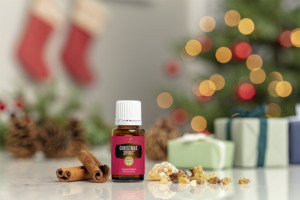 (Egyptian) Gold, Frankincense & Myrrh
When people think of the nativity story, Gold, Frankincense and Myrrh often come to mind. This Christmas, why not celebrate the Yuletide season by introducing these oils to your home? Our Egyptian Gold essential oil blend contains ancient Biblical oils which can be used to enhance moments of devotion. Perfect for use during meditation, Egyptian Gold includes Lavender, Rose and Cedarwood essential oils and is a beautifully fragrant blend with an uplifting and empowering aroma.
Frankincense essential oil is ideal for those who wish to add a sense of opulence to their Christmas celebrations. Warm, woody and often referred to as the 'king of essential oils', this rich oil is incredible when used alongside your favourite beauty products, helping to support a beautiful, youthful appearance to the skin and a healthy-looking glow.
When it comes to Myrrh, the more the merrier! This oil promises a rich, smoky, and balsamic aroma, and is as purifying as it is awakening. Myrrh is referenced throughout the Old and New Testaments of the Bible, and was believed to help with wrinkled, chapped, and cracked skin across history. At Young Living, we love using it in our homemade cuticle oil – a concoction that particularly comes in handy during the colder months. Simply combine 1 ½ teaspoons of Young Living V-6® with 4 drops of Frankincense essential oil and 2 drops of Myrrh essential oil and rub into your cuticles and fingertips to enjoy maximum moisturisation.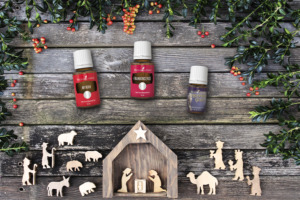 Fuss-Free Festive Feasting Awaits
For many people, the delicious food that comes alongside the holiday season is a Christmas highlight. At Young Living, we love combining our culinary Plus oils with our favourite wintery dishes to create new and exciting flavour combinations. Whether your favourite is Cinnamon Bark+, a unique, warm oil that offers a sweet and spicy flavour when added to smoothies and breakfast dishes, Ginger+, which acts as a perfect substitute for ground ginger in seasonal gingerbread cookies, or Peppermint+, which can be added to hot chocolate for a wonderfully luxurious treat, our versatile Plus oils are magical when used at Christmastime.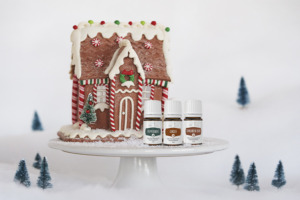 How are you hoping to use Young Living essential oils this Christmas? Write your comments below or contact us at mseublog@youngliving.com