The most wonderful time of the year is finally upon us and we're more excited than ever about the magic of Christmas! Whether it's the festive traditions, spending time with family and friends or feasting on delicious food, Christmas is all about celebrating togetherness and showing those around you how much they mean to you. With that spirit in mind, this blog will act as a guide to some of our favourite oil-infused products of the year, so you can fill the stockings of those you love the most with fantastically thoughtful gifts, whether its parents, partners, little ones, or even furry friends!
Gifts for Him
Often, the men in our lives are notoriously the hardest people to buy for. This year, why not treat your man to the self-care products he never knew he needed? Our incredible Shutran® essential oil offers a passionate and irresistible scent and is included in products such as our Shutran® 3-in-1 Men's Wash, Shutran® Shave Cream and Shutran® Beard Oil! Rich, enigmatic and perfect for supporting both sophistication and confidence, our Shutran products act as an ideal gift for men this Christmas.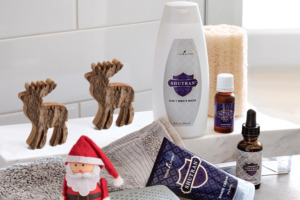 Gifts for Her
Christmas is the perfect time to gift the lady you love something she may not typically treat herself to. If the person you have in mind is a fan of cosmetics, our Savvy Minerals® by Young Living line is the ultimate place to get a present she's sure to love! For some extra shine and shimmer that'll fit in beautifully at any Christmas party, consider purchasing one of our 4-shade eyeshadow palettes, all of which promise long wearing, buildable colour that's infused with fragrant Lavender essential oil. Alternatively, if you're not sure on shades, opt for our Savvy Mineral Essential Brush Set, and ensure that the lady in your life can enjoy applying her favourite make-up flawlessly!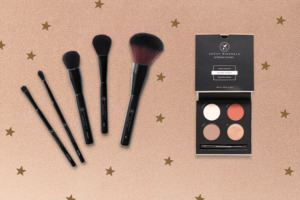 Gifts for Children
Spread Christmas cheer far and wide this year by gifting the littles ones you love with our new Happy the Penguin Diffuser! Happy is sure to delight the whole family thanks to its seven different light settings, variety of white noise and sound options and super cute design. With each purchase of Happy the Penguin, you also get a 5 ml bottle of Lavender essential oil, making this a perfectly festive set to gift this season while stocks last! If your little ones really love Happy the Penguin, you can also consider investing in Feather the Owl, another exceptional diffuser that your whole family is guaranteed to enjoy using.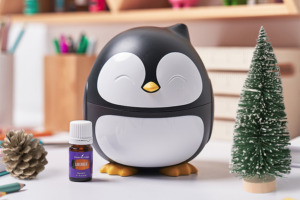 Gifts for Pets
For many people, their pets are vital members of the family, so it's only fair that they get spoiled at Christmas too! This year, why not treat your favourite furry friends to oils from our Animal Scents® range? From Pet Renew, which is enriched with soothing Hyssop and Frankincense, to PuriClean, which was inspired by the great outdoors and is infused with oils such as Rosemary and Palo Santo, this range offers the perfect option for those who want to gently introduce their pets to essential oils in a safe and soothing way.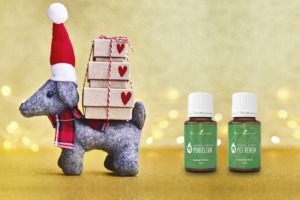 Are you planning on giving your loved ones Young Living gifts this Christmas? Write your comments below or contact us at mseublog@youngliving.com