Spring is a season of renewal, and what better way to embrace the spirit of the season than by giving your home a thorough clean and organise? By choosing naturally derived cleaning products such as Young Living's Thieves® range, you can achieve a happy and healthy home without compromises. While traditional cleaning products can contain harsh chemicals, you can be confident knowing all Thieves products are naturally derived, cruelty free and vegan-friendly, making them gentle and effective alternatives to use in your home. In this blog post, we'll be sharing spring cleaning tips and decluttering techniques with the help of Thieves!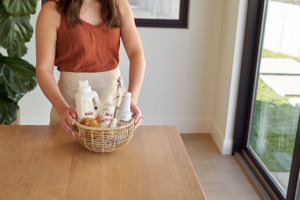 Step 1: Bathroom
Let's start with everyone's least favourite job on the list—the bathroom. By starting with your least favourite task, you'll feel accomplished and motivated to continue on with your to-do list. Using our Thieves line of products will also help to make the job easier and more enjoyable. To achieve a powerful surface scrub free from harsh fumes and residues, look to our Kitchen & Bath Scrub. Or dilute our trusty Thieves Household Cleaner to create cleaning solutions for all your other bathroom surfaces, including glass, walls, and more!
By decluttering and organising your bathroom, you can make it a more pleasant and functional space. Consider using baskets or containers to organise your essentials, and don't forget to recycle any empty containers. With a little effort and the help of Thieves products, your bathroom can become a bright and inviting space.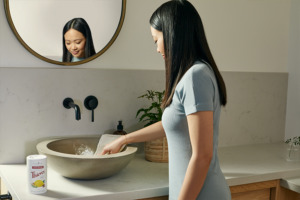 Step 2: Living Room
Next, let's move on to the living room. This is the space where you relax and entertain, so it's important to keep it tidy and welcoming. Whether you have carpet stains from puppy paws, or spills on the furniture from family movie night, check out our Thieves Spring Cleaning Guide to discover an array of DIY recipes to kick the ick. For any spots missed in the initial clean, grab our Thieves Spray – a fast and convenient portable cleaning solution that freshens surfaces instantly.
To declutter your living room, start by removing any items that don't belong or that you no longer use. Sort through your books, magazines, and newspapers and donate or recycle any that you no longer need. Consider investing in functional storage solutions, such as baskets to keep your blankets organised and out of sight, or oil cases for essential oil storage. Make use of decorative boxes or trays to store small items, such as coasters and candles. By incorporating these simple tips, you can transform your living room into a clean, calm, and clutter-free space.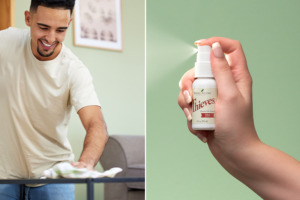 Step 3: Bedroom
Now let's talk about your sanctuary, the bedroom. A clean and organised bedroom can improve your sleep quality and overall wellbeing. Keep your bedding fresh with Thieves Laundry Soap, our plant-based, ultra-concentrated formula that gently washes your linen, leaving it refreshed with a light citrus scent and no surprises or synthetic residue.
As for organising, declutter your clothes and donate any you no longer wear or need. Look into under-bed storage boxes to store bulkier items such as spare bedding and towels. Repurpose glass jars to organise loose items in your bedside drawers such as earphones and your favourite essential oil roll-on. Follow these tips to create a calming and organised space that promotes relaxation and restful sleep.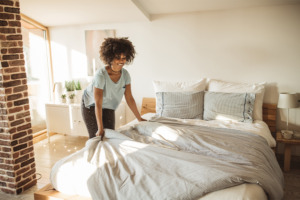 Step 4: Kitchen
Finally, let's tackle the kitchen! This room is often the busiest in the house and can quickly become messy and dirty, so it's important to keep it clean and organised. To declutter your kitchen, start by removing any expired or unused items from your pantry and fridge. Find functional storage solutions to maximise cupboards and drawer space. Keep your food fresh, organised, and protected in specialised fridge storage boxes.
For cleaning, reach for our Thieves Household Cleaner to clean your countertops and appliances, tackle the leaning tower of dirty dishes with our Thieves Washing Up Liquid, and rid your produce of any lingering nasties with our Thieves Fruit & Veggie Soak. Whatever the situation, our naturally derived cleaning products offer gentle and effective alternatives for you and your family. Just remember to store your Thieves products safely, securely, and away from direct sunlight.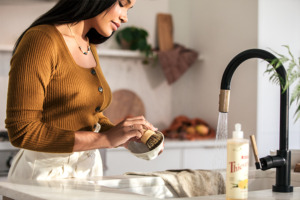 Step 5: Sit back and relax!
Spring cleaning and organising can be a daunting task, but the results are always worth it! By taking the time to declutter and deep clean your home, you can create a safe haven that promotes relaxation, productivity, and overall wellbeing. Choosing naturally derived cleaning products such as our Thieves range keeps your home clean, fresh, and free from harsh chemicals. So after you've completed your cleaning, take a moment to sit back and relax in your newly organised space. Enjoy the fresh scent of Thieves and bask in the feeling of accomplishment!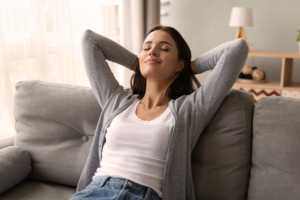 Like this blog and let us know how you like to organise your home for spring!