Thieves
Multiple problems—don't worry! Thieves has it in hand.
Want to see how Thieves could fit into your family?
Take a real life look!
The Young Living Thieves range has been specially crafted using plant based ingredients and pure essential oils to help tackle your everyday household chores with ease. Our careful blend of botanicals makes the Thieves formula free from harsh chemicals and irritants—it's tough on dirt but gentle on you!

Featuring powerful Lemon, Clove, Cinnamon Bark, Eucalyptus Radiata and Rosemary essential oils, you'll love the warm, welcoming aroma of Thieves throughout your home.

In our extensive Thieves product range, you'll find something to help you with all your everyday household needs, plus convenient pack formats to make Thieves the ideal choice whatever the size of your household!

Take a look at our Thieves product categories below:

Thieves Essential Oil Blends
Young Living Thieves oil is a powerful blend of Lemon, Clove, Cinnamon Bark, Eucalyptus Radiata and Rosemary essential oils. Add a few drops of this warm and spicy essential oil blend to a diffuser to help counteract odours in the air.
Thieves Dental Care Products
Help maximize your oral hygiene with our range of Thieves dental products, to help provide a deep clean essential for a healthy mouth and bright smile. Get started with Thieves AromaBright Toothpaste or Thieves Dentarome Ultra Toothpaste, and boost your routine with Thieves AromaBright Mouthwash and Thieves Dental Floss.
Thieves Natural Cleaning Products
Revolutionize the way you clean your home with our plant based range of Thieves cleaning products. Thieves Household Cleaner is a game-changer! With its concentrated formula, you'll be able to remove the toughest grease and dirt without the need for rubber gloves, plus you can create custom cleaners for the different surfaces in your home with just one bottle! Feel confident in the products that you and your family use each day—from Thieves Washing Up Liquid to Thieves Laundry Soap, you'll never go back to cleaning without Thieves!
Thieves Personal Care Products
Keep your skin feeling clean and smelling good with Thieves Foaming Hand Soap or Thieves Cleansing Soap. Want to take the power of Thieves out and about with you? Try our Thieves Waterless Hand Purifier for an on-the-go solution to keeping your hands fresh!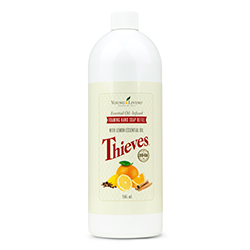 Thieves Taste On The Go
The

Thieves booklet

is a comprehensive look at Young Living's Thieves line, complete with a history of the oil blend and how to use each Thieves product.

From tips on how to use our beloved multi-use Thieves

®

Household Cleaner to dental care and laundry products, you'll find everything you need to help bring the power of Thieves into your home!