With its crisp, earthy scent and proven cleansing properties, Tea Tree essential oil is not only one of Young Living's most popular products but is also one of the most versatile! Native to Australia and steam distilled from the leaves of Melaleuca alternifolia, a small tree belonging to the Myrtle family, Tea Tree oil is particularly beloved. It can be used within skin care and hair products, can be applied to the skin as a fragrant perfume, and can also be combined with carrier oils to provide a pampering massage experience. Tea Tree essential oil has endless uses through history, so in this blog, we'll be taking you through some of our favourites so you can learn how best to enjoy this refreshing oil in your day-to-day routine!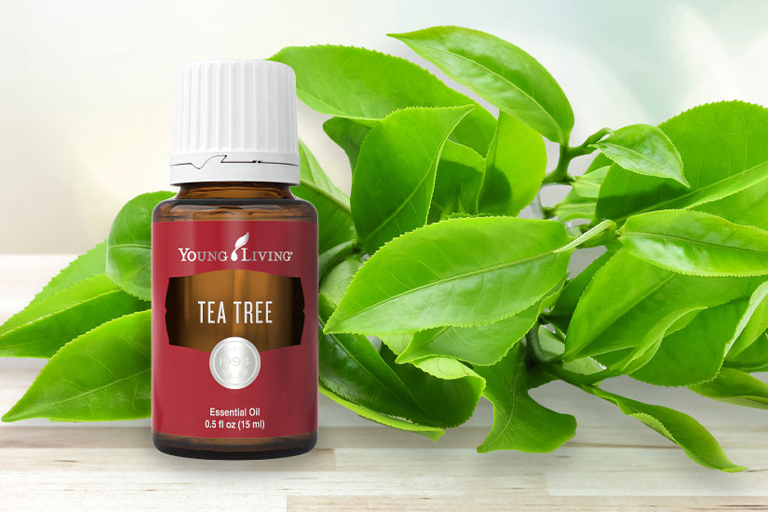 How You Can Use Tea Tree Essential Oil:
When it comes to naturally derived remedies for body odour, applying Tea Tree oil topically as an alternative to deodorant is a great way to enjoy its woody fragrance all day long. After showering, apply 2 drops under your arms to stave off any unwanted smells. Be sure to wait at least 10 minutes after your shower to apply, particularly if you've just shaved, to allow your pores to close before the oil is applied.
To enjoy the benefits of Tea Tree oil alongside other Young Living favourites, why not try our Rose Ointment? Packed with premium botanicals in addition to Rose, Ylang Ylang and Tea Tree essential oils, this ultra-versatile balm soothes and improves the texture and appearance of rough skin when applied topically to the lips, knees, elbows, and other typically dry areas.
One of the ways in which Tea Tree oil is most popular is as a cleanser for breakout-prone skin. To help maintain the appearance of healthy-looking skin, add a drop of Tea Tree to your favourite facial moisturiser or night cream and make the most of the benefits.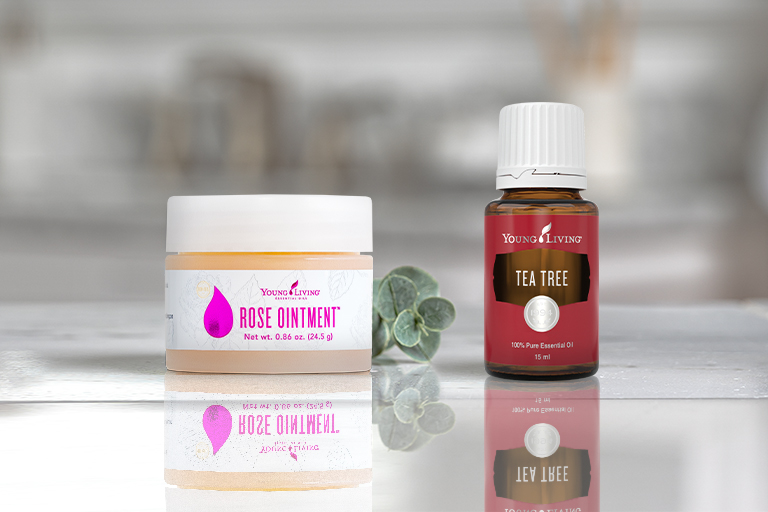 If your cuticles have you in a crisis, Tea Tree oil can be especially helpful. Although Tea Tree can be applied to the skin directly, we like adding a few drops to a warm footbath to enjoy a relaxing spa-like experience that can help to maintain the appearance of healthy nails.
If you're into creating your own DIY skincare products, why not try making a homemade soap that's infused with Tea Tree essential oil? Tea Tree is great for the skin, and when combined with naturally derived ingredients to create a luxurious soap, you're sure to be left feeling silky soft.
Have you been left scratching your head searching for healthy-looking hair solutions? If so, Tea Tree could be the oil you've been searching for. To give your hair and scalp the treat it deserves, add 2-3 drops of Tea Tree oil to your favourite shampoo to enjoy luscious locks.
For a beautifully fragranced hair mask, simply combine 4 drops of Tea Tree essential oil with 2 tablespoons of coconut oil. Apply the mixture to your hair, gently comb through and let it sit for up to an hour before washing and styling as usual.
When it comes to perfumes, Tea Tree might not be the first oil you think of. It is, however, particularly beautiful when blended with floral oils such as Jasmine, Lavender, and Rose, and can be applied to your pulse points and neckline to create an alluring aroma.
Thanks to its cleansing and purifying nature, Tea Tree works wonderfully when used during massages. Equally revitalising and soothing in its scent, it's great for rubbing into tired muscles. To try it for yourself, simply dilute Tea Tree oil into 10 ml of Young Living V-6® Enhanced Vegetable Oil Complex and get to work!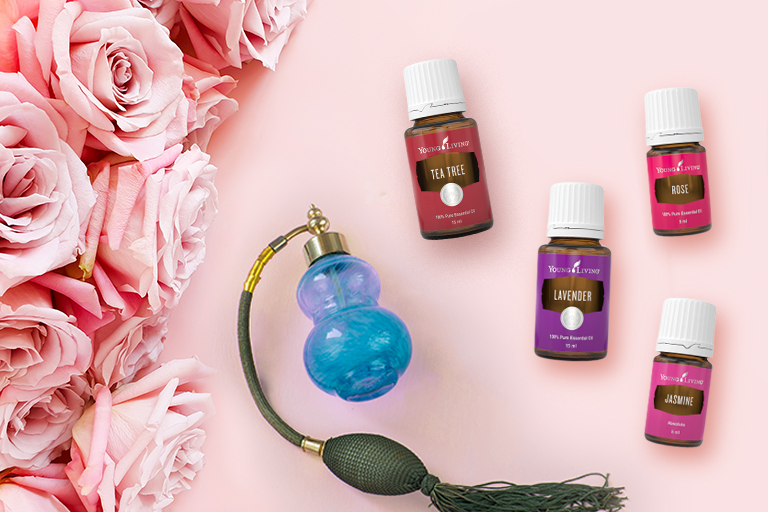 Nothing in life is quite as relaxing and restorative as a warming bath. To enjoy the benefits of Tea Tree oil in the comfort of your own home, try adding 6-8 drops to your running bath before soaking in total bliss.
While there are lots of ways in which Tea Tree essential oil can be applied topically for fantastic results, plenty of enjoyment can be gained from simply breathing in its earthy fragrance. Try inhaling from the bottle directly during yoga or meditation practices for a grounding experience.
Sometimes your little ones can benefit just as much from using oils as you can! Our KidScents® KidCare blend contains Tea Tree in addition to Helichrysum and Clove essential oils and is perfect for helping children settle down and unwind at the end of long days.
To help maintain a youthful-looking complexion, why not try our ClaraDerm Spray? Infused with oils such as Lavender, Frankincense and Tea Tree, this light mist is particularly suitable for use on dry or dehydrated skin and will leave you looking radiant day in day out.
Finally, for a beautiful blend that'll provide a spellbinding sensory experience, try Melrose. Featuring Tea Tree, Rosemary and Clove essential oils, this classic, calming scent is as wonderfully versatile as Tea Tree oil is when used alone. Freshen up your body wash with a few drops or create a signature scent with this stunning oil.
How do you like to use Young Living's Tea Tree essential oil? Write your comments below or contact us at mseublog@youngliving.com