On a cold winter's morning, it's hard to find the motivation to get out of bed, we get it. That's why we've collated some of our favourite breakfast recipes that are both nutritious and delicious to brighten up dark mornings and help you find warmth in flavourings such as cinnamon and cardamom.
Hazelnut & Apple Porridge
Porridge often gets a bad rap (we blame Oliver Twist). But not anymore: our indulgent, yet nutritious recipe combines hazelnut, apple, and cinnamon to create the perfect dish for when you're craving a warm, hearty breakfast. Not only is this recipe tasty, but the oats are a source of complex carbohydrates, meaning they'll provide you with a gradual release of energy to keep you going through the morning.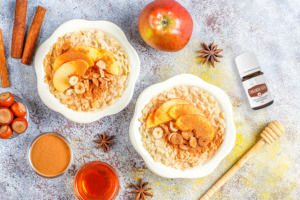 Ingredients:
Method:
Add the oats and hazelnut milk to a small saucepan and simmer for 5-10 minutes until thickened, stirring constantly.
Add the grated apple, Cinnamon+, and vanilla and stir.
Serve in a bowl and sprinkle the chopped hazelnuts over the top.
Creamy Cardamom Overnight Oats
This creamy and customisable recipe makes the ultimate grab-and-go breakfast so that you can enjoy those precious extra minutes in bed, without missing the most important meal of the day. Bonus – there's no cooking involved, and no extra dirty dishes to wash. What's not to love?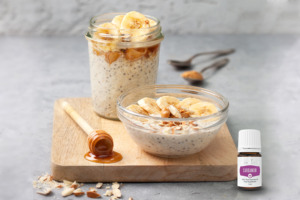 Ingredients:
Method:
Add all the ingredients into a jar and stir together until combined.
Seal jar and place in fridge, letting it soak overnight for a creamy consistency.
In the morning, top your overnight oats with your favourite toppings (we recommend nut butters, dried or fresh fruit, and nuts and seeds) and enjoy the delicious flavours!
Why not sprinkle some NingXia Dried Wolfberries on top, packed with fibre and flavour!
Gingerbread Pancakes
For the ultimate weekend treat the whole family can enjoy, level up these American-style pancakes with some festive spices and gingerbread crunch! This recipe whips up 10 fluffy pancakes but can be doubled if you're hosting the whole extended family this festive season.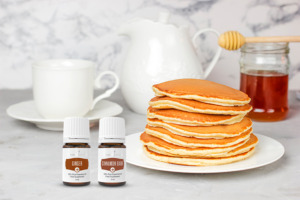 Ingredients:
Method:
Mix the flour, baking powder, sugar, and a pinch of salt in a large bowl.
In a separate jug, combine the egg, maple syrup, milk, Ginger+, and Cinnamon Bark+.
Gradually add the wet ingredients to the dry ingredients, whisking until forming a smooth batter.
Heat a drizzle of oil in a frying pan over a medium heat.
Once hot, ladle your batter into the pan.
Cook until bubbles start to appear, then flip over and cook for an extra minute.
Repeat until batter runs out.
Serve in a stack, pour over any extra maple syrup, and scatter gingerbread biscuit crumbs on top for added crunch!
Pan-cooked Breakfast
For those of you who prefer savoury to sweet, don't worry, we've got you covered with this pan-cooked vegetarian breakfast. After a long, well-deserved lie in over the Christmas holidays, spoil yourself with this easy, yet delectable brunch recipe!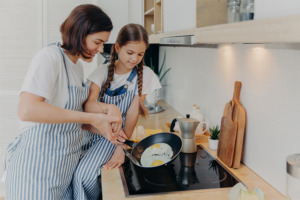 Ingredients:
Method:
Heat the oil in a frying pan over medium heat. Add the mushrooms and cook for 5-7 minutes until golden.
In the same pan, crack the eggs and cook for a further 5 minutes.
Whilst the mushroom and eggs are cooking, toast the bread and mash the avocado. Add 1 drop of Lemon+ to the mashed avocado for a citrussy kick. Spread on to the toast.
Remove pan from heat, sprinkle with rocket, and serve alongside avocado toast.
Like this blog and let us know in the comments which recipe excites you the most!