Whether you favour the autumnal flavours of pumpkin spice or opt for festive eggnog come Christmastime, everyone has a warming drink of choice as the colder months descend. This year, why not try concocting some delicious beverages yourself, with the help of our incredible Plus oil range? Packed with deliciousness, our sweet and spicy Plus oils will tantalise your tastebuds with as little as one drop, and are wonderfully versatile, allowing you to spruce up everything from your morning coffee to a crowd-pleasing party punch!
1. Pump Up Your Pumpkin Spice Latte
As the seasons change, many of us turn to the warm and comforting flavour of pumpkin to spice up our drinks and baked goods. With this tasty recipe, you'll be able to replicate your favourite coffee at home with ease, ensuring that your kitchen is filled with the scent of Christmas and your coffee cravings are more than satisfied!
What You'll Need
Method
Put the pumpkin purée in a large heatproof glass or mug.
Stir in the essential oils and coffee until combined.
Put the milk in a saucepan over a low heat until it's steaming and frothy.
Pour into the coffee mixture, and spoon over any froth.
Stir to combine, and dust with cinnamon or pumpkin spice flavouring before serving.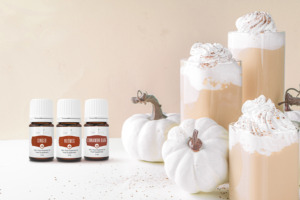 2. Fall Head Over Heels for Hot Apple Cider
Warm, spicy, and just sweet enough, this delicious drink can be made in large batches and kept for up to 2 weeks in your fridge. Perfect as a pick-me-up following long winter walks or busy days Christmas shopping, this festive beverage is guaranteed to be a family favourite!
What You'll Need
Method
In a large pot over medium heat, add your apples, cinnamon sticks, all spice, essential oils, and brown sugar.
Cover with water by at least 2 inches. Bring to a boil, then reduce heat, cover, and simmer for 2 hours.
After the two hours, use a potato masher or wooden spoon to mash the softened apples. Return to the hob and allow to simmer uncovered for 1 more hour.
Strain the liquid through a fine mesh strainer, pressing on the solids with a wooden spoon to squeeze all the juices out. Discard solids.
Serve warm.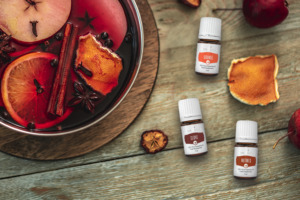 3. Put a Pep in Your Step with Homemade Hot Chocolate
Hot chocolate feels like Christmas in a cup. This deliciously indulgent drink is a favourite during the festive season, and with the addition of Peppermint+ essential oil, it enjoys a tasty transformation. Create a drink that Santa and his elves would be proud of with this fantastic recipe!
What You'll Need
Method
Put the chocolate and milk in a pan and gently heat, stirring until all the chocolate has melted.
Continue heating until the milk is steaming, then remove from the heat and stir in the cream.
Once combined, add sugar to taste along with the Peppermint+ essential oil. Stir well and serve.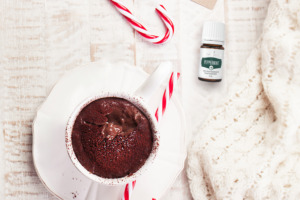 4. Elevate Your Christmas with This Easy Eggnog
Eggnog – you either love it or hate it, but one thing is clear, it embodies the spirit of Christmas. With the addition of our incredible Plus oils, why not give it a try at your festive parties this year?
What You'll Need
Method
Whisk the egg yolks in a bowl with 100 g of the caster sugar until the mixture is pale yellow and thick (this is best done with an electric handheld mixer).
Stir in the milk, double cream, and Nutmeg+ essential oil.
Put your eggnog mixture in the fridge and separately freeze your egg whites.
When ready to serve, defrost the egg whites into a clean metal or glass bowl. Using a handheld electric mixer, whisk the egg whites until foamy and opaque. Add the remaining 50 g of sugar and whisk the egg whites until soft peaks form when the whisk is removed.
Pour the eggnog into a large bowl and fold in the egg whites until well combined. Ladle the eggnog into glasses and serve with a little freshly grated nutmeg over the top of each glass if you desire.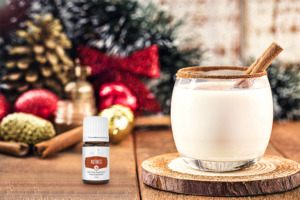 Which festive beverages are you hoping to try this winter? Write your comments below or contact us at mseublog@youngliving.com.