As the sun shines brighter and the days grow longer, summer presents us with a bounty of fresh and vibrant produce. Among the dazzling array of seasonal delights, berries take centre stage, captivating our senses with their irresistible flavours, vivid colours, and countless culinary possibilities. From tangy raspberries to juicy strawberries to succulent blueberries, these seasonal gems offer a delightful burst of freshness that compliment any summer recipe. Join us as we explore four exquisite recipes that showcase the irresistible allure of berries, enhanced with the aromatic touch of Young Living Plus oils.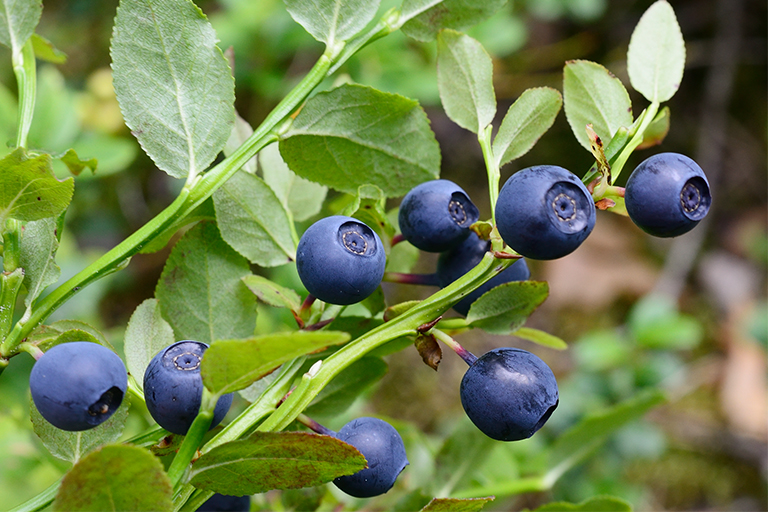 Blueberry Lemonade
What better way to beat the summer heat than with a refreshing glass of blueberry lemonade? This tangy-sweet concoction combines the zesty brightness of lemons with the juicy burst of blueberries, resulting in a thirst-quenching beverage. With a drop of Young Living Peppermint+ essential oil, this recipe takes the classic lemonade to a whole new level of freshness and flavour.
Ingredients (Serves 4)
Method
Mix the lemon juice, sugar, and water together in a pitcher.
Add in the fresh blueberries, Young Living Plus oils, and lots of ice. Stir until combined.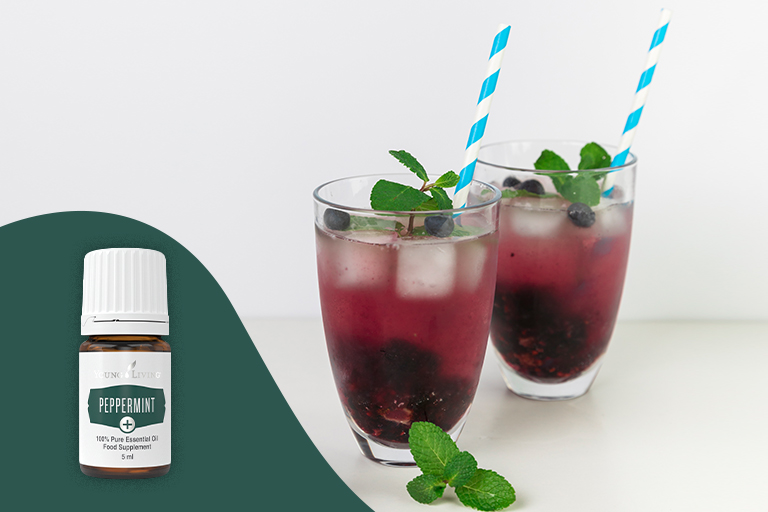 Burrata and Balsamic Strawberry Salad
For a light and elegant summer salad, look no further than this Burrata and Balsamic Strawberry Salad. The creamy richness of burrata cheese harmonises perfectly with the sweet juiciness of the strawberries, while the balsamic glaze adds a tangy depth to the ensemble. Infused with the aromatic notes of Young Living Basil+ essential oil, this salad is a true celebration of summer flavours.
Ingredients (Serves 4)
Method
In a bowl, mix the strawberries with the balsamic vinegar, maple syrup, and Basil+ essential oil. Season with salt and pepper. Set aside for 10-15 minutes.
Transfer the strawberries onto a serving plate. Place the burrata balls on the plate and drizzle any juices left in the bowl over the top. Scatter with fresh basil leaves to serve.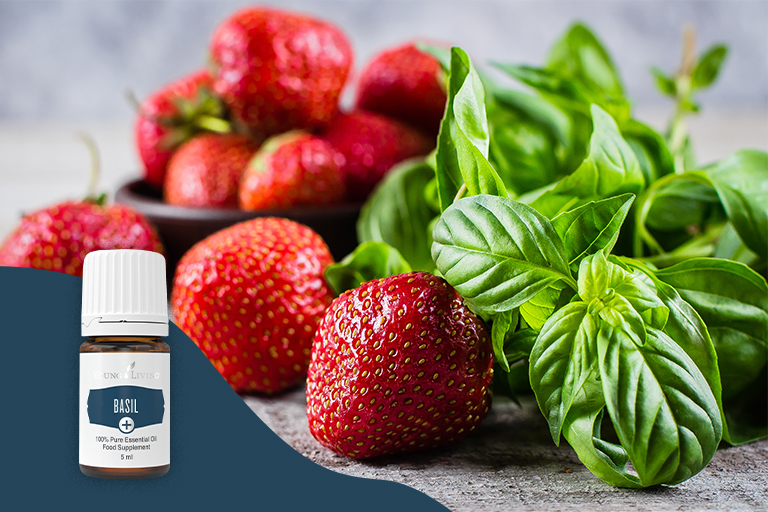 Raspberry and Thyme Eton Mess
Eton Mess, a quintessential English dessert, gets a delightful twist with the addition of raspberries and thyme. Layers of crushed meringue, indulgent cream, vibrant raspberries, and a subtle herbal touch of thyme come together to create an incredibly delicious treat that will leave your taste buds craving for more.
Ingredients (Serves 6-8)
Method
Blend half of the raspberries with the icing sugar and a dash of water. Once smooth, push the mixture through a sieve to make a coulis.
In a large bowl, beat the double cream, vanilla paste, Thyme+ essential oil, and remaining icing sugar until pillowy.
Pour in the coulis. Break the meringue nests into small bits and scatter into the bowl. Gently fold in the remaining raspberries.
Portion into small bowls or glasses and serve with extra crumbled meringue.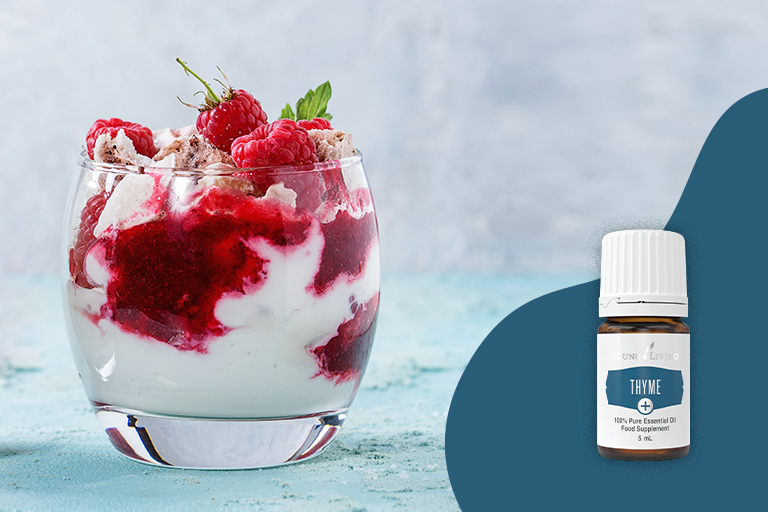 Blueberry, Peach, and Lemon Pie
Indulge in the epitome of summer bliss with a luscious blueberry, peach, and lemon pie. The combination of juicy blueberries, ripe peaches and a zesty touch of lemon creates a symphony of flavours, all encased in a buttery crust. Each bite of this pie will transport you to relaxing summer afternoons in picturesque orchards.
Ingredients (Serves 6-8)
Method
To make the pastry, rub the flour, salt, and butter together in a large bowl until the mixture resembles fine breadcrumbs. Stir in the icing sugar, egg yolk, 2 tbsp ice-cold water, and 1 drop of Lemon+ essential oil. Knead until you're left with a tough pastry. Remove the dough from the bowl and knead again very briefly. Tear off a third of the dough, roll both sections into discs, wrap well, and chill in the fridge for 2 hours.
Mix the blueberries, peaches, cornflour, caster sugar and another drop of Lemon+ essential oil in a large bowl. Once the pastry has chilled, roll the larger disc of dough on a lightly dusted countertop. Roll into a 30cm circle. Place into a pie dish, leave some overhang as the dough will shrink slightly when in the oven. Fill with your blueberry, peach, and lemon filling. Roll out the smaller disc of dough so it is the same size as your dish. Cut 8 strips and arrange in a lattice on top of your filling. Crimp the edges of the pie to join the lattice strips and trim any overhang.
Heat the oven to 170 degrees. Brush the pastry with your egg glaze, and sprinkle with sugar. Chill in the freezer for approximately 10 minutes, then bake in the oven for 50 minutes or until golden brown. Leave to sit for 10-15 minutes before serving. Serve with whipped cream, ice cream, or custard.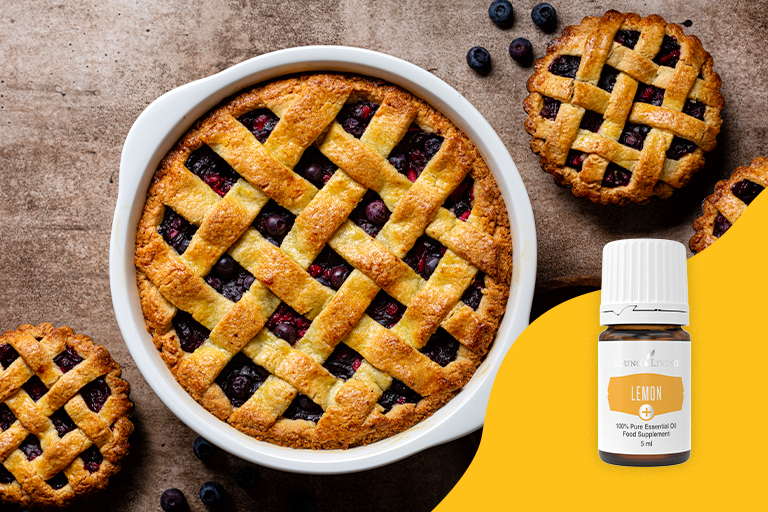 From refreshing beverages to vibrant salads and irresistible desserts, the possibilities are endless when it comes to incorporating nature's jewels into your recipes. So, don your apron, head to the local market, and get excited to celebrate the brilliant flavours of berries.
Like this blog and let us know which recipe you're most excited to try!