The season for warmth and spice has arrived, and with that in mind, we can't wait to start putting our Ginger essential oil to good use!
Both zingy and stimulating, Ginger plants originate from Southeast Asia and are typically cultivated so their edible roots can be used in a variety of sweet and savoury recipes. At Young Living, however, we love Ginger for its deeply soothing scent and brilliant versatility, as it can be used in everything from haircare rituals to massages. In this blog, we'll be taking you through just a few of our favourite ways to use Ginger essential oil, so your autumn days can be filled with extra spice and everything nice in no time!
Trick or Treat Yourself to This Stunning Soap
As the colder months approach and we begin to cover up in cosy clothes, we can often let our exfoliating and moisturising routines fall by the wayside. However, with this DIY soap, gorgeous glowing skin is just a shower away! Thanks to its naturally derived ingredients, this soap will banish dry and flaky skin, leaving you feeling exfoliated, moisturised and deeply nourished!
Please note that coffee grounds can provide intense exfoliation so do reduce the amount used in the case of sensitive skin.
What You Need
Method
Cut your Melt and Pour Soap Base into 1-inch cubes and add to your coconut oil in a microwave-safe bowl.
Microwave for 30 seconds at a time until the soap is completely melted, stirring in between to smooth out any lumps.
Add your essential oils and mix well.
Add your coffee grounds (or a natural exfoliating ingredient of your choice) and stir well to combine. Be sure to work quickly before the soap cools down and begins to set.
Pour into your chosen mould and allow to set for 1-3 hours or until it is solid.
Use and enjoy!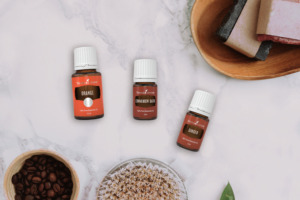 Enjoy a Spa-Like Massage with the Scent of the Season, Ginger!
If the cold weather has your body feeling tired, achy, and in need of a little extra attention, why not pamper yourself with a rejuvenating massage. Thanks to its warmth and spicy, awakening aroma, Ginger works brilliantly in combination with oils such as Frankincense, Bergamot and Tangerine and can be combined with any carrier oil of your choice to provide a blissful massage experience.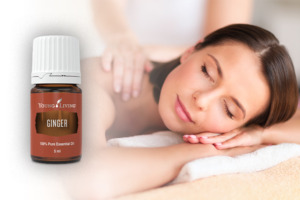 Fall in Love with This Heavenly Ginger Hair Mask
Ginger has been spicing up natural beauty products for centuries, as its gentle yet stimulating aroma is ideal for rejuvenating rituals. To keep your locks in luscious condition as they battle even the harshest of elements, why not introduce a conditioning, essential oil-infused hair mask to your haircare routine, helping your hair to smell as good as it looks around the clock?
What You Need
2-3 drops Ginger essential oil
3-4 drops Rosemary essential oil
2 tablespoons of a chosen carrier oil (coconut, almond, olive etc.)
Method
Begin with clean hair, as leftover product that has been left to build up on the hair and scalp will prevent your mask from soaking in fully.
Combine the Ginger and Rosemary essential oils with the carrier oil in a small bowl.
Grab a comb and begin parting your hair in sections.
Apply the mixture from your scalp to your roots using your fingers. You can also use a comb if that makes it easier to spread the product throughout the hair. Focus mainly on the scalp, allowing the oil to fully saturate the area.
Leave the mixture in your hair for 15─30 minutes, then wash as usual.
Apply this mask twice per week for best results.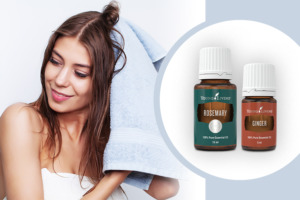 Tantalise Your Tastebuds with A Ginger Flavour Sensation
In addition to our beloved Ginger essential oil, which is for topical use, we also offer Ginger+ dietary oil, a delicious culinary oil that captures the distinct flavour of fresh Ginger in each and every drop. Whether you choose to use Ginger+ in your morning cup of tea, your favourite stir fry, or even in delicious baked goods, we're sure that you'll be astounded by the bright and zingy flavour of this fantastic oil!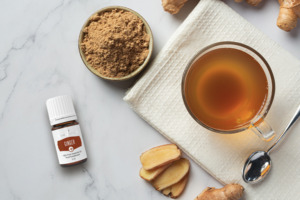 What's your favourite way to use our Ginger and Ginger+ essential oils? Write your comments below or contact us at mseublog@youngliving.com