Seedlings® — Approved by Parents, Loved by Babies
Young Living's Seedlings® range was designed with the youngest, most vulnerable members of the family in mind. Vegetarian-friendly, full of naturally derived ingredients, and formulated without harsh chemicals, this range of products are ideal for use on your infant's delicate skin.

When it comes to baby care products, we know how important making the right decisions for your children and their skin is. That's why we love our Seedlings range, which promises essential oil-infused products that are created by experts and diluted to a strength that's safe for your babies. If you've been on the hunt for a product range that'll leave you with peace of mind and your infants feeling snug and secure, look no further!
Designed by Us
Developed by experts to ensure baby-safe strength through heavy dilution.

Approved by You
Chosen by parents for its naturally derived ingredients and gentle formula.

Loved by Babies
Soft, sensitive, and free from harsh chemicals for your baby's delicate skin.
Young Living for Babies




Seed to Seal®
At Young Living, we're proud to offer an extensive line of essential oils and essential oil-infused, plant-based products that represent the best of nature—through the standards of our Seed to Seal program. Seed to Seal results in pristine final products that have been created with our three pillars—Sourcing, Science, and Standards in mind, ensuring that with every pure essential oil and Young Living product your family uses, you're enjoying the benefits of our global resources and industry leadership.
Essential Oil
How to Use Essential Oils for Babies
Essential oils can be fantastic for young children and babies, but it's important to use the oils in a way that is safe for their sensitive systems. Firstly, when it comes to using oils around babies, we advise consulting a health professional before use, particularly if your child is unwell. In addition, as Young Living essential oils are high-quality and highly concentrated, we recommend against ingestion of our Plus oil range for babies and young children.

When applying essential oils on your child's skin, it's important to put their sensitive systems first and heavy dilution alongside patch testing is vital. There are no hard-and-fast rules for dilution, so we recommend starting your little ones off with a small amount on a single patch of skin, and again, we highly recommend checking with a health professional before you begin any oil introductions.
Baby Care Products for Delicate Skin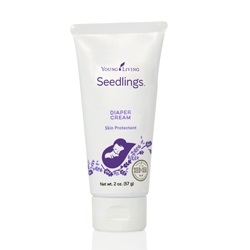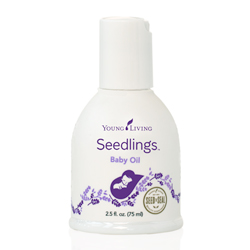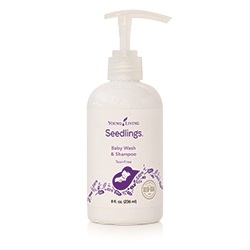 More About Seedlings®
Blog Links
If you'd like to learn more about the wonders of our Seedlings range, why not check out our blog posts?
FAQs
A – When it comes to using new products on or around your newborn, we always recommend discussing it with a health professional first. As the essential oils in our Seedlings range are already heavily diluted, they are suitable for use on gentle skin, but we recommend reading the label for full application instructions.
A – No, our Seedlings Calm essential oil blend is ideal for use by the whole family. Featuring Lavender, Geranium and Bergamot essential oils, Seedlings Calm promises a gentle, floral scent that can help your family unwind together as they drift off into dreamland.
A – When it comes to our essential oils, we always recommend topical use, and encourage you to read the product label for dilution instructions. Some of our favourite ways to use Seedlings Calm include adding a drop or two to your favourite body oil for a soothing addition or combining with a carrier oil of your choice for a blissful massage experience.
A – Young Living's Seedlings range features a variety of high-quality essential oils, all of which are formulated with naturally derived ingredients. These include Geranium and Bergamot in our Seedlings Calm blend, Ylang Ylang in Gentle Baby, Coriander in our Seedlings Baby Lotion, and Lavender in our Seedlings Diaper Cream.
A – Depending on the essential oils used in our individual products, each carry a different smell, all of which are fresh, soothing, and calming, making them perfect for use on and around your little ones. For individual ingredients, check the product labels.
A -All of our essential oils at Young Living are formulated with naturally derived ingredients. Our Seedlings range is free from harmful ingredients such as alcohol, parabens, phthalates, and synthetic dyes and fragrances, making it ideal for your infant's skin.