Valentine's Day, the most love-filled day of the year, is just around the corner, and with it comes an excellent opportunity to explore our most romantic oils and spoil both yourself and the special person in your life with anything from signature perfume blends to delicious Valentine's themed treats.
As it's especially hard to go out and about to celebrate this year, let the following list inspire you and give you ideas on how to bring the romance of Valentine's Day into your home with the help of Young Living Essential Oils.
1. Let Love Blossom with a Floral-Scented Massage – Best Essential Oils for Relaxing
What could be more romantic than treating your partner to a relaxing massage? Thanks to our essential oils and their stunning aromas, it's easy to transform a typical massage into a spa-like experience from home, by adding a few drops of essential oils to a chosen carrier oil and massaging into the skin as desired. When trying to create an atmosphere of love and romance, we recommend using a floral scent such as sultry Jasmine, a sweet, sensual oil that combines beautifully with other floral notes such as Rose and Geranium or musky scents like Patchouli.
Young Living also offers pre-made massage oils such as Sensation, which promises to leave the skin feeling smooth, silky, and youthful while encouraging powerful feelings of love and affection.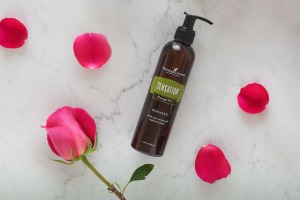 2. Give the Gift of a Signature Scent: How to Make Perfume with Essential Oils
Many people choose to spoil their other half come Valentine's Day by buying them a bottle of their favourite perfume or cologne. This year, why not create something extra special and personal by concocting a unique scent for them with Young Living Essential Oils. To guarantee romance with a fresh, flirty scent, why not combine the luxury of Rose essential oil with a hint of Ylang Ylang? Alternatively, if deep, spicy, or woody scents are more your thing, combine oils like Sacred Sandalwood, Black Pepper, Cedarwood and Vetiver for a fresh and intoxicating aroma.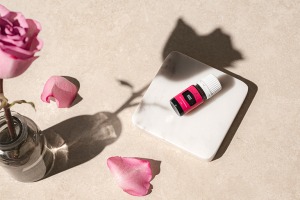 3. Run Them a Bath That'll Have You Running Through Their Mind
With mini-breaks and restaurant dates off the cards for now, this Valentine's Day is all about being inventive and bringing romance to your everyday life. One brilliant way to fill your home with love is by running a relaxing bath for your other half. Opt to blend your favourite essential oils with Epsom salts (we recommend something like Joy or Roman Chamomile) and add to the bath to help them unwind, or use one of our Lavender or Young Living Stress Away® Bath Bombs to maximise fun, fizz and excitement.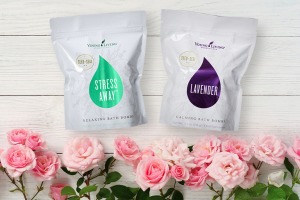 4. Sweeten Up Your Sweetheart with a Tasty Treat
If homemade perfumes are not your cup of tea, and you feel more at home combining ingredients in the kitchen, why not rustle up a delicious batch of Valentine's heart-shaped cookies to bring love to your life this February?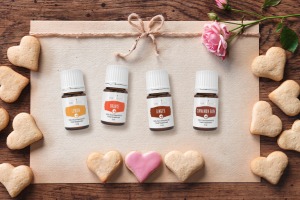 Ingredients
280 g plain flour
½ teaspoon baking powder
¼ teaspoon salt
170 g unsalted butter (softened to room temperature)
150 g granulated sugar
1 large egg (room temperature)
2 teaspoons vanilla extract
1-2 drops Orange+, Lemon+, Cinnamon Bark+ or Ginger+ essential oil as desired
Decorations as desired (icing, melted chocolate etc.)
Method
Whisk together the flour, baking powder and salt in a medium bowl and set aside. In a separate bowl, using a hand mixer, beat the butter on a high speed until it's smooth. Gradually add the granulated sugar until it creams together, before combining it with the egg, vanilla and Plus essential oil of your choice. Beat until it forms a smooth mixture.
Add the dry ingredients to the wet ingredients and slowly mix until it forms a loose dough. If the dough seems too soft, add an additional tablespoon of flour so it's a decent consistency for rolling.
Roll out the dough into a large rectangle with a thickness of approximately 5 mm. Then, cover with parchment paper and allow to rest in the fridge for at least 1-2 hours.
Once appropriately chilled, preheat the oven to 180°C. Line your baking sheets with parchment paper and use a heart cookie cutter to create heart shaped biscuits. Bake your biscuits for 10-11 minutes, until they turn light brown at the edges. Allow to cool completely and then decorate as you desire. We recommend using icing to personalise your cookies or half dipping in chocolate for an indulgent treat.
How are you planning on incorporating essential oils into your Valentine's Day this year? Write your comments below or contact us at mseublog@youngliving.com