With winter well and truly behind us, we can now look ahead to brighter days, warmer weather, and flowers blooming and blossoming. We can also look forward to an abundance of new seasonal ingredients to incorporate into our recipe rosters this spring, including rhubarb and new potatoes. Cooking with seasonal produce has many benefits – it's fresher, tastier, and more nutritious. It's also better for both the planet and pocket as ingredients haven't had to travel so far. In this blog, we'll be giving you 3 delicious recipes that celebrate seasonal ingredients so you can eat as nature intended!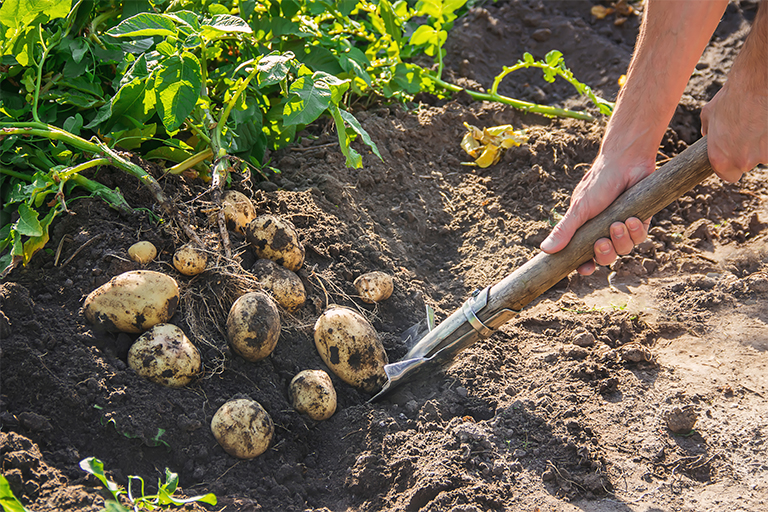 What's in season?
There is no shortage of vegetables to dig up in spring. Enjoy artichokes, leeks, spring greens, kale, carrots, and new potatoes, just to name a few!
When it comes to seasonal fruit, rhubarb and apples are undeniable icons of spring!
The ultimate seasonal green juice
Green juices don't have to taste like grass. With this delicious recipe, you can enjoy a refreshing, hydrating, and delicious beverage so you can thrive in this beautiful season.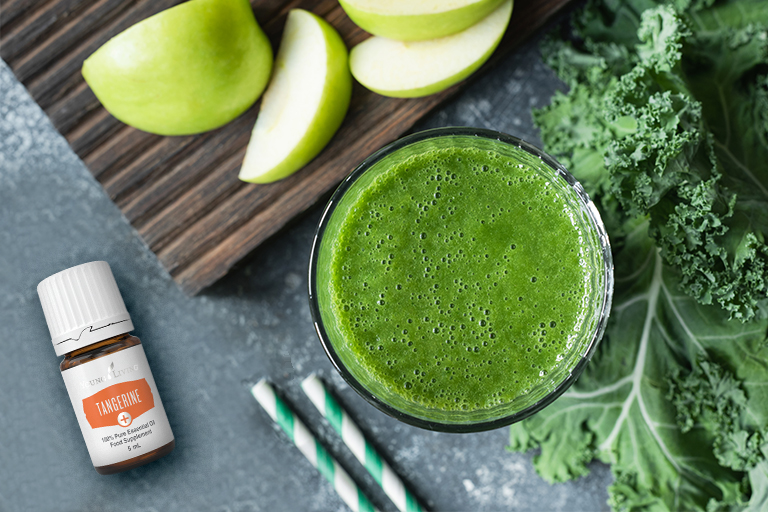 Ingredients:
Directions:
Slice the apples, carrot, and celery into smaller pieces.
Gradually feed all the ingredients into the juicer.
Add 1-2 drops of Tangerine+ and stir.
Serve fresh over ice!
YL Tip: Compost any leftover pulp!
Chips and artichoke dip
As well as sunnier days, springtime also brings a new season of sports to watch and enjoy. Invite your family and friends round and serve this lemony, garlicky artichoke dip with chunky chips, it is sure to be a hit!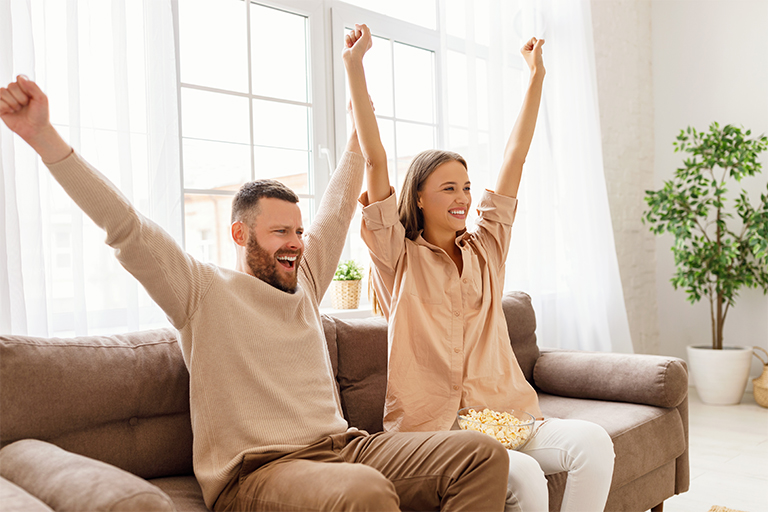 Ingredients:
For chips
For the dip:
500 g artichoke hearts
200 g spinach
1-2 drops Lemon+ essential oil
50 g mayonnaise
2 cloves garlic
Mozzarella cheese, sliced
Sea salt and black pepper to taste
Directions:
Prepare the dip: Combine the artichoke hearts, spinach, Lemon+ essential oil, mayo, garlic, salt and pepper to a blender and blend until smooth yet still chunky. Do a taste test. Add more salt or mayo if desired. Spoon the mixture into an oven dish or ramekin. Add mozzarella slices to the top of the dip. Leave aside.
Put a large pan of water on to boil. Cut the potatoes into bite-sized chips. Add them to the pan and simmer for 4-5 minutes until tender.
Drain the potatoes and pat off any excess water.
Heat the oil in a frying pan over a medium heat. Add the potatoes and fry for 10-15 minutes, turning occasionally, until golden brown. Make sure your soon-to-be chips have a little space around them as they fry. Fry in batches if needed!
When your chips are frying, place your artichoke dip into the oven and grill for 10 minutes, until the cheese begins to brown and bubble.
Scoop the chips onto a serving dish. Add a sprinkling of salt and 1-2 drops of Rosemary+ essential oil and toss briefly to coat.
Tuck in and enjoy!
Rhubarb & apple crumble
Ladies and gentlemen…it's time for the main event. Nothing celebrates spring cooking more than a rhubarb and apple crumble. Combining tart rhubarb and sweet apples, there is a reason this tasty treat has been a staple for many generations.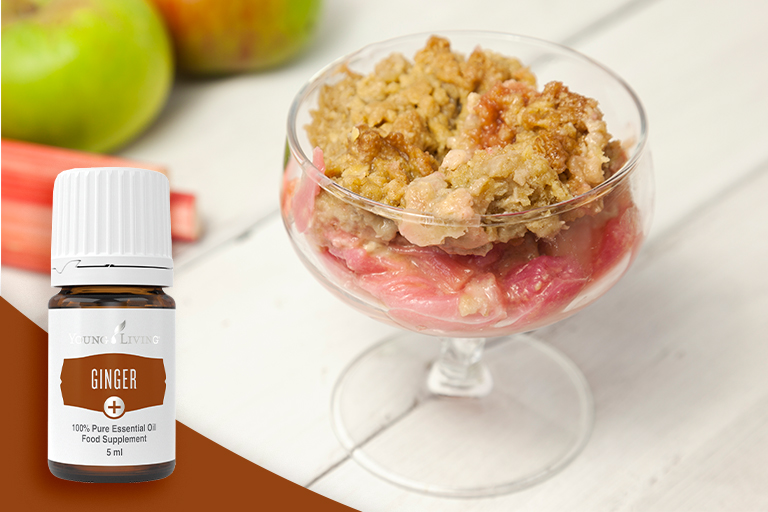 Ingredients:
450 g rhubarb, cut up into small slices
250 g granny smith apples, peeled and cut into chunks
1 tsp vanilla extract
120 g caster sugar
For the topping:
Directions:
Pre-heat the oven to 200C/180C fan.
Toss the rhubarb and apples along with the vanilla extract and sugar in an ovenproof dish. Bake for 10 minutes.
In a large bowl, add the flour. Gradually rub in the butter with your fingertips until you've achieved a breadcrumb texture. Stir through the sugar and Ginger+ essential oil.
Sprinkle the crumble topping onto the fruit mixture and cook for a further 30 minutes until golden brown.
Serve with custard or ice cream as a warming treat that celebrates seasonal produce!
Like this blog and let us know which of these recipes you're excited to try.