Whilst we were outside enjoying BBQs and picnics in the summer sun, back in the kitchen, our ovens were gathering dust. Now that the weather has cooled off and the leaves have started falling, it's time to get excited about cooking again, and what better way to share your excitement than to host an intimate autumnal dinner party with friends.
Autumn is the season of cosiness, comfort food, and good conversation. From setting the mood and preparing the table, to picking hearty recipes that celebrate seasonal produce, this blog will give you all the best tips to become the host with the most!
Creating a cosy ambience
You want your dinner party to be a relaxing, comfortable experience for your guests from the moment they are welcomed into your home. Set the tone for the evening ahead with these simple steps:
Add texture to your table by laying out your best linen and placemats. Choose an autumnal palette of warm, earthy, and golden colours: think forest green, burnt orange and deep red.
Bring life to the room with seasonal flowers. Look out for zinnias, dahlias or chrysanthemum, the best of the blooming bunch.
Create warmth through lighting. Turn on your lamps and add taper candlesticks to your table setup to cultivate a soft, snug atmosphere. If open flames make you nervous, diffusers like the Young Living Desert Mist Diffuser offers a warm, flickering light that beautifully mimics candlelight.
Set the mood with music. Whatever your taste, whether it's smooth jazz or lo-fi beats, put on a relaxing playlist at a low volume for you and your guests to enjoy in the background.
If you're on the ultimate quest for cosy, comfortable vibes, we'd recommend checking out the Danish concept of Hygge.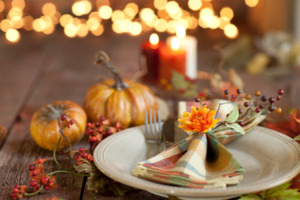 Picking your seasonal menu
As the weather changes, so does the produce that is harvested. To celebrate the season, make sure the recipes you choose incorporate more seasonal fruits and vegetables. Eating food that is in season is not only fresher, tastier, and more nutritionally dense, but it can often save you money too. It's also more environmentally friendly as it reduces the demand for out of season produce which supports local farming, meaning less transportation and refrigeration.
What's in season?
In season vegetables include squash, cauliflower, kale, mushrooms, onions, parsnips potatoes, and pumpkins to name a few.
Apples, cranberries, elderberries, and pears are fruits that grow in abundance in the autumn months.
Now that we know what's in season, let's take a look at 3 delicious recipes that champion seasonal produce.
Cranberry & Apple Cider Smoothie
First up: a drink! Greet your guests with a delicious beverage that celebrates the seasonal flavours of apple and cranberry.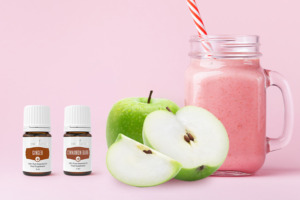 Ingredients:
Directions:
Pour the lemon juice, water, apples, spinach, cranberries, and protein powder into a blender, and blend until smooth.
Add the Ginger+ and Cinnamon+ essential oil, and blend once more.
Enjoy at room temperature or add ice cubes to keep it chilled.
This recipe makes 2 full cups, so remember to adjust per number of guests invited, or serve in smaller portions as a light refreshment before the hearty main course.
Mushroom & Kale Gnocchi Soup
Now for the main event…a warming bowl of Mushroom & Kale Gnocchi Soup! This recipe takes inspiration from the classic chicken noodle soup that is enjoyed by many in the colder months. It's packed with seasonal vegetables, and it can all be made in one pot, reducing the amount of washing up afterwards. Don't worry, we thought ahead!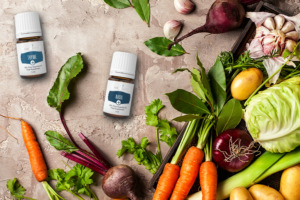 Ingredients:
1 onion, finely chopped
500g mushrooms, sliced
150g kale, roughly chopped
1 drop Thyme+ essential oil
1 drop Basil+ essential oil
4 garlic cloves, crushed
800ml vegetable broth
100ml double cream
500g gnocchi
Salt and pepper to taste
Directions:
Heat a drizzle of olive oil in a large pot over medium-high heat. Once the oil is hot, add the onion and mushrooms for a few minutes until softened.
Add the garlic and cook for another minute.
Pour in the stock and cream. Stir well.
Add the Thyme+ and Basil+ essential oil.
Bring the soup to a gentle simmer and cook for 10 minutes until slightly thickened.
Whilst the soup is simmering, cook the gnocchi in a separate pot of salted water until they float.
Drain and add the gnocchi to the soup and season to taste with salt and pepper.
Add the kale and simmer for another 5 minutes until kale has softened.
Serve and enjoy!
This recipe serves 6, so remember to adjust per number of guests invited. It's not a problem if you make too much—enjoy the leftovers for lunch the following day!
Pumpkin Spice Banana Loaf
Tuck into this classic dessert with an autumnal twist. This pumpkin spice banana loaf will impress your guests so much, they may even dream about it!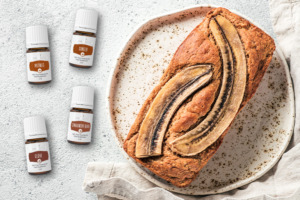 Ingredients:
115g butter, melted
1 ripe banana + 1 for decorating
100g pumpkin puree
2 eggs
100g caster sugar or sugar alternative
250g self-raising flour
½ tsp baking powder
1-2 drops blend of Cinnamon+, Nutmeg+, Ginger+ and Clove+ essential oil
Pinch of salt
Double cream to serve
Directions:
Preheat oven to 180C (160C Fan/360F).
Grease a loaf tin and line with baking paper.
In a large bowl, mash the banana with a fork.
Add the pumpkin puree, eggs, sugar, butter, and essential oil blend. Whisk together.
Sift in the flour and baking powder. Fold through.
Pour the mixture into the lined tin and level off. Decorate with a banana cut in half lengthwise.
Bake for 1 hour until golden brown and fully cooked through. Check using skewer method.
Transfer to a wire rack to cool.
Once cool, serve with cream (or enjoy without)!
Let us know if you're planning to host a dinner party this autumn! Write your comments or contact us at mseublog@youngliving.com