'Tis the season for pumpkin-themed parties, dressing like a pirate and sipping cider by the fire. Instead of a trick, treat your party guests with this warm and spicy Halloween Potion cider. Combine oranges, apples and spicy essential oils for this autumn-favourite treat!
HALLOWEEN POTION INGREDIENTS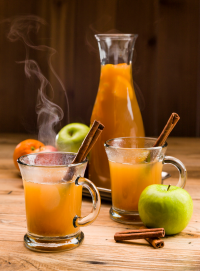 DIRECTIONS
Combine apple cider, orange slices and essential oils in a large pot and simmer over low heat for 10 minutes or more.
Discard orange slices.
Serve warm. Add 1–2 cinnamon sticks to individual cups when serving.
---
We want to know!
Do you have a spooky but healthy drink you like to serve during Halloween?