'Tis the season for Christmas parties galore! Before you put on your glitzy party dress or your trusty Santa hat and get ready to party, why not take some time to pamper yourself so you can look and feel your best. To help you prepare for Christmas party season, we've put together the ultimate beauty routine, featuring DIY recipes for the hair and body.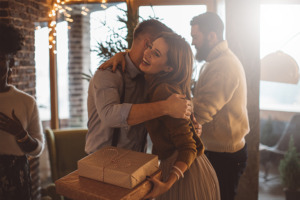 Step 1: DIY hair mask
The first step in your pre-party pamper routine is a deeply nourishing hair mask. This DIY recipe uses naturally derived ingredients to condition your hair, tame frizz, and leave your locks looking and feeling silky, soft, and ready to party!
What you'll need:
Method:
Rest the bowl on the saucepan to act as a double boiler.
Add coconut oil and warm until liquefied.
Take off heat, mix in the essential oil, and let cool until slightly thickened.
Dampen your hair.
Using your hands, apply the mixture to your hair and gently comb to disperse the product.
Leave for up to an hour before rinsing out thoroughly.
Step 2: Upgrade bath time
Whilst you've got your hair mask on, treat yourself to a luxurious spa-session in the comfort of your own home by elevating your bath time with essential oils and essential oil-infused products. Take a moment to recharge your social battery so that you have the energy to party the night away.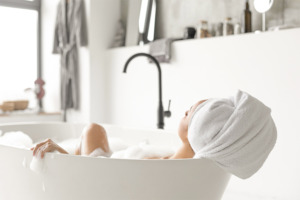 How to use essential oils in the bath:
Step 3: DIY lip mask
Say goodbye to chapped lips and hello to kissably smooth lips with this exfoliating lip scrub recipe! As the weather gets colder, many more of us suffer from dry lips. Give your lips the treatment they need with this DIY recipe, which helps to remove dead skin cells to reveal softer-feeling lips.
What you'll need:
Method:
Combine all ingredients in the container.
Mix until a paste is formed.
Apply to lips by gently rubbing in a circular motion.
Rinse off.
Step 4: DIY shimmer lotion
Bring the sparkle to the party by using this homemade shimmer lotion to achieve a warm, subtle, and healthy glow. Give your skin and your confidence the boost that it needs for the upcoming festivities.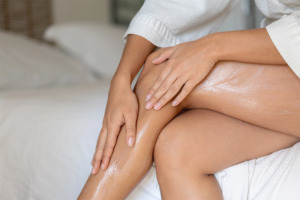 What you'll need:
Method:
Transfer your lotion to a jar and gradually sprinkle in the mica powder.
Add 2-3 drops of Jasmine to the mixture. Stir until evenly distributed.
Massage into your body in circular motions to get glowing skin that is touchably soft!
Now that you're feeling good and looking gorgeous, why not take your look to the next level with our Savvy Minerals® makeup line which strives to let your features shine without compromising on responsibly sourced, naturally derived, and cruelty-free ingredients.
Let us know if you tried out this pre-party pamper routine in the comments below or contact us at mseublog@youngliving.com